Looking ahead at the week in high school sports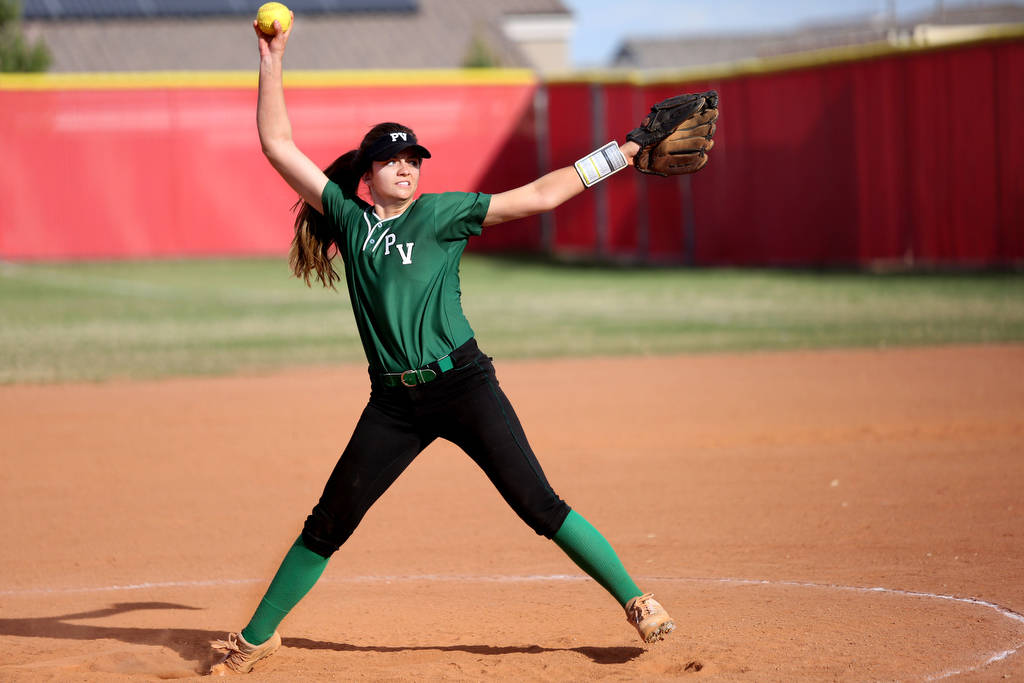 Here is a look at some of the week's top high school sports events.
BASEBALL
Monday — Desert Oasis at Spring Valley, 3:30 p.m.
This is a key Southwest League battle as the Diamondbacks and Grizzlies jockey for position behind first-place Bishop Gorman. Desert Oasis took the first game in the three-game series on Saturday to move a half game ahead of Spring Valley for second place.
Wednesday — Green Valley at Basic, 3:30 p.m.
The top-ranked Gators handed Basic an 11-5 loss on March 15, and a victory here would give the team a three-game lead over the Wolves in the Southeast League. The Wolves are young, but have built a potent lineup around power-hitting first baseman Jack Wold.
Thursday — Palo Verde at Centennial, 3:30 p.m.
Both teams have only one league loss so far, and will close out a three-game Northwest League series here. Cimarron-Memorial transfers Jacob and Jaret Godman have had a big impact on the Palo Verde lineup.
Wednesday-Saturday — Bishop Gorman Desert Classic
The 12-team tournament features three local teams with Liberty and Desert Oasis joining the host Gaels. Games will be played at Gorman, the College of Southern Nevada, Liberty and Desert Oasis, with the championship game set for 9 a.m. on Saturday at Gorman.
BOYS GOLF
Monday — Northwest League match at Painted Desert, 11:30 a.m.
Palo Verde and Faith Lutheran have separated themselves from the rest of the pack in the Sunset Region. Palo Verde edged the Crusaders by five and six strokes the past two weeks, respectively.
SOFTBALL
Monday — Centennial at Palo Verde, 3:30 p.m.
The Bulldogs enter the three-game series undefeated in the Northwest League, while Palo Verde sits alone in third place and fresh off a sweep of Arbor View.
Tuesday — Coronado at Las Vegas, 3:30 p.m.
The Cougars present a major test for upstart Las Vegas, which is 0-2 this season against the teams above it in the Class 4A Sunrise League standings.
Tuesday — Rancho at Liberty, 3:30 p.m.
The Rams stumbled twice last week in Sunrise League action and face a Liberty team that averaged 15 runs in its first eight games.
Thursday — Rancho at Las Vegas, 3:30 p.m.
The rivals square off with playoff seeding at stake. The Wildcats dropped the first matchup 4-2 on March 13 as Rams pitcher Sam Pochop finished with 17 strikeouts.
Friday — Sierra Vista at Boulder City, 3:30 p.m.
The former Class 3A rivals meet in an intriguing nonleague game. The Mountain Lions are off to a strong start led by senior Kalei Watkins.
Friday — Lincoln County at Needles (doubleheader), 10 a.m.
The top two teams in the Class 2A Southern League meet for the only times in the regular season.
TRACK AND FIELD
Wednesday — Cimarron-Memorial, Spring Mountain at Centennial, 3:30 p.m.
The defending girls state champions host Cimarron, which scored at the state meet last season. The Centennial boys will host the Spartans and Spring Mountain, which won the state title in Division IV (now Class 1A) last season.
BOYS VOLLEYBALL
Monday — Centennial at Arbor View, 6 p.m.
The Bulldogs rallied from a two-set deficit to shock Palo Verde last week in the teams' Northwest League opener. Can the momentum from that huge upset roll over against the Aggies?
Wednesday — Coronado at Green Valley, 6 p.m.
Las Vegas High always is a threat to win the Sunrise Region out of the Northeast League, but don't count out either of these Southeast teams. The Gators are the defending state champs, and Coronado already has been tested this season.
Wednesday — Shadow Ridge at Centennial, 6 p.m.
Two of Southern Nevada's most surprising teams square off in a Northwest League battle that could prove be critical for seeding in the playoffs. The Bulldogs upset Palo Verde last week in a five-set thriller and appear to be ready for any challenge.
Thursday — Durango at Sierra Vista, 6 p.m.
The Mountain Lions would love to host a playoff opener, and a win in this Southwest League match would be a great start in reaching that goal. Durango, which currently sits in second place, will turn to senior outside hitter Jaylen Clark to build some breathing room.
Friday — Shadow Ridge at Durango, 6 p.m.
This nonleague match could be a playoff meeting down the road. It features two of Southern Nevada's top senior setters in Shadow Ridge's C.J. McInnis and Durango's Andre Shabazz.