Nine locals taken on final day of major league draft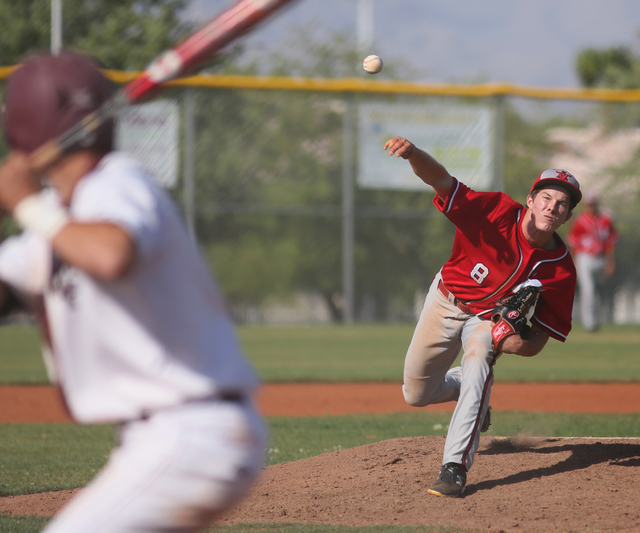 Arizona State junior center fielder Johnny Sewald, a Bishop Gorman High School graduate, was drafted on Wednesday in the 14th round (No. 409 overall) by the Houston Astros. Sewald (5 feet 11 inches, 170 pounds) batted .324 this season and led the Sun Devils with 21 stolen bases.
He was the first Las Vegas-area player taken in the final day of the major league draft, which covered rounds 11 through 40.
Arbor View High right-hander Sam Pastrone (6-0, 175) was taken in the 17th round (525th) by the Los Angeles Angels. He has signed with UNLV, and went 7-3 with a 2.49 ERA this season, striking out 83 batters in 56 1/3 innings.
Gorman shortstop Cadyn Grenier (5-11, 180) went in the 21st round (No. 641) to the St. Louis Cardinals. He was named to the USA Today All-America Team and was the Review-Journal's state Player of the Year after hitting .472 with six home runs, 35 RBIs and 27 steals.
The Oregon State signee told Portland's Oregonian before the draft he leaned toward joining the Beavers, the comments possibly dropping him in the draft. He was projected as possibly a first-day selection.
UNLV senior right-hander Joey Lauria (6-4, 230) went in the 25th round (No. 744) to the Philadelphia Phillies. Lauria, who also went to Legacy High and College of Southern Nevada, went 3-3 with a 3.12 ERA, striking out 60 batters and walking 15 in 52 innings.
CSN sophomore shortstop Tyler Brown (6-1, 180) was chosen in the 26th round (No. 786) by the San Francisco Giants. The Coronado High graduate hit .323 with 37 RBIs and 17 steals, and has signed a letter-of-intent with Houston.
New Mexico State senior center fielder Quinnton Mack (6-0, 195), a Las Vegas High and CSN product, was selected in the 35th round (No. 1,036) by the Arizona Diamondbacks. He led the Aggies in batting average (.353), RBIs (32) and steals (13).
CSN freshman right-hander Gabe Gonzalez (6-4, 210), who went to Arbor View, was taken in the 36th round (No. 1,074) by the Phillies. He went 5-1 with a 4.45 ERA, recording 51 strikeouts in 56 2/3 innings.
Also in the 36th round (No. 1078), UNLV junior right-hander Bryan Bonnell (6-5, 210) was drafted by the Tampa Bay Rays. Bonnell, who went to Centennial High, was 1-5 with a 7.39 ERA in an injury filled season.
The last local player drafted was Desert Oasis righty Nolan Kingham (6-4, 200), who went to the Milwaukee Brewers in the 39th round (No. 1,171). Kingham, who signed a letter-of-intent to Texas, went 4-4 with a 1.91 ERA, striking out 53 and allowing 12 walks in 55 innings. He also led the Desert Oasis with a .418 batting average, six homers and 29 RBIs.
Also, UNLV signee Dean Kremer (6-2, 185) was drafted in the 38th round (No. 1,137) by the San Diego Padres. The freshman right-hander attended San Joaquin Delta College in Stockton, Calif., and went 13-1 with a 2.00 ERA, striking out 90 in 112 2/3 innings.