Offensive outburst helps Blue Sox eliminate Cougars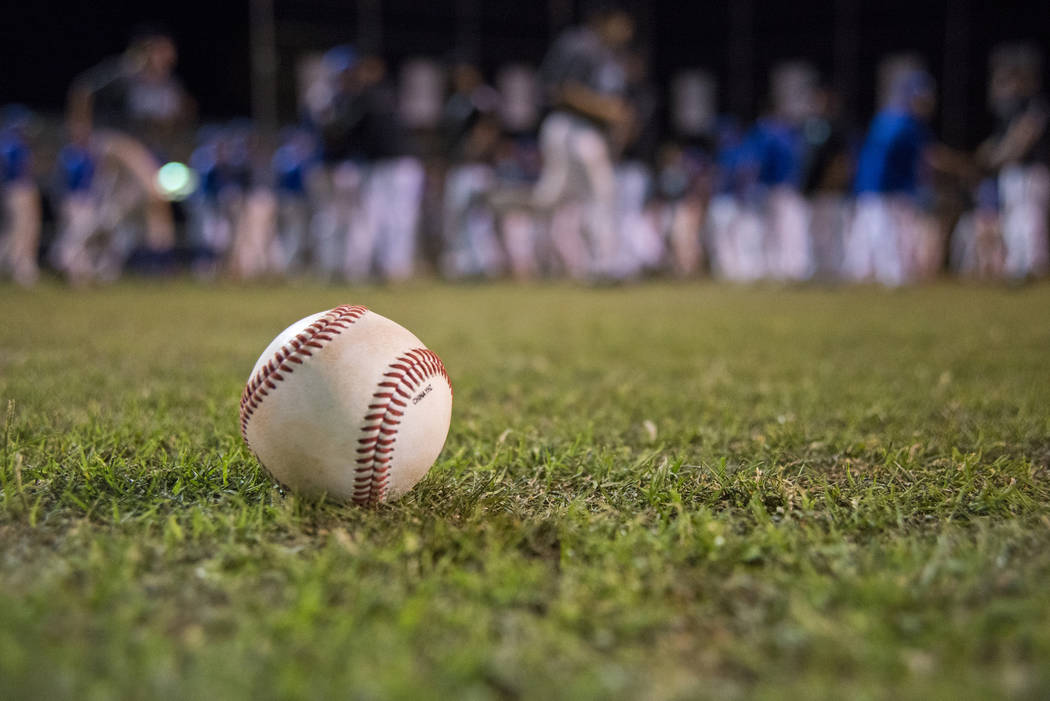 Through the first three games of the American Legion state tournament, the defending champion Southern Nevada Blue Sox were hitting .337, had an on-base percentage of .417, and scored a cumulative 19 runs.
Tuesday night they were in championship form with a berth to the title game on the line.
The Blue Sox batted around in the first and fourth innings and crushed the Henderson Cougars 16-2 at UNLV's Wilson Stadium.
The Blue Sox, who will meet Desert Oasis at 6 p.m. on Wednesday, hit .526 and had an on-base percentage of .657. The Blue Sox would have to win twice Wednesday to claim the title.
"Offensively been we've been in pull mode, guys have been wanting to pull the ball, but tonight was a lot better approach and we got results from it for sure," Blue Sox coach Scott Baker said. "We're capable for sure. You have to give credit to the game we lost (against Desert Oasis), the pitcher did a good job. We took a couple of days to get back on track and get our confidence back."
Kyle Turner, who came into the game hitting .583 in the tournament, went 4-for-4 with a double and three runs to lead the offense.
"He's been hitting almost .400 all season, he's one of our spark plugs for sure," Baker said of Turner. "He plays extremely hard, a quality player, he's been one of our guys carrying us."
Nick Thompson added to the Blue Sox's 10-hit attack by roping the team's first home run of the postseason, and teammate Christian Rivero went 2-for-4 with a double and two runs.
The Blue Sox wasted no time in jumping on Henderson's pitchers, sending 13 batters to the plate in the first to take a 7-0 lead. After adding runs in the second and third innings, the Blue Sox scored seven more runs in the fourth inning, again sending 13 hitters to the plate.
"We don't want our season to be over, we want to keep going for our seniors to win another one this year," Turner said. "We just told ourselves to do what we do, we've been here before and this is nothing."
Logan Spaur came in to relieve starter Shane Spencer in the second inning and scattered five hits with four strikeouts to earn the victory. The right-hander retired 11 of the last 14 batters he faced.
Logan Bleazard went 2-for-3 with a triple and an RBI, and Parker Vint was 1-for-1 with an RBI for the Cougars.
Desert Oasis 11, Silverado 3 — Aaron Roberts slammed two home runs as the Aces eliminated the Skyhawks to move into Wednesday's championship game.
Roberts finished 3-for-4 with six RBIs. He is hitting .538 (7-for-13) in the tournament, with four homers and 11 RBIs.
Chaison Miklich went 2-for-2 with three runs an three RBIs, and Steven Giati and Zach Czerniawski each went 2-for-4 for Desert Oasis.
Nikolas Cortez drove in two runs for Silverado.
American Legion State Tournament
At UNLV
Saturday's Results
Henderson Cougars 8, Las Vegas Patriots 6, 10 innings
Southern Nevada Blue Sox 9, Silverado Hawks 8
Centennial Bulldogs 2, Reno Knights 1
Desert Oasis Aces 15, Las Vegas Horns 1
Sunday's Results
Reno 5, Las Vegas Patriots 2
Silverado 12, Las Vegas Horns 2
Henderson Cougars 4, Centennial 2
Desert Oasis 12, Southern Nevada Blue Sox 2
Monday's Results
Silverado 12, Centennial 6
Southern Nevada Blue Sox 4, Reno 0
Desert Oasis 13, Henderson Cougars 3
Tuesday's Results
Southern Nevada Blue Sox 16, Henderson Cougars 2
Desert Oasis 11, Silverado 3
Wednesday's Games
Game 14 — Southern Nevada Blue Sox vs. Desert Oasis, 6 p.m.
Game 15 — Winner game 14 vs. Loser Game 14, 8:30 p.m., if necessary