SUNRISE BASEBALL: Power surge helps Gators top Wolves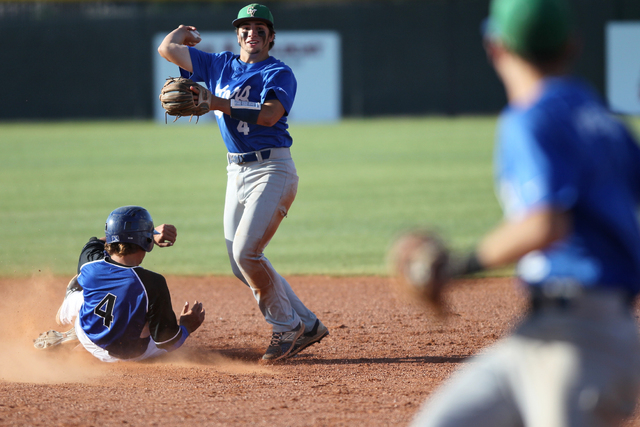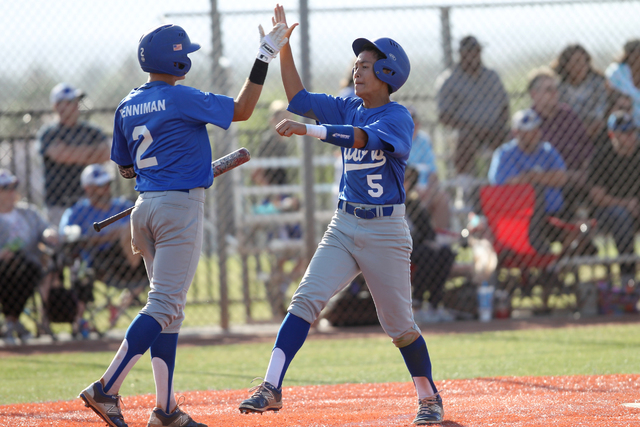 Green Valley's baseball team had six home runs by six players in its first 32 games this season.
The Gators slugged half that total in game No. 33.
Blake Inouye homered twice, and Jarrett Perns launched a three-run homer that bounced into a nearby apartment building as Green Valley beat Basic 12-1 in five innings Thursday at Las Vegas High to advance to the Division I Sunrise Region championship.
Basic (27-5), the top seed from the Southeast League, will play either Coronado or Liberty in an elimination game at 4 p.m. Friday at Las Vegas. The championship is at 10 a.m. Saturday, and Green Valley must lose for a second game to be played.
"I think the guys have been punching in pretty good the last week or so," Green Valley coach Corey Gehlken said. "We didn't focus on trying to hit the ball out of the yard. Our goal is to get the next guy to the plate, and when we do that we've been successful."
Inouye went 3-for-3 with four RBIs, and Perns finished 2-for-3 with four RBIs as the Gators (27-6) took advantage of the jetstream that was blowing out to left field.
"Hey, you've still got to hit it," Gehlken said.
The 12 runs is the most allowed by Basic since a 13-6 loss to Cimarron-Memorial on March 9 in its sixth game of the season.
Inouye hit a two-run homer in the top of the first inning, and he chased Basic starter Josh McLean with another two-run shot to cap Green Valley's five-run fourth.
Perns, who scored all four times he reached base, added his no-doubt-about-it blast in the fifth to put Green Valley on top 12-1.
Eric Samson went 3-for-3 with a double, two runs and an RBI, and Gavin Morley had a two-run triple into the left-field corner that gave the Gators a 4-0 lead in the third inning.
Green Valley starter Spencer Cofer held the Wolves in check as he allowed only three hits in five innings and worked around three walks.
The right-hander wriggled out of a two-on, one-out jam in the third inning and limited the damage in the fourth as Basic broke the shutout. Jack Wold doubled home Ryne Nelson, who singled to lead off the inning, but Cofer fanned McLean then got two ground balls after a walk to Logan Green.
Cofer recorded 10 ground-ball outs and was aided by a defense that turned two double plays.
"He did a great job," Gehlken said. "Down the stretch, he hasn't pitched a lot for us. He's a great athlete, and he's a competitor who goes out ready to fight."
Liberty 13, Silverado 12 — Jacob Klein's two-run single in the bottom of the seventh capped a back-and-forth affair as the Patriots topped the Skyhawks in an elimination game.
Liberty will play Coronado at 1 p.m. Friday at Las Vegas in another elimination game.
Jonny Gilleres went 3-for-4 with a double, three runs and two RBIs. Justin Lutes, Omar Ortiz and Nick Woolery each had two hits as every Patriots starter had at least one hit.
Winning pitcher Trevor Mullaney blasted a two-run homer over the school bus parked beyond the left-field fence to give Liberty an 11-10 lead in the bottom of the sixth inning only for Silverado to rally in the seventh.
Blake Zorne reached on a one-out double, and after Liberty center fielder Preston Pavlica made a diving catch on Dillon Johnson's sinking liner to keep the Patriots on top, Chase Cortez drew a walk to put runners on the corners.
Vincent Taormina then blooped the first pitch he saw between three Liberty players in short center field. Zorne scored to tie the game, and when the throw home skipped all the way to the backstop, Cortez scored to put Silverado on top 12-11.
Zorne, who came on as a pinch hitter in the fifth, went 3-for-3 with two RBIs and two runs. Taormina was 2-for-4 with a solo homer in the fourth and three RBIs.
Payton Ballard and Alex Grafiada finished with two hits apiece for Silverado, which scored nine runs in the bottom of the fifth inning to take a 10-9 lead.
Coronado 10, Rancho 3 — Winning pitcher Donte Glover went 2-for-4 with an RBI, and Jake McLean drove in three runs as the Cougars bounced the Rams from the tournament.
Glover went six innings, allowing seven hits and one unearned run.
Anthony Olheiser had a two-run single as part of Coronado's six-run fourth inning. Dakota Humphries finished 2-for-2 with a double for the Cougars.
Kavion Kealoha went 2-for-4 with two RBIs for Rancho, and teammate Robert Spinelli was 2-for-4.
Box scores: