Sunset Region: Palo Verde coasts by Desert Oasis
Updated May 9, 2018 - 9:57 pm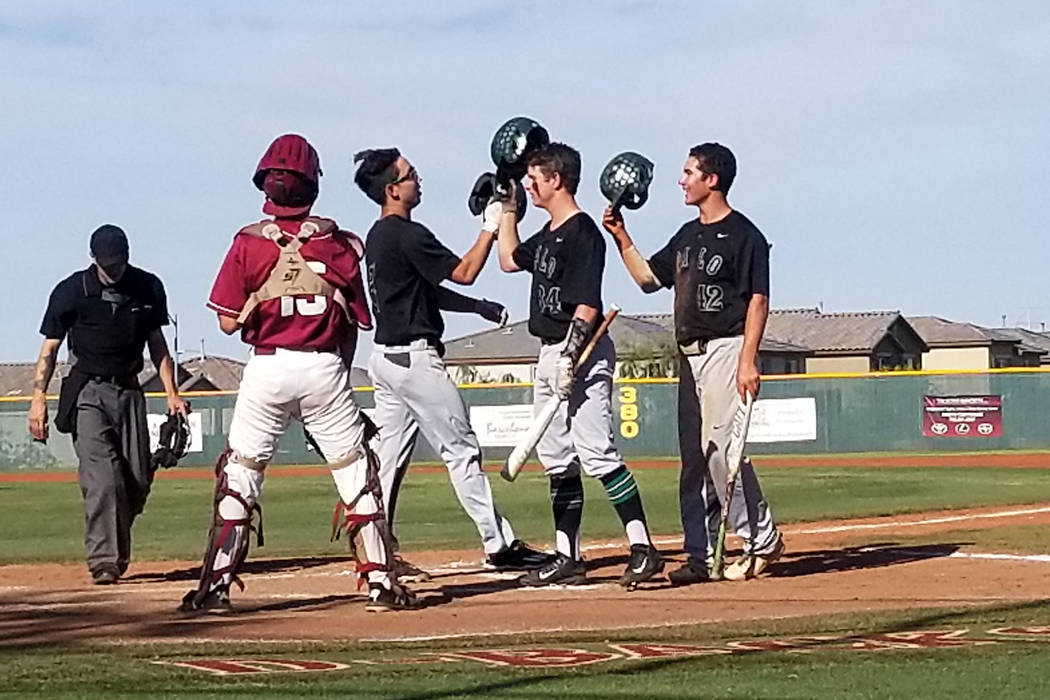 Palo Verde pitcher Bryce Robison didn't get have the greatest start to his outing on Wednesday.
There was nothing wrong with the way he finished.
Robison retired the final 12 batters he faced, including seven by strikeout, to help the Panthers to a 9-3 road win over Desert Oasis in the winners' bracket of the Class 4A Sunset Region tournament.
"I was definitely nervous," Robison said. "I just found my change-up and my cutter and I was able to put them away when I got ahead 0-2."
Robison allowed three runs in the first two innings, but allowed just one baserunner the rest of the way. He gave up four hits in six innings with nine strikeouts and one walk.
"Once he found the change-up, it was deadly and they were off balance," Palo Verde coach Joe Hallead said. "You've got to credit Bryce for making the adjustments."
The Panthers scored three runs in the first, but saw Desert Oasis tie the game on D.J. Jefferson's two-run double in the second.
Palo Verde took the lead for good on Tyler Kim's two-run homer in the third, and that was more than enough for Robison.
"I know what my team is capable of and I know we've always got a chance no matter what the score is," Robison said. "So I just tried to do my job the best I can and hopefully my team can go in and put some runs up and they did."
Jaret Godman was 2-for-3 with a solo homer for the Panthers (25-8), who play at Centennial (26-7) at 4 p.m. on Thursday. Nate Bartlett went 3-for-4 with two runs, and Jacob Godman was 2-for-4 with a double and three RBIs for Palo Verde.
"We play a faceless opponent," Hallead said. "We show up and we play ourselves, basically. Today we happened to come out and put the bat on the ball a little bit. We got some great pitching and we got great defense and we kept adding on."
Desert Oasis hosts Bishop Gorman (24-8) in an elimination game at 4 p.m. Thursday.
Centennial 7, Cimarron-Memorial 6 — At Centennial, Trevor Wright's double to center field with two outs in the bottom of the seventh inning scored Nik Dobar with the winning run and capped a three-run seventh-inning rally as the Bulldogs edged the Spartans in the other winners' bracket semifinal.
Cimarron fought back from a 4-0 third-inning deficit to carry a 6-4 lead into the bottom of the seventh.
With one out in the seventh, Zack Simon was hit by a pitch and advanced to third on Mike Jones' double.
Zachary Hare hit a sacrifice fly that scored Simon and advanced Jones to third.
With two outs, Dobar ripped a 1-and-2 pitch down the left-field line for a double that plated Jones to tie the game and set the stage for Wright's winner.
Austin Kryszczuk and Garrett Holden each went 2-for-4 with an RBI for Centennial.
Seth Hoffman was 3-for-4 with a double, two runs and an RBI, and Lasith Narasinghe was 2-for-4 with a three-run home run and four RBIs for Cimarron (21-12), which hosts Spring Valley (19-12) in an elimination game at 4 p.m. on Thursday.
Spring Valley 12, Arbor View 11 — At Spring Valley, Jonathan Bakken hit a three-run inside-the-park home run and finished with five RBIs to help propel the Grizzlies past the Aggies in an elimination game.
Mitchell Otis tripled twice and had an RBI, and Kade Higgins supplied two hits and two RBIs for Spring Valley, which led 11-0 after three innings and withstood a nine-run fourth inning by Arbor View.
Austin Pfeifer homered twice and drove in four runs, and Jesse Pierce hit a three-run double for the Aggies (19-13-1), who scored twice in the seventh but couldn't complete the comeback.
Bishop Gorman 7, Durango 6 — At Gorman, the Gaels picked off the potential tying run at third base for the final out of the game as they held on to nip the Trailblazers in an elimination game.
After overcoming a 4-0 fourth-inning deficit, the Gaels carried a 7-5 lead into the seventh. Durango's Renae Lara walked, and John Stenger singled to start the inning. After a sacrifice moved both runners up, Ryan Barry's groundout to first scored Lara and moved pinch-runner Daniel Hauben to third.
Christian Lamar was 2-for-3 with a home run and three RBIs for Gorman. Austin Wells was 2-for-3 with a triple and two RBIs, and Carson Wells was 2-for-3 with a triple for the Gaels, who play at Desert Oasis (30-4) in an elimination game at 4 p.m. on Thursday.
Stenger was 3-for-3 with an RBI, and Justin Lucas was 2-for-4 with a double and two RBIs for Durango (12-20-1).
Box Scores:
Centennial 7, Cimarron-Memorial 6
Spring Valley 12, Arbor View 11