2A BOYS BASKETBALL: Adelson School edges Agassi Prep in another close one to win Southern League title
February 18, 2017 - 7:06 pm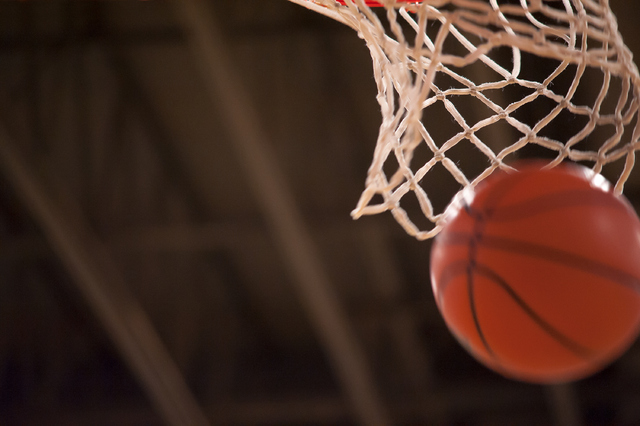 Adelson School and Agassi Prep already had staged two entertaining boys basketball games this season.
The two split the regular-season series, with each winning on the road and the total margin victory being four points.
Saturday's rubber match at Durango did not fail to meet the expectations the first two games had built. Even better, it was for the Class 2A Southern League championship.
Adelson School built an early lead, only to see it evaporate by halftime. The Lions controlled the third quarter and did enough in the fourth to seize a 54-51 victory and the first league title in school history. Both teams advance to the state tournament, which starts Friday at Del Sol.
"That was awesome," Adelson School junior Miles Hagan said. "I'm so happy, words can't even explain it."
Hagan led the Lions (20-4) with 14 points and 18 rebounds, and it was his 18th that was the biggest. With the Lions up 53-51 and 10 seconds left, junior Ben Elharrar missed the front end of a one-and-one. Hagan dove on the ball after it clanged off the rim and was swarmed for a jump ball call.
With the possession arrow in their favor, the Lions regained the ball. Elharrar was fouled again and sunk one free throw to give the Lions a three-point lead. Agassi Prep (20-5) missed a half-court attempt as time expired.
"I had to get the ball, wanted that rebound more than anything else," Hagan said. "My teammates always say don't dive on the floor, so I had to prove them wrong one time."
Hagan was a steady presence throughout the game. Most of his 14 points were second-chance put-backs, or layups on feeds from senior Jacob Elharrar, who finished with 13 points and five rebounds.
Agassi Prep won the first meeting between the teams on Jan. 12, 64-61. Adelson School won the rematch, 56-55 on Feb. 9. The two could meet again next week for the state title.
"I think it's two teams that are very evenly matched, and two teams that compete, two teams that bring out the best in one another," Adelson School coach Kurt McGinnis said. "I think we are both going to continue to do that, and maybe we'll see them again.
Junior Akeemis Williams and senior Allen Merritt each had 13 points to lead the Stars, and junior Jared Holmes collected 14 rebounds for Agassi Prep, which will face Pershing County in a state semifinal at 6:30 p.m. Friday at Del Sol.
Ten of the 14 rostered Lions are seniors, and for them, including starters Jacob Elharrar, Jalen Pitts, Brandon Pappas and Jake Buchman, the last shot at a state title begins at 3 p.m. Friday against West Wendover.
"All the effort you saw on that court, that's what we can do for each other any time," Hagan said. "This is a culmination of all the hard work we've put in throughout the years of high school. Half of those dudes are seniors, and we want to end their year right."
Contact Justin Emerson at jemerson@reviewjournal.com or (702) 387-2944. Follow @J15Emerson on Twitter.
Box score:
Adelson School 54, Agassi Prep 51