3A Boys: Mojave falls in overtime to Churchill County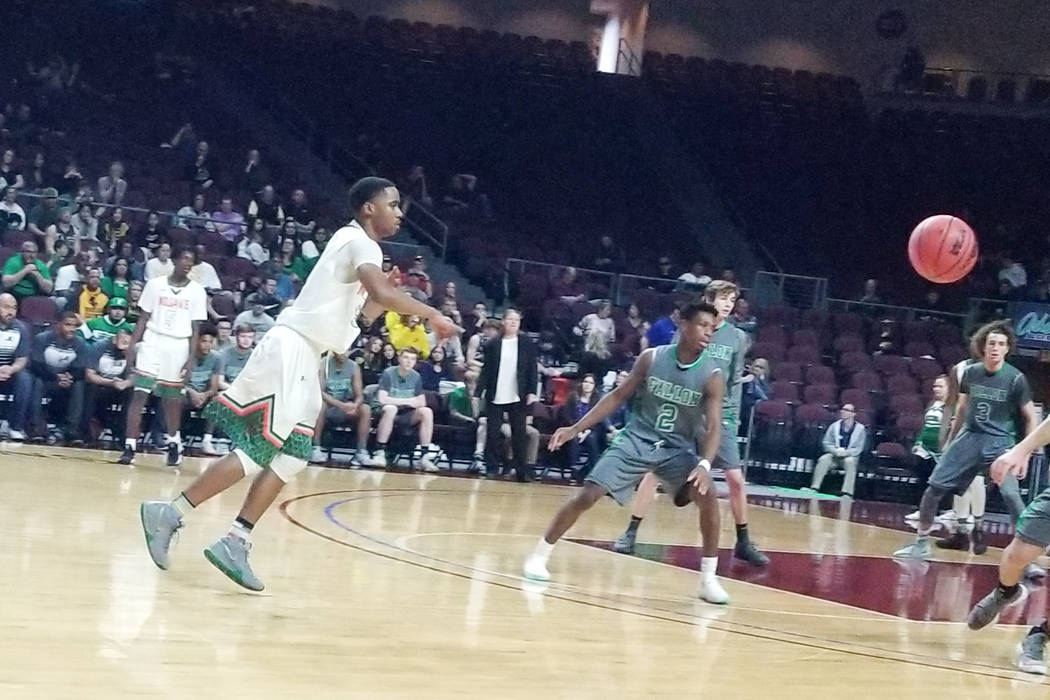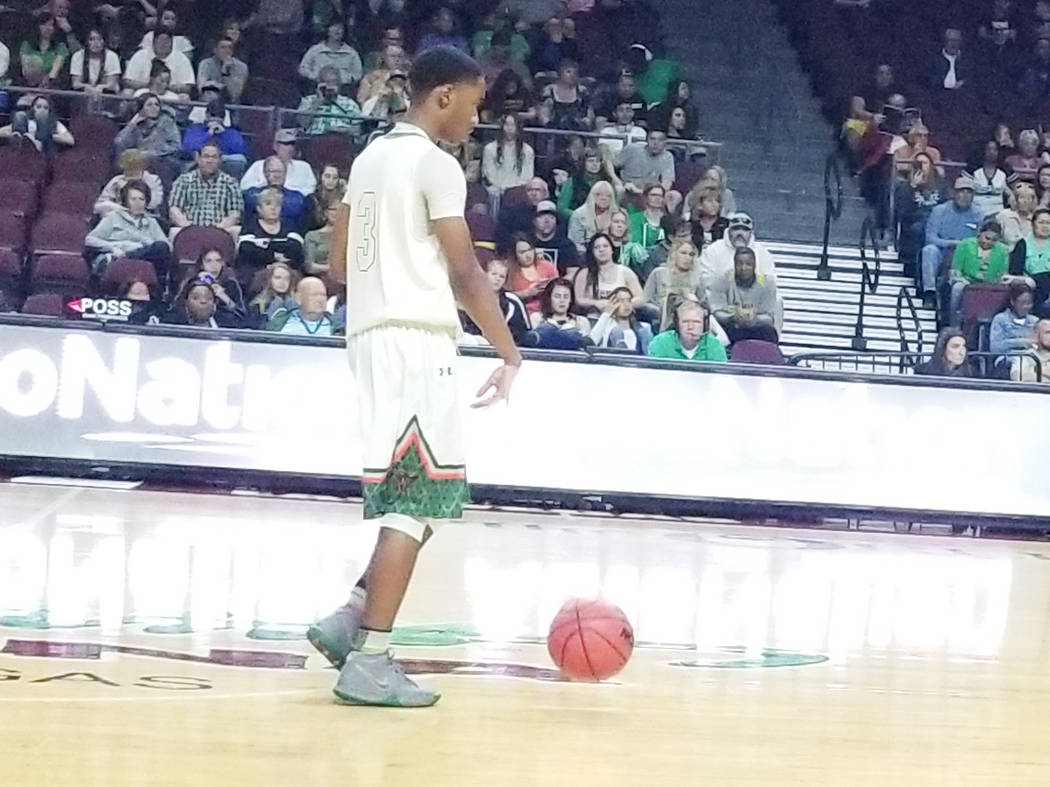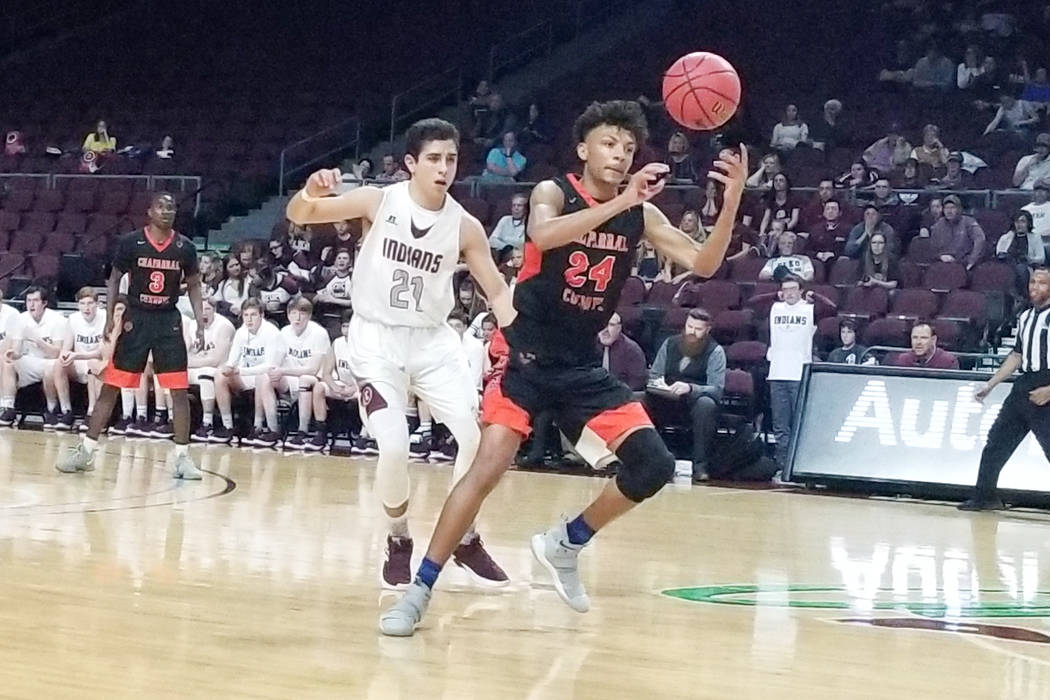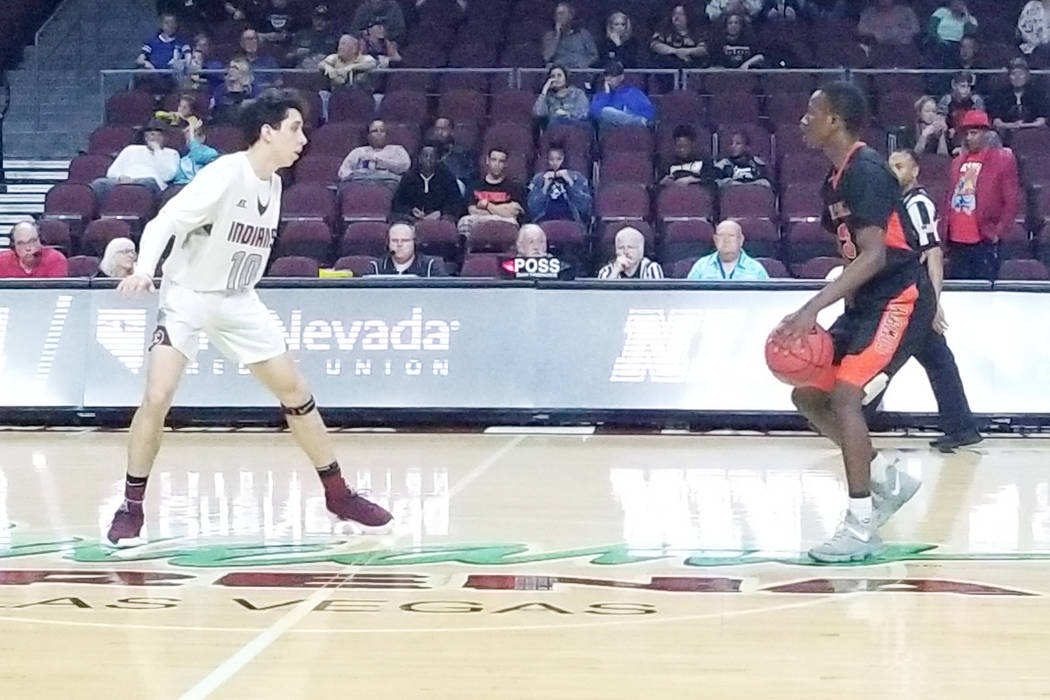 Just a couple of seasons ago, it was hard to imagine Mojave's boys basketball team even playing in a postseason game.
On Friday, the Rattlers came up a point short of advancing to the state championship game.
Elijah Jackson's rebound basket with six seconds to go in overtime lifted Churchill County to a 60-59 win over Mojave in the Class 3A state semifinals at Orleans Arena.
'"Its been a long process from four wins two years go to playing in the state semifinals," said third-year Mojave coach Adam Schwartz, whose first team went 4-22 in 2016-17. "It's just the beginning for us hopefully."
Mojave took a 59-58 lead when Chris Jackson split a pair of free throws with 44.5 seconds left in overtime. The Rattlers had a chance to extend their lead, but Damon McDowell missed two free throws with 20.2 seconds to go.
The Greenwave (25-3) worked the ball inside to reserve forward Walter Rooks on the right block. His shot went off the rim, but Jackson was there for the weak-side rebound and put-back.
Mojave called timeout with five seconds left and got the ball to McDowell just shy of halfcourt. He was able to drive to about the free-throw line, but his runner went off the back of the rim and time expired.
"They made a good play, and they executed it and they scored and won," Schwartz said.
Mojave (22-8) nearly won the game in regulation after Saquevian Williams powered up between a pair of defenders to give the Rattlers a 51-49 lead. Churchill County called timeout with four seconds left. The Greenwave inbounded the ball from the baseline, then got it to Thomas Steele near midcourt. Steele took a couple dribbles and hit a 15-foot runner as time expired to tie the game.
"Quaevi is the heart and soul of our team," Schwartz said. "They took away the first part of the play, and Quaevi made a good decision and does what he does, which is he's kind of our enforcer, our power guy. We've just got to figure out a way to get a stop on the other end."
Churchill County led 45-38 after a Jackson 3-pointer with 5:06 to go in regulation, but the Rattlers used their pressure defense to get back into the game.
"Our kids have showed a lot of fight all year," Schwartz said. "It's been a three-year process to get to this point. They showed a lot of fight to get to this point, period. We pride ourselves on defense and pressure. So we kind of feel like we never are really out of it."
Steele had a game-high 24 points for Churchill County, which plays Elko (24-2) in the state final at 12:50 p.m. on Saturday.
McDowell and A.J. Woods each had 18 points, and Desaun Smith had six steals to lead Mojave, which made it to state for the first time since 2007.
"Mojave High School doesn't have the greatest sports reputation, or even reputation as a school," Schwartz said. "We have good kids. They fight, they work hard, they represent their school, they represent their families with the utmost class and respect."
Elko 53, Chaparral 47 — Chaparral didn't score for the first 6:25 of the fourth quarter as the Indians rallied for the victory in the other semifinal.
Michael Klekas had 13 points and 12 rebounds, and Ronin Rowley had 10 points and 12 rebounds for Elko. Chaparral missed its first eight shots in the fourth quarter and were 2-for-15 from the field in the final eight minutes.
"We just couldn't missed the shots to go down," Chaparral coach Steven Bentz said. "We were just kind of waiting for a shot to fall and then kind of get our defense going. But they didn't fall for us tonight."
Dejonte Allen led Chaparral with 11 points, and Sameal Anderson and Elijah Briggs each scored 10 for the Cowboys, who outscored Elko 21-6 in the second quarter to take a 30-24 halftime lead.
"The second quarter was good for us," Bentz said. "We got a lot of good shots and we sped up the tempo. (Elko) did a great job in the second half of limiting possessions."
Alex Klekas had 14 points and four assists, and Sean Klekas had 10 points and five assists for the Indians.
"It's great for the program," Bentz said of making state. "It's a testament to our kids. We have great kids at Chap. They've fought. We've been down a lot of games but we've fought and played hard to the end, and tonight they did as well."
Box scores:
Churchill County 60, Mojave 59, OT