Blair forces overtime, helps Gorman boys stun Findlay Prep
January 25, 2014 - 7:42 pm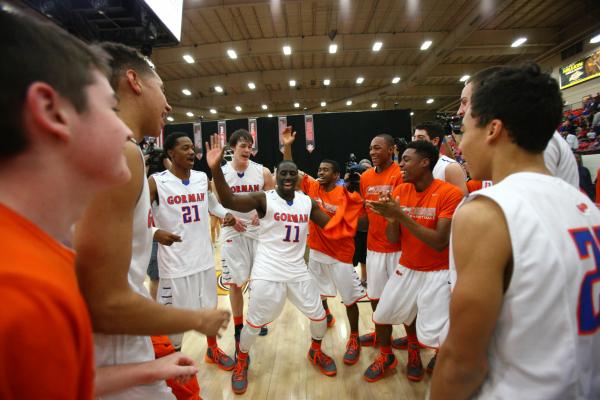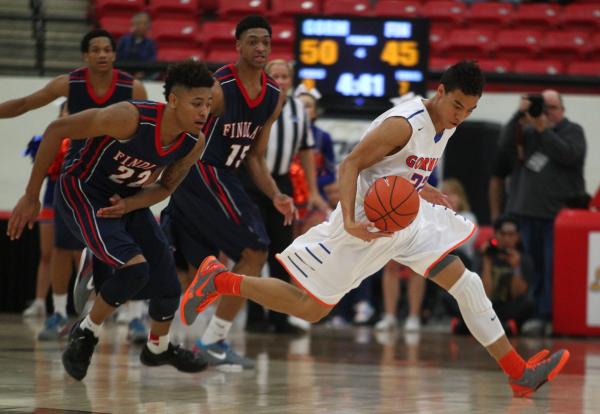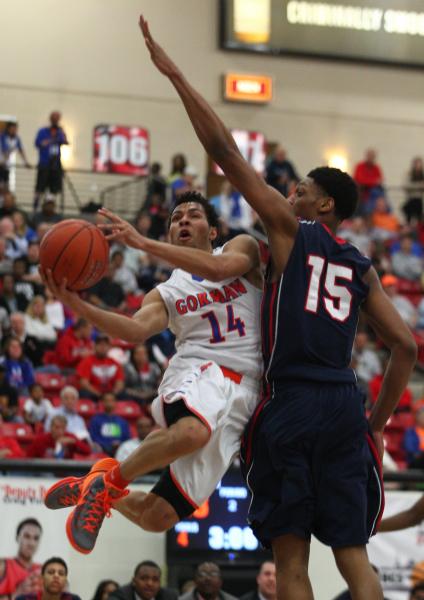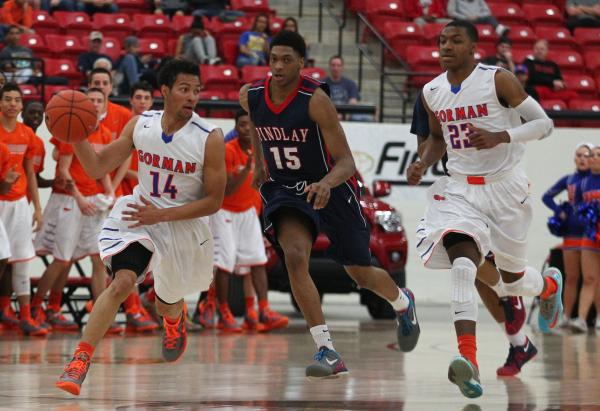 Bishop Gorman junior Nick Blair had just one thought on his mind when he got the ball with time running down in regulation on Saturday.
"Score," Blair said. "Just get a bucket quickly, and make sure to keep this game going."
Blair did just that, slashing to the basket for a layup to tie the game as time expired.
The Gaels went on to claim a 76-72 overtime win over Findlay Prep at South Point Arena, Gorman's first victory in seven tries against the Pilots.
Gorman coach Grant Rice chose not to call timeout with the Pilots leading 64-62, instead trusting point guard Noah Robotham.
Findlay Prep cut Robotham off, but he got the ball to Blair just to the left of the top of the key. Blair hesitated, then attacked the rim, and his shot went through the net as time expired.
"I trust in Nick," Robotham said. "I knew I had to make the right basketball play, and at that time it was to get Nick the ball, and he delivered. And I'm very excited about it."
The Gaels (17-4) rode the momentum from Blair's shot to pull away in overtime. Zach Collins' basket with 1:24 left gave Gorman a 72-70 lead, and the Pilots (21-4) were unable to tie the game or take the lead.
"It was a big play, and sometimes when adversity shows, you need a big play to bring you up," Robotham said of Blair's bucket. "And Nick was that guy."
Collins was big in the overtime. The 6-foot-9-inch sophomore was forced into action after 6-10 junior Chase Jeter fouled out with 4:50 left in the fourth quarter.
Collins, who has backed up Jeter and 7-foot center Stephen Zimmerman all year, responded in overtime. He drained a 3-pointer with 2:52 left to give the Gaels a 69-66 lead, and his second bucket gave them the lead for good.
"People don't realize how good Zach is," Rice said. "He's in a tough situation with two All-Americans in front of him, but he's been giving us good minutes all year long and really had a big game for us today."
Gorman opened the game with a 13-0 run as Findlay Prep missed its first 11 field-goal attempts.
"We knew we had to come out strong," Blair said. "We usually slack a little bit at the beginning of the game, but we came out strong, got a few stops, got the points spread, and at that point, things were looking good for us. They slowly came back, but we came out and just stayed composed and got the win."
The Gaels led until Derryck Thornton hit two free throws to tie the score at 56 with 1:19 to play, and the Pilots took their first lead on a 3-pointer by Rashad Vaughn with 48 seconds left. Gorman turned the ball over 21 times, leading to 28 points for Findlay Prep.
The Pilots struggled from the free-throw line, making 21 of 38 attempts (55.3 percent). Renathan Ona Embo had a chance to push the lead to three with 11.8 seconds, but missed his second attempt to leave the score 64-62 and set up Blair's shot.
Robotham finished with 25 points to lead the Gaels, who got 13 points and nine rebounds from Zimmerman. The Gaels were 25-for-37 from the field (67.6 percent).
Kelly Oubre had 22 points and eight rebounds to lead the Pilots, and Vaughn scored 21.
"It's overwhelming," Blair said of beating Findlay. "Everybody's excited, everybody's happy for this team to be the first Bishop Gorman team to beat Findlay. The feeling is through the roof right now.
"Deep down we know this isn't a state championship, but it's just like it."
Box score:
Bishop Gorman 76, Findlay Prep 72