BOYS BASKETBALL: Carr's return drives Pioneers
November 27, 2013 - 11:33 pm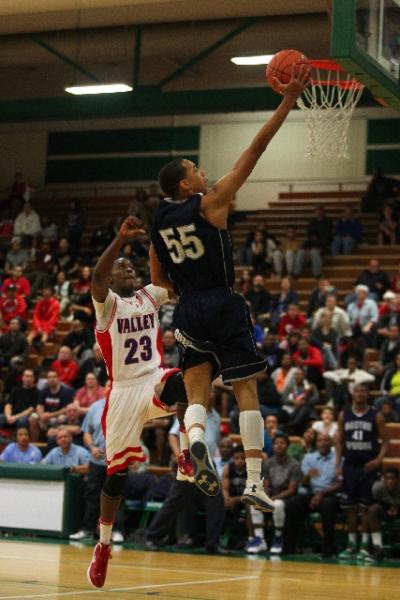 Shaquile Carr spent the end of his junior season in street clothes on the bench watching his team play in the postseason.
And though Canyon Springs fought its way to the Sunrise Region basketball title, the Pioneers came up short in the state tournament, falling 84-72 to Centennial in the Division I semifinals.
Carr and his teammates haven't forgotten that feeling.
"It was pretty tough watching my brothers out there battle without me," said Carr, who was sidelined by academic issues late in the regular season. "I felt like I could have helped them win that game to go to (the) state (championship), too. So now we're out here working together again, trying to get back to where we were at, but go farther and win a state championship."
Carr is back and eligible, but he's far from alone for the Pioneers. Shooting guard Chris Nelson also is back, along with swingman Gerad Davis, a 6-foot-4-inch senior who probably will be forced to play more inside this season. Davis' younger brother, Jordan, emerged as a weapon in place of Carr late in the season.
Jordan Davis, a junior, played in just five varsity games but averaged 15.4 points and scored 27 in an 81-74 win over Valley in the Sunrise Region title game.
"The person I'm looking for the most leadership (from) is Shaquile Carr, because he didn't finish out the year because of grades," Canyon Springs coach Freddie Banks said. "I think I'm going to get more leadership out of him. Jordan Davis, who I pulled up last year, I think I'm going to get a lot of leadership out of him, too. He's excited about this year, too."
The Pioneers have plenty of experience with nine seniors on the roster. And Nelson said the team has had no problem sharing the ball, even with such a deep backcourt.
"I think our strength really is our unselfishness," Nelson said. "We've been playing together for four years now, everybody understands what everybody can do, and we've all got the same goal now: a championship."
Banks said Carr might have been that missing piece last season. And the team is looking forward to finding out what they can do with their senior point guard this season.
"Everybody is eager to play," Banks said. "Without Shaq last year, they all feel that, hey, he didn't let us down, but the thing is that we just needed him. I think if we would have had him, we would have been OK."
Gerad Davis said it's great to be playing with Carr again.
"Shaq is (like) my brother, so I'm always going to be happy with him on the court," Gerad Davis said. "We're just going to get everything down together as a family and make sure everybody's working together."
Jerryon Sueing, a 6-5 senior, is the top returning inside player for Canyon Springs, so Banks said he will lean on Gerad Davis and 6-3 senior Darrell McCall to play power forward much of the time. Dominique Jones, a 6-6 transfer from Texas, also should help inside.
Nelson believes the Pioneers can survive inside despite not having a ton of size. "I think we can because we're scrappy," he said. "We're undersized, but we've got the heart to go out there and play like big men."
He said the team learned a valuable lesson in the state tournament last season.
"The biggest thing is knowing that you can't be satisfied with just getting there; you've got to get there and win," Nelson said. "I think we were too satisfied with just making it to the big stage rather than going there and getting the job done."