BOYS BASKETBALL: Jalen Malone's follow gives Eldorado overtime win over Mojave
January 21, 2017 - 5:23 pm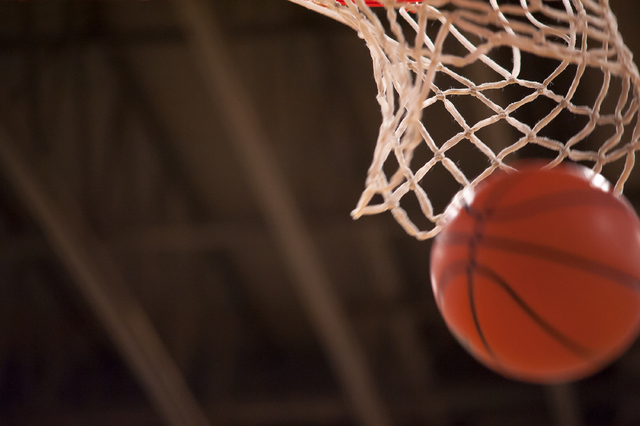 Jalen Malone tipped in Reggie Ingram's miss with a second left in overtime Friday to give Eldorado's boys basketball team a 68-67 home victory over Mojave.
Markaule Pace led the Sundevils with 19 points. Kemo Bell added 18 points, and Ingram scored 14 for Eldorado.
Tyrice Pender paced Mojave with 21 points. Tyrique Watson added 19 points, and Jeremiah Jackson scored 10 for the Rattlers.
Palo Verde 56, Legacy 55 — Dylan Yoro hit two free throws with 0.7 seconds left to help the Panthers edge the Longhorns.
Yoro led the Panthers with 14 points, and teammate Daniel Bellinger had 10 points.
Legacy's D'Eric Marlowe led all scorers with 25 points, and teammate Chris White scored 14.
Valley 56, Green Valley 52 — At Valley, John King went 3-of-4 from the free-throw line in overtime to lead the Vikings past the Gators.
Tommy Anderson scored 14 points to lead the Vikings. King and Bryce Jones, who swung momentum in overtime by taking a charge, each scored 13 points for Valley. Juan De Dios-Magana added 12 points for the Vikings.
Canyon Lewis scored 18 points to lead the Gators, while teammate Matthew Tuttle added 13 points.
Arbor View 73, Shadow Ridge 69 — At Arbor View, Comillion Smith had 25 points and five rebounds as the Aggies rallied to top the Mustangs.
Donovan Yap added 17 points, and Sevonyea Smtih had 12 points and 10 rebounds for Arbor View. Jarrod Burks scored 11 for the Aggies, who outscored Shadow Ridge 27-20 in the fourth quarter.
James Fuller and Bricin Ford each had 24 points for the Mustangs.
Las Vegas 69, Faith Lutheran 66 — At Las Vegas, the Wildcats made 11 3-pointers as they defeated the Crusaders.
Donovan Joyner led Las Vegas with 20 points. Deondre Northey scored 18 points, Mory Souhamoro had 13 points, and Josh Valencia added 10 points for the Wildcats.
Faith Lutheran's Elijah Kothe led all scorers with 27 points. Nic Maccioni added 26 points for the Crusaders, and teammate Brevin Walter scored 12.
Centennial 76, Cimarron-Memorial 69 — At Cimarron, Troy Brown led all scorers with 33 points as the Bulldogs defeated the Spartans.
Centennial's Isaiah Banks added 14 points, and Darian Scott scored 11 for Centennial.
Demarco Aleaxander had 22 points for Cimarron, which outscored Centennial 18-12 in the third quarter to cut the lead to 51-49.
Keiron Hatchett added 13 points, and teammate Kamakana Winquist scored 11 for the Spartans.
Cheyenne 69, Rancho 61 — At Rancho, Dewayne Alexander led the Desert Shields with 24 points as they defeated the Rams.
Cheyenne's D'Andre Houston had 19 points, and teammate William Federson scored 11.
Rancho's Justin Holiday led all scorers with 33 points.
Bishop Gorman 80, Sierra Vista 48 — At Gorman, Ryan Kiley scored 18 points to lead the Gaels past the Mountain Lions.
Chuck O'Bannon added 17 points and eight rebounds for Gorman, which outscored Sierra Vista 25-11 in the second quarter to take control of the game.
Jamal Bey scored 14 points, and Christian Popoola added seven assists and seven rebounds for the Gaels.
Maka Ellis had 13 points and 11 rebounds for Sierra Vista, which led 20-17 after the first quarter.
Chris McCoy added 12 points for the Mountain Lions.
Del Sol 58, Western 48 — At Western, Keith Seldon scored 17 points to power the Dragons by the Warriors.
Barry Williams added 10 points, and Jonathan Spearman had nine points for Del Sol, which led 31-25 at halftime.
Kwan Carter led Western with 17 points, and teammate Anthony Dodson scored 12.
Foothill 67, Spring Valley 56 — At Spring Valley, Kai Gamett scored 13 points to lead the Falcons over the Grizzlies.
Dylan Hushaw had 12 points for the Falcons, and teammate Michael Shaw scored 10.
Spring Valley's Keelan Wickersham led all scorers with 28 points. Justin Bonner supplied 13 points for the Grizzlies.
Liberty 63, Boulder City 43 — At Boulder City, Cameron Burist scored 26 points to lead the Patriots past the Eagles.
Logan Koch added 10 points for Liberty, which took control of the game with a 21-8 third-quarter run.
Carson Balistere scored 11 points to lead the Eagles.
Virgin Valley 56, Moapa Valley 40 — At Mesquite, Jayden Perkins led three double-figure scorers with 15 points as the Bulldogs topped the Pirates.
Hogan Fowles had 12 points, and Andrew Memmott scored 11 for Virgin Valley.
Trey Jones had 16 points, and Nathaniel Thompson scored 12 for Moapa Valley.
Lincoln County 74, Mountain View 64 — At Panaca, Kobe Walker had 16 points and eight rebounds to lead the Lynx past the Saints in two overtimes.
Elijah Harr added 14 points, nine rebounds and four assists for Lincoln County, which pulled away by outscoring Mountain View 13-3 in the second overtime.
Kevin Matthew had 11 points and nine rebounds, and Cody Thornock added 10 rebounds and eight steals for the Lynx.
Tyrell Brooks scored 39 points to lead the Saints, and twin brother Terrance Brooks added 11 points.
Laughlin 35, The Meadows 34 — At Laughlin, Corey Anderson led all scorers with 17 points as the Cougars stunned the Mustangs.
Laughlin shot 9 of 12 from the free-throw line.
Jake Epstein led the Mustangs with 15 points.
Agassi Prep 73, Calvary Chapel 41 — At Calvary Chapel, Akeemis Williams hit five 3-pointers and finished with 19 points as the Stars routed the Lions.
Aiden Olivas added 13 points, Allen Merritt had 12 points for Calvary Chapel, which got 10 points from Zhaccai Smith.
Elijah Martinez led all scorers with 24 points for Calvary Chapel.
Word of Life 57, Indian Springs 39 — At Indian Springs, Jaiden Stuckey led the Eagles with 17 points as they defeated the Thunderbirds.
Word of Life's Cheikou Kouyate scored 11 points, and teammate Ivan Candolesas scored 10.
Indian Springs' Dallin Davis led all scorers with 20 points. Jay Barth scored 11 points for the Thunderbirds.
Innovations International 77, Liberty Baptist 40 — At Innovations International, Justin Evans had 20 points, 15 rebounds and two assists to lead the Ambassadors past the Eagles.
David Washington had 11 points and six assists, and Jordan Allison had 10 points, seven rebounds and seven assists for Innovations, which also got 10 points from Eugene Washington.
Seth Sullivan led all scorers with 28 points for Liberty Baptist.
Coral Academy 80, Somerset-Sky Pointe 44 — At Somerset-Sky Pointe, Isaiah Spears had 23 points, three rebounds, three assists and three steals as the Falcons routed the Eagles.
Isaac Spears added 18 points and 10 assists, and Ryan Djino had 14 points and 14 rebounds for Coral Academy, which also got 11 points and eight rebounds from Adam Abdalla.
Danny Cox led Somerset-Sky Pointe with 12 points, and teammate Derek Magee scored 10.
Pahranagat Valley 68, Round Mountain 37 — At Alamo, Culen Highbe had 28 points and 10 rebounds to power the Panthers over the Knights.
Cody Williams added 12 points and seven rebounds for the Panthers.
Round Mountain's Payton Brown scored 13, and teammate Corbin Jensen had 10 points.
Fredonia (Ariz.) 61, Beaver Dam 51 — At Littlefield, Arizona, the Diamondbacks fell to the Hillbillies.
Box scores:
Agassi Prep 73, Calvary Chapel 41
Bishop Gorman 80, Sierra Vista 48
Centennial 76, Cimarron-Memorial 69
Coral Academy 80, Somerset Sky-Pointe 44
Innovations International 77, Liberty Baptist 40
Las Vegas 69, Faith Lutheran 66
Lincoln County 74, Mountain View 64
Pahranagat Valley 68, Round Mountain 37
Virgin Valley 56, Moapa Valley 40
Word of Life 57, Indian Springs 39