BOYS BASKETBALL: Las Vegas tops Eldorado despite free-throw woes
January 4, 2017 - 11:05 pm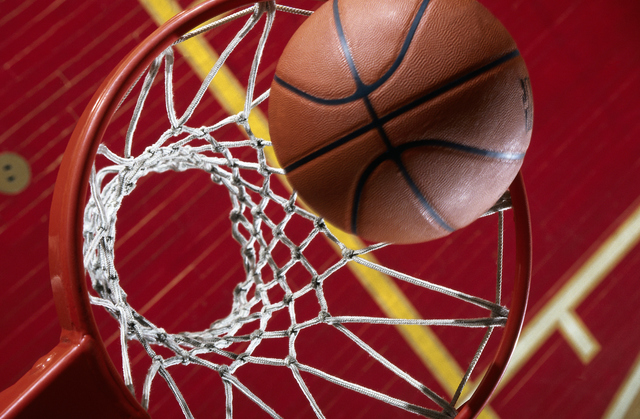 Marquise Raybon had 26 points, and Donovan Joyner added 23 points to lift Las Vegas' boys basketball team to an 81-72 home win over Eldorado on Wednesday.
Michael Berkabile and Josh Valencia scored nine points apiece for Las Vegas, which led 56-51 after three quarters. The Wildcats sank just 28 of 47 free throws (59.6 percent) to keep the game close.
Jordan Carter led Eldorado with 24 points. Kemo Bell and Reggie Ingram each had 12 points for the Sundevils.
Del Sol 59, Tech 53 — At Del Sol, Jonathan Spearman had 22 points and 12 rebounds as the Dragons held off the Roadrunners.
Byron Rowson added 11 points for Del Sol, which led 38-17 at halftime.
Miguel Pena and Jurelle Orbino each had 12 points, and Gary Johnson scored 10 for Tech.
Rancho 84, Valley 63 — At Rancho, Justin Holiday poured in 32 points, and Chrys Jackson scored 26 to lead the Rams by the Vikings.
Dayshawn Robinson added 13 points for Rancho, which jumped out to a 42-23 halftime advantage.
Bryce Jones scored 16 points to lead Valley, and teammates Tommy Anderson and Juan De Dios-Magana each added 10 points.
Durango 50, Bonanza 26 — At Durango, Jeremie Portuondo had 13 points, and Zyare Ruffin added six points and 10 rebounds as the Trailblazers downed the Bengals.
Demetrius Valdez had eight points, and Anthony Hunter dished out seven assists for Durango, which held Bonanza to one point in the second quarter and led 37-6 at halftime.
Zioan Blakeney scored 13 points for Bonanza.
Chaparral 67, Moapa Valley 40 — At Chaparral, Jonathan Tendale poured in a game-high 28 points as the Cowboys routed the Pirates.
Samuel Porras added eight points, five assists, five steals and five blocked shots for Chaparral, which led 27-16 at halftime.
Chase Kruse led Moapa Valley with eight points.
Virgin Valley 75, Boulder City 62 — At Boulder City, Andrew Memmott led four players in double figures with 19 points as the Bulldogs beat the Eagles.
Memmott was 10-for-10 from the free-throw line.
Devin Cox added 16 points, and Hogan Fowles and Jayden Perkins each scored 13 for Virgin Valley, which led 32-23 at halftime. Jarett Tietjen had nine assists for the Bulldogs.
Carson Balistere had 15 points, and Justus Green scored 14 for Boulder City.
Adelson School 62, Laughlin 21 — At Adelson School, Jake Buchman scored a game-high 18 points to lead the Lions by the Cougars.
Brandon Pappas had 16 points and 10 rebounds for Adelson School, which led 44-8 at halftime.
Corey Anderson led Laughlin with 11 points.
Box scores:
Virgin Valley 75, Boulder City 62
Adelson School 62, Laughlin 21