BOYS BASKETBALL: Trevon Abdullah-Booker scores 31 in Desert Pines win
December 5, 2016 - 10:37 pm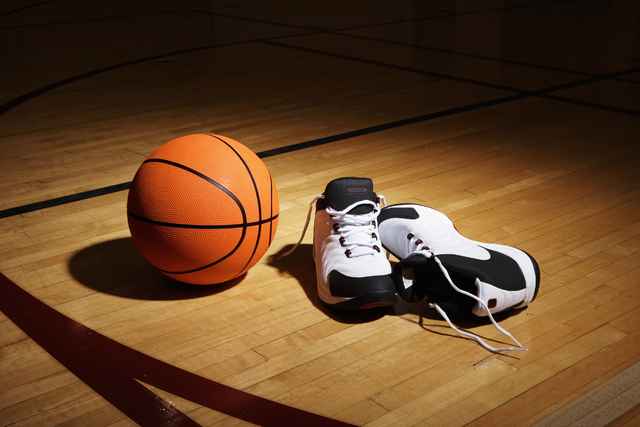 Trevon Abdullah-Booker had 31 points Monday to lead the Desert Pines boys basketball team to a 73-61 home victory over Basic.
Jordan Simon had 16 points, nine rebounds, and seven assists for the Jaguars, and teammate Jalen Graves had 15 points.
Cris Dominguez led Basic with 15 points. Geoff Faries added 11 points, and De'Shawn Eagles scored 10 for the Wolves.
Bishop Gorman 75, Sierra Vista 64 — At Sierra Vista, Christian Popoola scored 19 points to lead the Gaels past the Mountain Lions.
Jamal Bey added 17 points for Gorman, which outscored Sierra Vista 33-8 in the third quarter to erase an eight-point halftime deficit.
Ryan Kiley added 13 points, and Jarrett Jordan scored 11 for the Gaels.
Maka Ellis scored 32 points to lead Sierra Vista, which led 34-26 at the half. Chris McCoy added 14 points for the Mountain Lions.
Shadow Ridge 63, Valley 54 — At Valley, James Fuller's 23 points led all scorers as the Mustangs defeated the Vikings.
Shadow Ridge's Garin Macfarlane had 13 points, and Isaiah Williams scored 10.
John King led Valley with 21 points, and Tommy Anderson added 10 points.
Canyon Springs 103, Arbor View 73 — At Canyon Springs, Christopher Hawkins led all scorers with 19 points as the Pioneers defeated the Aggies.
Canyon Springs' Jovon Coleman had 17 points, Michael Washington and Kevin Legardy each had 14 points, and Elbert Bibbs scored 1o.
Jarrod Burks led Arbor View with 12 points, and KeShawn Jenkins scored 11 for the Aggies.
Las Vegas 77, Desert Oasis 56 — At Desert Oasis, Marquise Raybon had 17 points to lead the Wildcats over the Diamondbacks.
Donovan Joyner added 16 points for Las Vegas, which led 31-16 at the half.
Michael Berkabile had 12 points for the Wildcats, and teammate Deondre Northey scored 11.
Jacob Heese led Desert Oasis with 15 points, and Maitland Williams added 13 points for the Diamondbacks.
Sunrise Mountain 63, Somerset-Sky Pointe 31 — At Somerset-Sky Pointe, Trevor White and Jaylin Headen each scored eight points to lead the Miners in a rout of the Eagles.
Dalton Pytrysson added six points for the Miners, who opened the game with a 24-8 run to take control.
Joshua Brooks scored eight points to lead the Eagles.
Needles 60, Mohave Accelerated (Ariz.) 22 — At Needles, California, Irving Juarez scored 22 points to lead the Mustangs in a rout of the Patriots.
Trey Tsosie added 14 points and six rebounds for Needles, which took control with a 20-4 first-quarter run.
Jordan Herbert scored 10 points to lead the Patriots.
Liberty Baptist 49, GV Christian 38 — At Liberty Baptist, Seth Sullivan scored 14 points to lead Liberty Baptist to the victory.
Trevor Campbell added 10 points for Liberty Baptist.
Daemein Hargrove led GV Christian with 11 points.
Box scores:
Bishop Gorman 75, Sierra Vista 64
Canyon Springs 103, Arbor View 73
Liberty Baptist 49, GV Christian 38
Needles 60, Mohave Accelerated (Ariz.) 22
Sunrise Mountain 63, Somerset-Sky Pointe 31