Christopher Hawkins scores 28 points, leads Canyon Springs to win
November 28, 2016 - 10:10 pm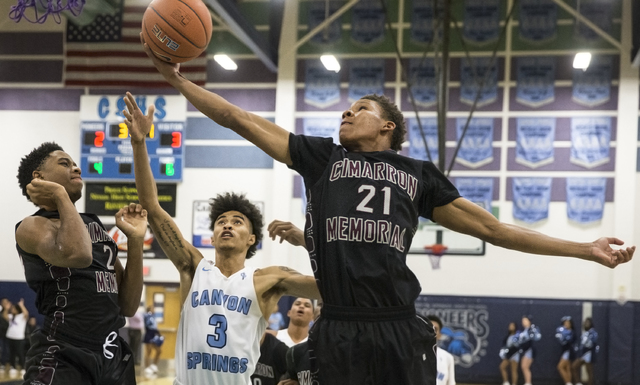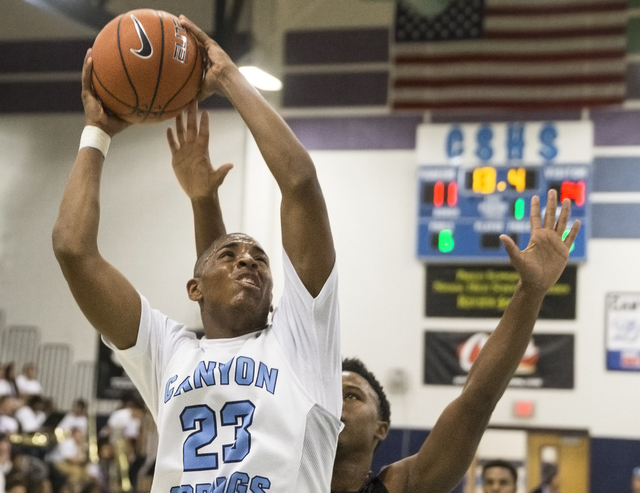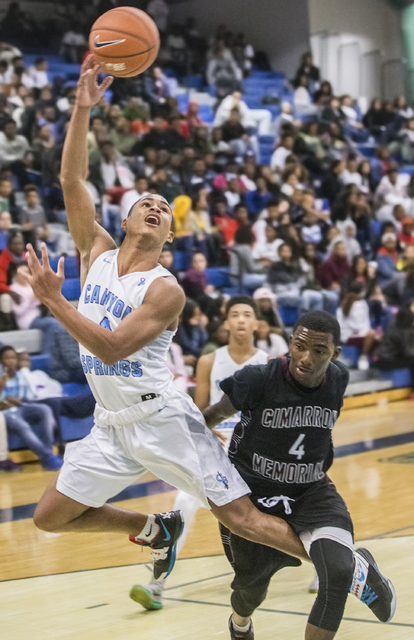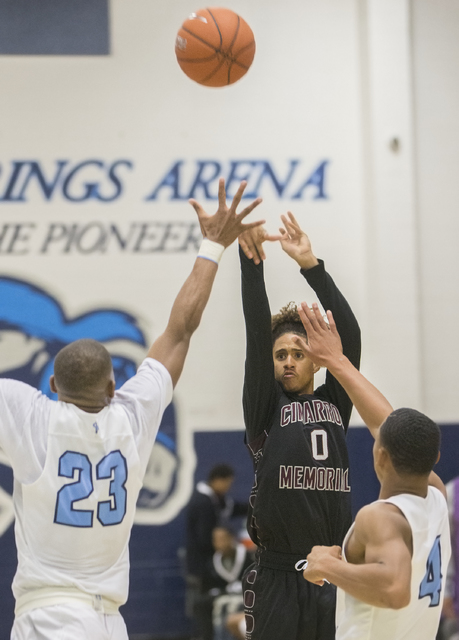 In a perfect world, the first home game of the season goes off without a hitch. The team plays strong from buzzer to buzzer, makes the home fans happy with a win and sets the tone for the year.
Canyon Springs' home opener wasn't quite perfect, but it was good enough. The Pioneers' boys basketball team overcame a slow start and rode 28 points from senior Christopher Hawkins to a 73-64 victory over Cimarron-Memorial on Monday night.
"I wanted to jump-start the season with a good win for my teammates and help us get the victory," Hawkins said. "I feel like we were really nervous in the first quarter and in the second quarter we settled down. In the second half we were in control of everything, I felt."
It took awhile for both teams to get going. With 3:28 left in the first quarter, the teams had combined for just six points, and after a full quarter, Canyon Springs trailed 14-11.
Then Hawkins took over. The 5-foot-5-inch guard was held to just seven points in the first half, then tallied 21 in the second, finishing 16-for-16 from the free-throw line for the game.
"He's hungry," Canyon Spring coach Freddie Banks said. "And I know he doesn't miss free throws."
As a team, the Pioneers didn't miss many, either. They made 27 of 34, which was good for almost 80 percent. In a game they won by nine points, the Pioneers made 11 more free throws than the Spartans, who made just 16 of 33.
While Hawkins stole the show for Canyon Springs, junior guard Kevin Legardy quietly put up a big night of his own, scoring 17 points, including a pair of 3-pointers, and going 7-for-10 from the line. Senior forward Elbert Bibbs had eight second-half points, including two on a monster jam that fired up the crowd.
"It's the first game and I felt like it was going to be a tough one," Banks said. "We need to be better defensive-wise because we work on defense all day long. But otherwise I'll take the win for the night.
Contact Justin Emerson at jemerson@reviewjournal.com or (702) 387-2944. Follow @J15Emerson on Twitter.
Box score:
Canyon Springs 73, Cimarron-Memorial 64