COMMENTARY: Bishop Gorman senior point guard personified
January 30, 2014 - 11:36 pm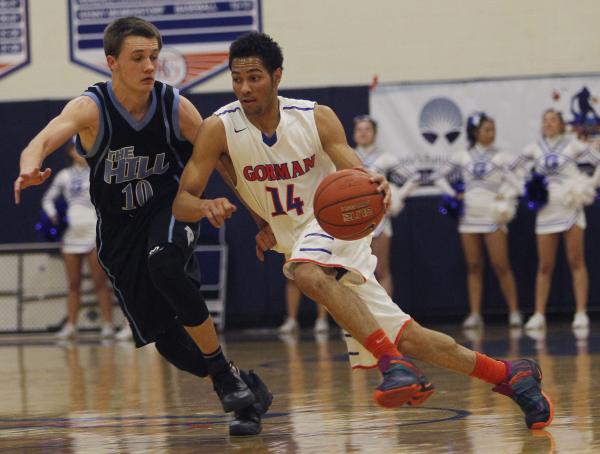 The checkmarks never end. He must be in control, play with a purpose, be clever, lead by example, attack the key and create plays that can be made within it, have as good a ball fake as vision, calm others in the face of chaos.
It's a full plate, the point guard position in basketball.
Noah Robotham is one sitting at the head of the table.
The Bishop Gorman team that features some of the nation's most highly regarded frontcourt players, one that just beat national prep power Findlay Prep for the first time in seven tries, is led by a 6-foot senior who has orange blood running through his veins, who is the heartbeat of a program that is chasing a third straight state title, who is a virtual poster boy for all that is the Gaels.
"I've never been a 'me' or 'I' kind of guy," Robotham said. "I just want to win. My biggest goal has always been to keep the tradition going for Bishop Gorman. I was just a little kid shooting a ball, messing around, being raised in this community. I'm very thankful for all the opportunities playing here has given me. My dad taught me a long time ago that the way you are measured is by the wins you have. Give all the credit to my team.
"I think that, more than anything, builds a legacy."
His is one that could see Robotham become the winningest player in school history should the Gaels continue toward another evening of raising a state championship trophy, a three-year starter and four-year varsity player whose connection to the school dates much further back.
He grew up on Bishop Gorman, on its program and coaching and traditions. He attended camps at the school as a young boy, following an older brother (Czar) around the gym and soaking in every pass and crossover. He was always meant to be here, now, at this place, in this position.
"It's surreal to think that Noah won't be here next year," Bishop Gorman coach Grant Rice said. "I've known him since he was 5 or 6 years old, always playing with older kids, always more advanced than others his age. Everyone knows he's the leader of our team, that he's the one in charge out there, that we will only go as far as he takes us.
"We're going to miss him like crazy when he's gone. It's not just four years of varsity. It's 10, 11 years of him being around all of us. He has been as big a part of this program as any player we've had."
Heavy words from a coach who has and continues to produce some of the best prep talent ever to compete on local courts, but you can't measure a player such as Robotham by recruiting stars attached to his resume or the prestige of college teams chasing his services.
Many are interested, and what a school such as San Jose State or Akron or San Francisco or Northern Arizona or Idaho or UC Davis or Ohio would receive can't be quantified in numbers. Robotham averages close to 17 points and seven assists, but it's more about the faith Rice shows in him that defines how valuable he is and the qualities those at the next level seek most.
Never was that more apparent than Saturday against Findlay Prep when, with his team trailing by two with 11 seconds remaining in regulation, Rice decided against calling a timeout and instead allowed his point guard to advance the ball and make a play.
Robotham did, finding teammate Nick Blair for what would be the tying score of a game Bishop Gorman won 76-72 in overtime.
Coaches covet control. Most desire a say in every dribble of every possession, especially against a rival that has always won the scoreboard battle. Robotham scored 25 on Saturday, but it was the time he didn't shoot that best defined his maturation.
"I knew the ball would be in Noah's hands, so I just thought, 'Let's go and see what happens,'" Rice said. "He showed a lot of leadership there in making the right basketball play. I think last year, he would have thought about taking the shot himself. But he found the guy with a better opportunity. He trusted another to make the shot.
"There was a lot of celebrating when we tied the game, but Noah was the first one to remind all our guys that it was far from over, that we needed to calm down and finish the game. I'll say it again. I still can't believe he won't be with us after this year. This is a kid who as a freshman had no problem getting in the face of (former Gorman star) Shabazz Muhammad if he needed it. Noah has been a very big part of all we have done."
Good point guards are difficult to find at any level.
Special ones are rare.
Noah Robotham defines the latter. He has 100 career victories, and should Bishop Gorman win out this season, he would finish with 111. The most in school history.
He sits at the head of the table.