Desert Region: Antwon Jackson powers Clark past Liberty
February 15, 2019 - 9:56 pm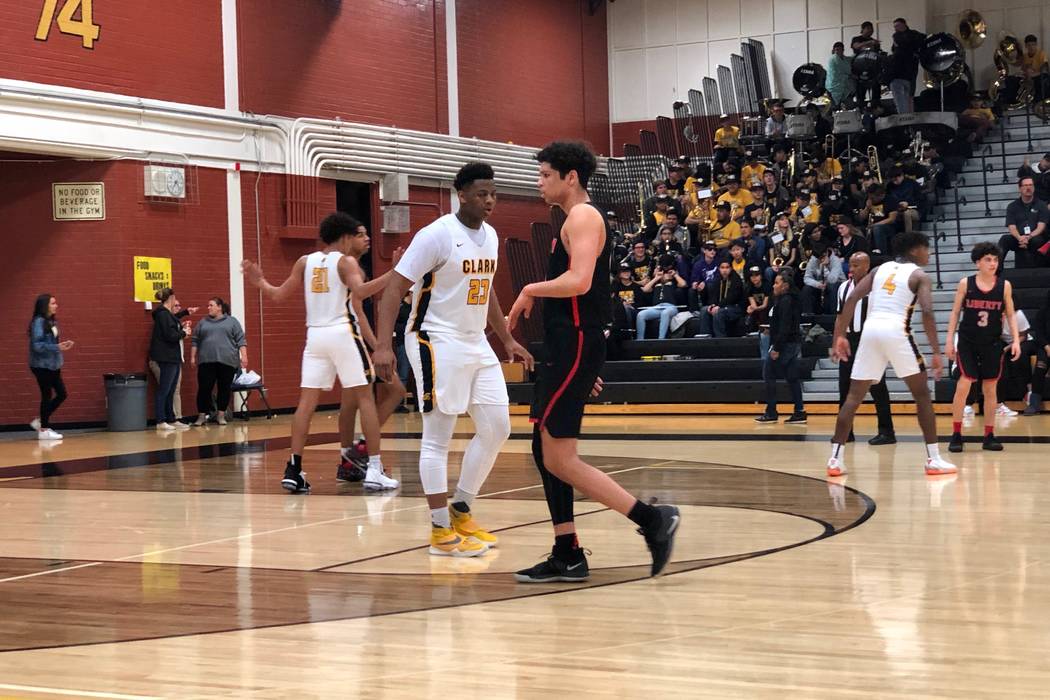 Clark boys basketball coach Chad Beeten figured his senior standouts — Antwon Jackson and Jalen Hill — would have their way with Liberty's interior defense in the Desert Region quarterfinals Friday night.
In short, he was right.
Jackson, a burly 6-foot-7 throwback post player signed to Arkansas State, imposed his will on the Patriots en route to 26 points, 13 rebounds and a 69-47 victory for the home-standing Chargers (22-4). Hill, a 6-7 wing signed to Oklahoma, added 17 points and helped hold Liberty star wing Julian Strawther to a season-low five points.
Clark advances to play at Foothill (19-8) in the semifinals at 8 p.m. on Tuesday.
Liberty finished 14-12.
"We were hoping that we could get some fouls on (Strawther) early," Beeten said. "And that we could make him guard in the post."
Worked like a charm.
The Chargers ran their offense in the first quarter through Jackson and Hill, and Strawther subsequently committed two fouls in the first nine minutes and checked out of the game. Clark promptly embarked on an 11-0 run to build a 24-10 lead, and relied on its two seniors in the second half as Strawther struggled to find his rhythm.
He left the game after the third quarter with an elbow injury.
Jackson, meanwhile, used his 260-pound frame to overpower defenders, and showcased an array of spin moves near the basket. Hill took advantage of the attention paid to Jackson, and cut off the ball for layups and free-throw attempts.
"I realized they couldn't guard me. They started collapsing a little bit and then I started passing to Jalen when he was cutting," Jackson. "I felt dominant. I feel like I'm doing the right things because I know my teammates are going to get me the ball when they can, and when they start collapsing … (my teammates) will start cutting."
Kobe Stroughter led the Patriots with 20 points.
Foothill 92, Desert Oasis 74 — At Foothill, Dylan Hushaw led all scorers with 35 points as the Falcons defeated the Diamondbacks.
Jace Roquemore added 27 points, and Demitri Clair scored 12 points for the Falcons, who led 44-34 at the half and used a 24-12 third-quarter burst to put the game out of reach.
Dominique Ford scored 34 points for Desert Oasis (12-16). Nate Van added 14 points, and Mason Mich'l scored 11 points for the Diamondbacks.
Bishop Gorman 90, Durango 61 — At Gorman, Noah Taitz scored 20 points as the Gaels topped the Trailblazers.
Isaiah Cottrell had 17 points, 10 rebounds, and four blocks, and Noah Wedlow had 12 points for Gorman.
Will McClendon added 10 assists, eight points, and seven rebounds for the Gaels (23-4), who will face Coronado (17-7) in a region semifinal at 4:40 p.m. Tuesday at Foothill.
Durango's Kendrick Gilbert led all scorers with 26 points. Anthony Hunter had 14 points, and Keshon Gilbert had 11 points for the Trailblazers (8-15).
Coronado 93, Silverado 79 — At Coronado, Jaden Hardy had 26 points to help the Cougars down the Skyhawks.
Jhaylon Martinez added 19 points and 10 rebounds, and Tyrell Hunt had 15 points for Coronado, which got 14 points from Richard Isaacs and 11 points from Felix Reeves.
Martel Williams led Silverado (14-15) with 39 points. Damion Byrd had 18 points, and Noah Sherrard scored 11 for the Skyhawks.