DIVISION I BOYS: Gorman uses early run to pull away from Galena
February 26, 2015 - 11:09 pm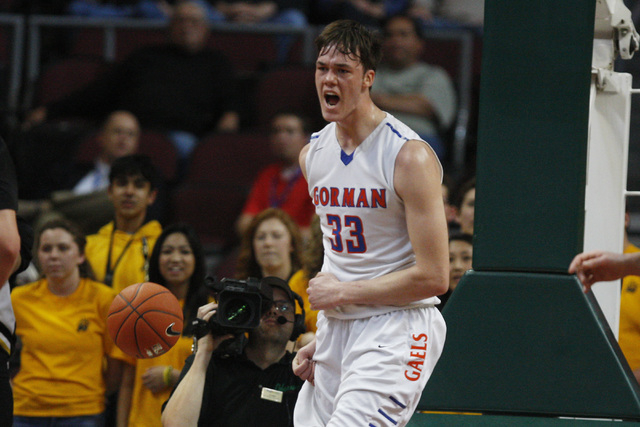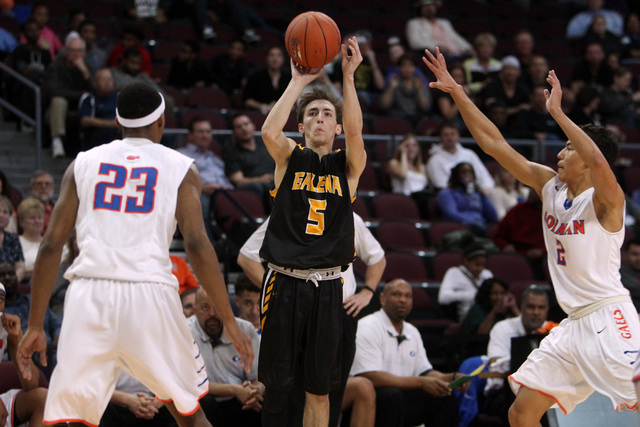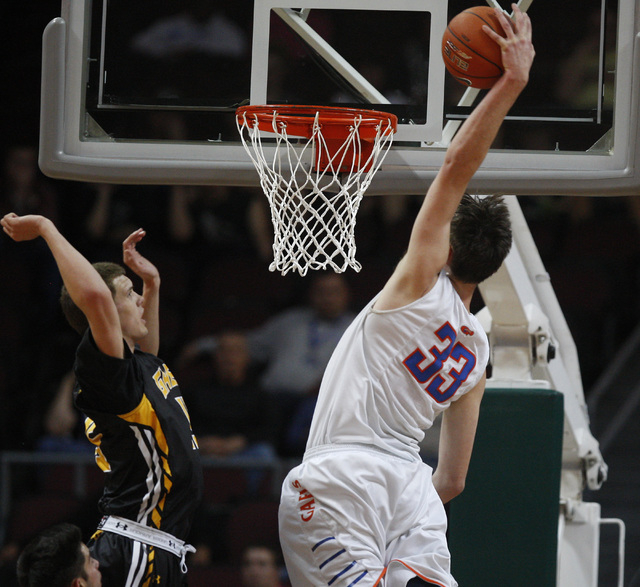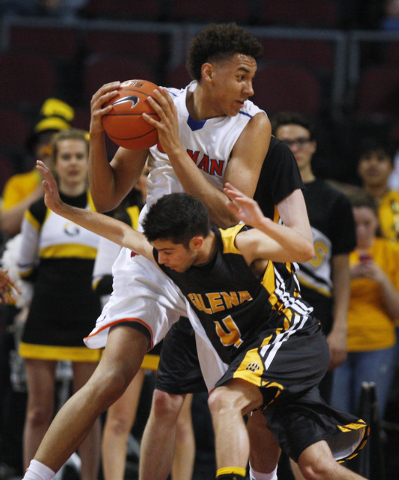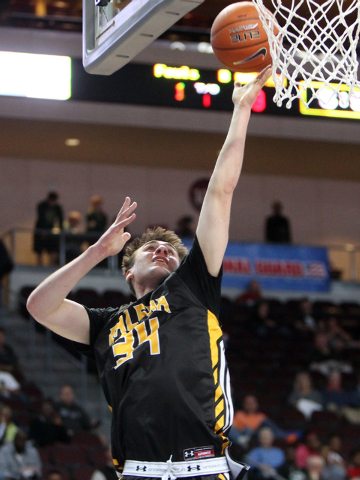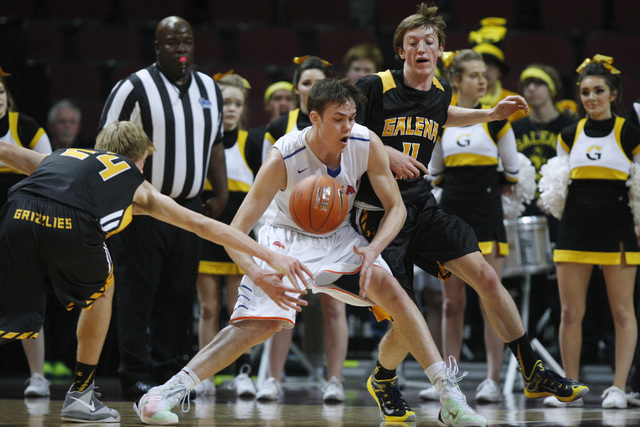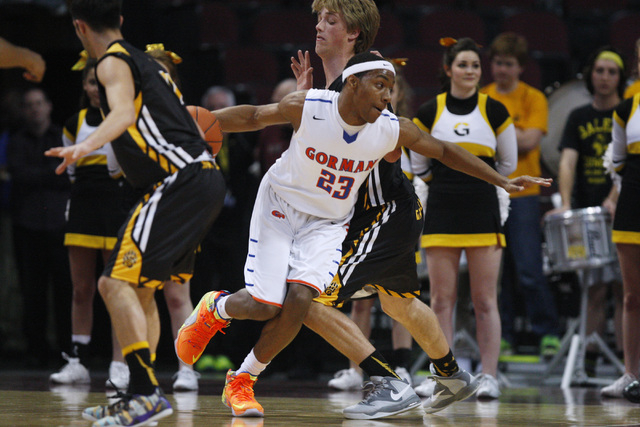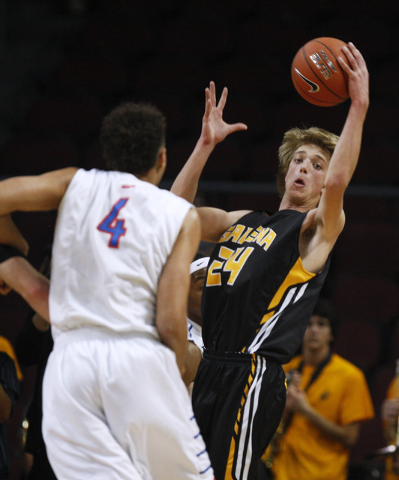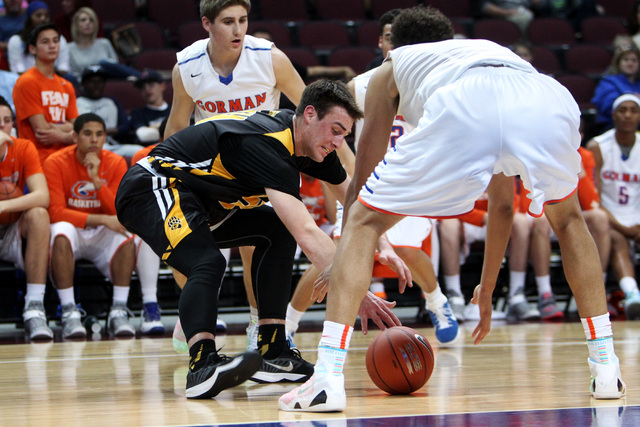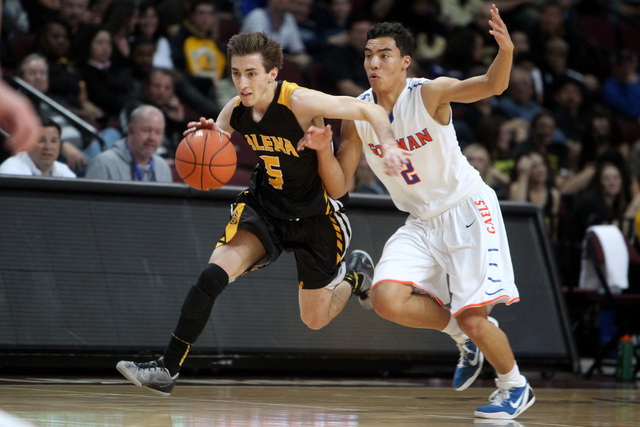 Bishop Gorman big man Chase Jeter missed an ill-advised 18-footer on the Gaels' first possession on Thursday.
It was the last thing that would go wrong for a while for Gorman.
The Gaels led 19-0 after the first quarter and rolled to a 75-41 win over Galena in a Division I state semifinal game at Orleans Arena. Gorman (26-6) plays Palo Verde (21-9) in the state title game at 8:10 p.m. Friday at Orleans Arena.
"We wanted to keep the pressure on them," Gorman coach Grant Rice said. "We really wanted to pressure them and make them play a little faster than they're used to."
The strategy worked, especially in the opening quarter, when the Gaels forced 10 turnovers that led to eight points. Galena (24-7) was 0-for-9 from the field in the first quarter, including 0-for-5 on 3-pointers.
"We applied some pressure to them," Rice said. "They got some open looks, but they just didn't fall. Here in the Orleans Arena, sometimes it's a little different than a high school gym. We were fortunate. I thought our defense was pretty good the first quarter, but they still got three or four open looks that they could have knocked down. We were fortunate to get through that."
Gorman 7-footer Stephen Zimmerman had 10 points in the first half, including a tomahawk dunk off of a give-and-go with Jeter as the Gaels took a 32-13 lead at the half.
"We had a lot of energy at the very beginning," Zimmerman said. "We let up a little bit. In my opinion, we didn't have a good game. We could have played a lot better. but we started off with a run that helped us out."
The win was the 113th of Zimmerman's career, the most in school history. He will look to close out his high school career with a fourth consecutive state title.
"I think it hit my parents before it hit me, because my mom was crying a few minutes ago," said Zimmerman, who finished with 18 points, six rebounds and two blocked shots. "But it's a huge blessing."
The 6-11 Jeter scored 18 points in the second half and finished with 23 points and 13 rebounds for the Gaels.
Zackary Lessinger led Galena with 17 points and nine rebounds.
It will be the fourth meeting of the season between Gorman and Palo Verde. The Gaels beat the Panthers 82-46 in the Sunset Region title game last Friday.
"I'm happy for Palo," Rice said. "Coach (Paul) Sanchez is one of the best guys in basketball. I like their team. I really like their team, and they're such a dangerous team and I think the city realizes that now."
Box score: