Do-it-all senior raises Pioneers' state hopes
February 26, 2014 - 10:35 pm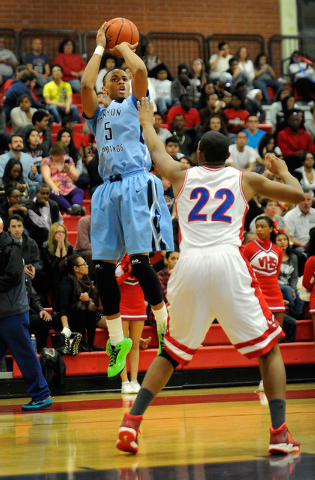 Gerad Davis isn't always the leading scorer for the Canyon Springs boys basketball team.
But there might not be a more important player as the Pioneers start play in the Division I state tournament today in Reno.
"Gerad plays a very big role on this team," said senior guard Shaquile Carr, who has committed to play at Texas-El Paso. "He's really the best player on our team. He does it all, rebounding, shooting the ball, dunking. He does whatever you want."
Davis and the Pioneers (24-4) meet Spanish Springs (18-11) in the semifinals at 4:40 p.m. today at UNR's Lawlor Events Center. Bishop Gorman (27-4), which has won four state titles in the past five seasons, plays Reno (19-9) in the other semifinal at 8. The championship game is set for 8 p.m. Friday.
Davis is a guard by nature, but the 6-foot-4-inch senior has been as close to a post player as the Pioneers have had all season. He's the team's tallest starter and plays a key role doing the dirty work around the basket.
"I've been doing it for a long time in my basketball career, since I was about third grade," Davis said of playing inside. "I was the biggest on the team, so I had to do that. But me knowing how to play guard as well, actually helps my game out a lot."
Davis is the team's third-leading scorer, averaging 16.8 points. But his work on the glass may be more important than any points he scores.
"His jumping ability makes up for all the things we're missing as a center and a forward," Canyon Springs coach Freddie Banks said. "He's got to come play this week really strong and play to his potential.
"His rebounding has been tremendous for us, because if he doesn't rebound, we don't get any rebounds at all."
Davis' younger brother, Jordan, is the team's leading scorer at 17.6 points. Carr averages 17.0, but was the go-to scorer in the Sunrise Region tournament, averaging 24.3 points.
Carr and the Davis brothers aren't the only capable scorers for the Pioneers. Chris Nelson and Darrell McCall have each scored in double figures 10 times this season and have the potential to score 20 points on any given night.
"A lot of (teams) don't have five people that can actually score the rock," Carr said. "Against our team, you've got to guard everybody, and it's very hard because everybody's athletic and very smart, as well."
The Pioneers are making their fourth state tournament appearance in the past five seasons and are looking for their first title since 2011.
They'll continue to try to push the tempo at state. Canyon Springs averages 80.5 points and has scored 90 or more nine times this season.
"It makes (teams) nervous when we get in our transition, because it makes them have to get back fast," Gerad Davis said. "And when they don't do that, we just continue to go faster."
Banks said it's important for his team to try to set the pace.
"If we can push the ball and get open layups and open jump shots and pressure the ball, that's going to make it easier for us, because that's our style of play," he said. "We cannot let the other team dictate what they want to run. If we can take them out of their offense and get into our running game, that's an added plus."
Carr said the team is eager to get a shot at Gorman.
"That's what we're waiting on, actually," he said.
Gerad Davis said the team knows it has work to do to get a chance at the Gaels.
"We talk about it, but just worry about us playing against Spanish Springs first and we can worry about Gorman after the game," Gerad Davis said.
Contact prep sports editor Damon Seiters at 702-380-4587 or dseiters@reviewjournal.com. Follow @DamonSeiters on Twitter.