Epic dunk offers peek at Smith's skill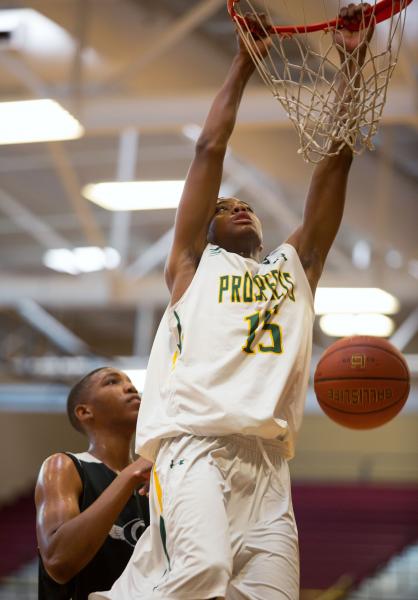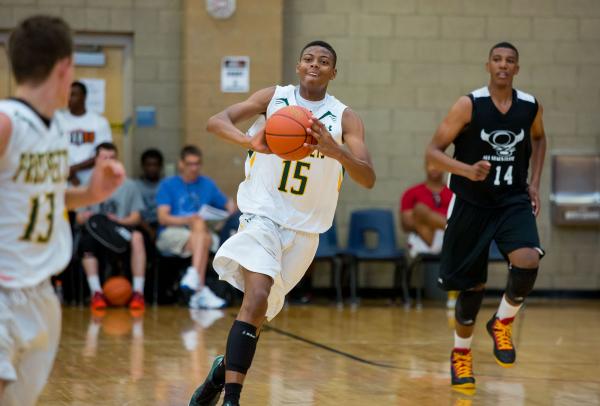 Do a quick Internet search using the words "Ray Smith" and "dunk," and you'll find it. Just make sure to hide the children when you watch the video.
Smith, a junior-to-be at Las Vegas High, had one of the most memorable plays of the recent Under Armour Summer Jam in Mequon, Wis. The 6-foot-7-inch wing made a back-door cut, received a pass from teammate Cameron Burton and then posterized a defender with a nasty one-handed jam that sent his opponent tumbling to the floor.
"I just felt like Goku when he powers up," Smith said, referring to the main character in "Dragon Ball Z," a Japanese animated television series. "It makes a statement. They say Vegas don't have any players, but I'm coming out of Vegas, and we have players that work hard."
Since the video hit the Internet less than two weeks ago, it has received thousands of views, and the dunk has been compared to the one by Clippers center DeAndre Jordan that generated an array of online memes mocking Brandon Knight's "death."
As a result, Smith has become something of a cult hero locally and on the AAU basketball circuit playing with the Las Vegas Prospects 16s.
"I have random kids in Vegas that come up to me and are like, 'So you're the dude that dunked on that dude,'" Smith said. "That's the famous saying. 'So you're the dude that dunked on that dude.' It's pretty nice to have everyone see that and notice that, give them something to look at."
Smith is one of three local players in the class of 2015 with a scholarship offer from UNLV — Bishop Gorman big men Stephen Zimmerman and Chase Jeter are the others — and thanks to his wealth of potential has shot up the recruiting rankings since the end of the high school season in February.
Rivals.com pegs Smith as the No. 60 player in his class, while Scout.com has him as the country's No. 12 small forward.
"To start off with, he looks the part," Prospects coach Anthony Brown said. "He's long, he's athletic, he can shoot it, he can handle it, and he's only going to get better. And who's to say he's not still growing? That plays a huge part in it."
Smith spent his freshman season at Shadow Ridge, but he transferred to Las Vegas High after his father, Bobby, gained custody in May 2012. Soon after, Smith started attending 6 a.m. workouts with his dad, lifting weights and shooting 500 jumpers each day.
"(He) lacked structure and discipline and had to learn some life lessons, and that started to reflect on the basketball court," said Bobby Smith, a former basketball player at Rancho who spent 10 years in the Army stationed overseas. "He made a big jump, but he's nowhere near his capabilities. He hasn't even stepped into who he is yet. It's going to be exciting to see when he does."
In addition to UNLV, Smith said he has offers from New Mexico, Northern Arizona, San Diego State and Texas. Rebels assistant Stacey Augmon and coaches from NAU and SDSU watched Friday as Smith scored nine points and added three blocks in a 68-65 overtime loss to Pangos 16 Silver in the final game of pool play at the Las Vegas Fab 48 tournament.
Smith was fouled on a 3-point attempt with 5.9 seconds left in overtime, but he missed all three shots. He also missed a 3-pointer at the final buzzer.
Smith had 11 points, four rebounds and four steals Saturday as the Las Vegas Prospects were eliminated from the tourney with a 64-56 loss to Double Pump Elite 16, which featured another UNLV target in 6-10 post Trevor Stanback.
"I came a pretty long way, (but there is) no sense of accomplishment," Smith said. "I still have things to work on. I still want to get better. I'm not settling for what I am now."
Contact reporter David Schoen at dschoen@reviewjournal.com or 702-387-5203. Follow him on Twitter: @DavidSchoenLVRJ.