Freshman shoulders load for Centennial
January 31, 2014 - 11:53 pm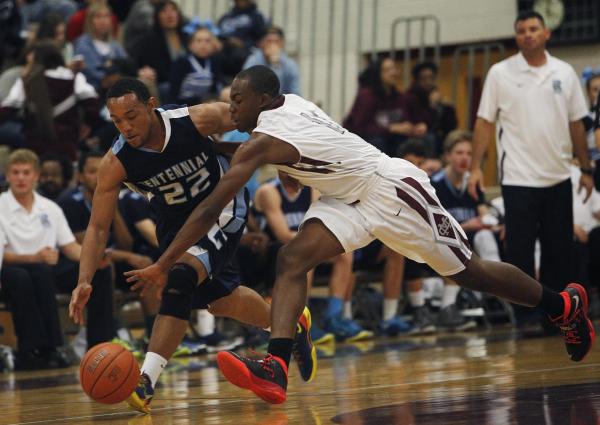 Many basketball teams couldn't recover if their second-leading scorer was held without a field goal.
It didn't bother Centennial's boys Friday night.
Senior guard Khalil Thompson, who averages 13.1 points, didn't make a field goal and had just two points, but the Bulldogs rolled to a 70-55 road win over Cimarron-Memorial.
It certainly helped to have 6-foot-5-inch freshman standout Troy Brown. Brown had 23 points, 14 rebounds and three assists for the Bulldogs.
"He's doing everything for us," Centennial coach Todd Allen said. "It's kind of unheard of as a freshman, but he's not playing like a freshman. We count on him every night."
Brown has become the team's top scorer and rebounder and also is one of the team's primary ball-handlers. He has emerged as the team's leader as it makes a stretch run.
"We knew it would happen," Allen said. "The first maybe six, seven, eight games, he was kind of passive and kind of getting a feel for where everybody's at on the team and where he fits in. But you know what, he's a winner and he finds the ball. And a lot of things he does rubs off on our team and makes our team better."
The Bulldogs (20-2, 5-1 Southwest League) were sloppy with the ball in the second quarter, turning it over 10 times and helping Cimarron pull within 26-22 at halftime.
But Centennial started the second half on a 9-2 run, capped by a basket by Brown, to take control. The Spartans (11-12, 3-3) would get no closer than eight the rest of the way.
"They were patient against the press, which we told them to be," Allen said. "But Cimarron, they do a good job of making you play fast. I thought we kept our composure better, and we attacked when we should have and it worked out for us."
Eddie Davis hit three 3-pointers in the third quarter to help the Bulldogs extend the lead. The 6-7 Davis hit four 3-pointers and finished with 18 points and 10 rebounds.
"He's been doing it all year long," Allen said of Davis' 3-point shooting. "And if he can continue to hit those shots for us, we're a better team."
Garrett Scheer had 11 points and 10 rebounds for Centennial, which outrebounded Cimarron 49-27.
"That's our key, rebounds and defense," Allen said. "And if we can get those guys doing that every night, we've got a chance to win."
The Bulldogs also did an outstanding job on Cimarron's leading scorer, Tony Harrison, who was averaging 18.5 points. Harrison finished with 11 points, and seven came in the final three minutes after Centennial had taken control.
"Our plan was to limit Harrison," Allen said. "That was our whole game plan coming in. That's how they roll, is when Harrison gets going."
Cameron McKissic finished with 19 points and five rebounds to lead the Spartans, and freshman JaDon Brown scored 16.
Box score:
Centennial 70, Cimarron-Memorial 55