Las Vegas' Savoy turns aggressive, ends slump
December 9, 2014 - 11:32 pm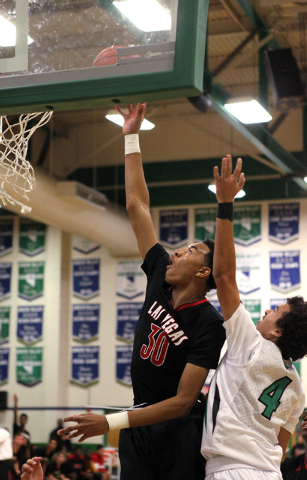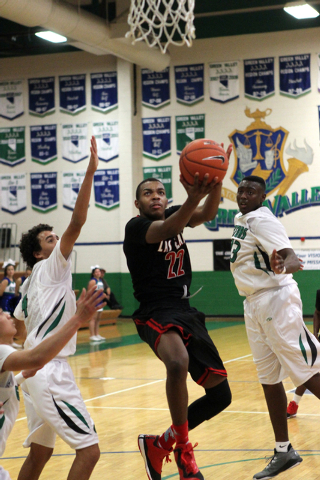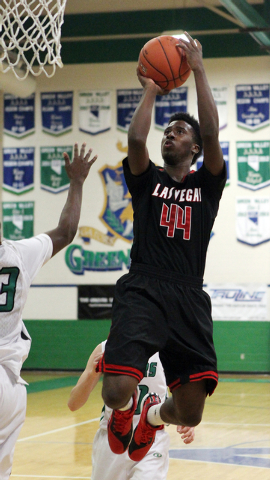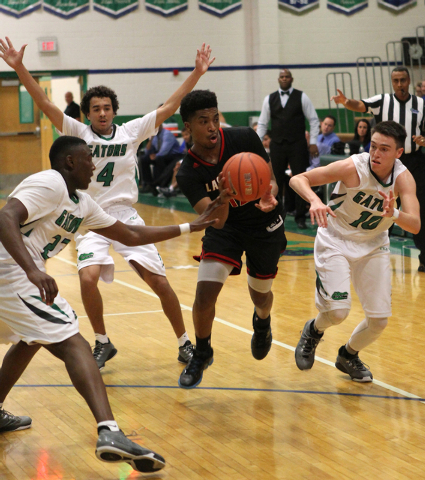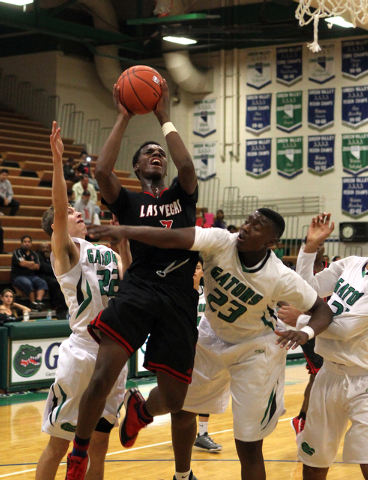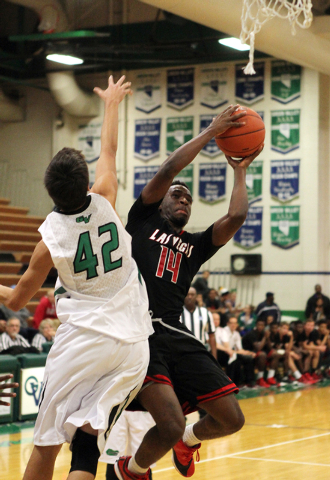 Las Vegas High's Patrick Savoy didn't play well in the team's first two games, and his struggles continued into the first half Tuesday night.
Fortunately for the Wildcats, Savoy shook the slump in the second half, scoring 15 of his game-high 21 points to lead the boys basketball team to a 73-63 win at Green Valley.
"He struggled in the first two games, and he struggled in the first half," Las Vegas coach Jason Wilson said. "We told him to be more aggressive and get easy ones and then those will lead to better shots from the arc where he wants to shoot from. So he was good in the second half."
Savoy was 2-for-7 from the field in the first half, and he missed all three of his 3-point attempts. But he got some layups early in the third quarter, either off the dribble or on strong cuts away from the ball. That got him going, and he was 6-for-11 from the field in the second half. He was 2-for-4 on 3-pointers in the fourth quarter. Those were the only 3-pointers the Wildcats (3-0) made all night.
Green Valley (2-1) cut the lead to 51-47 early in the fourth quarter, but Savoy hit his first 3-pointer from the right wing, and Deshawn Weathers hit a baseline jumper and 1 of 2 free throws to help push the lead to 57-47.
Weathers scored off a turnover and Savoy hit another 3-pointer to make the score 64-51 with 3:49 to play, and Green Valley never threatened again.
"I thought Deshawn Weathers was a big spark for us on defense," Wilson said. "And he had a lot of points, too. He got after it in the second half. He gave us some energy."
Weathers had all nine of his points after halftime and finished with six rebounds, four in the second half.
"You've got to know what your role is, and you've got to accept it," Wilson said. "The last couple games he's really accepted it and really brought a lot of energy and played great defense."
Tyler Bey had 17 points, 13 rebounds, two steals and two blocked shots for Las Vegas, but Wilson said the 6-foot-6-inch junior wasn't at his best. Bey struggled at times to convert around the basket and missed multiple dunks.
"Frankly, I know him, and he's going to be disappointed with the way he played tonight even though he had 17 points," Wilson said. "I didn't think he played great, and I could tell he knew he didn't have a very good game, too."
Devon Colley, who has signed to play at New Orleans, had 11 points, five rebounds and nine assists for the Wildcats.
"Devon's a point guard and a leader, and he gets the ball to guys where they need it," Wilson said.
Romello Jones led Green Valley with 15 points and 12 rebounds. Kris Nicholas and Brandon Burke each scored 14 for the Gators, who committed 23 turnovers.
"It's one of those wins where it's kind of hard to be happy because I didn't think we played very well at all," Wilson said. "I think some of that was them and their style of play, and they do a good job at it. But luckily for us, it's earlier in the season and we've got room to improve."
Contact reporter Damon Seiters at dseiters@reviewjournal.com or 702-380-4587. Follow him on Twitter: @DamonSeiters.