Looking ahead at the week in high school sports
November 26, 2017 - 2:11 pm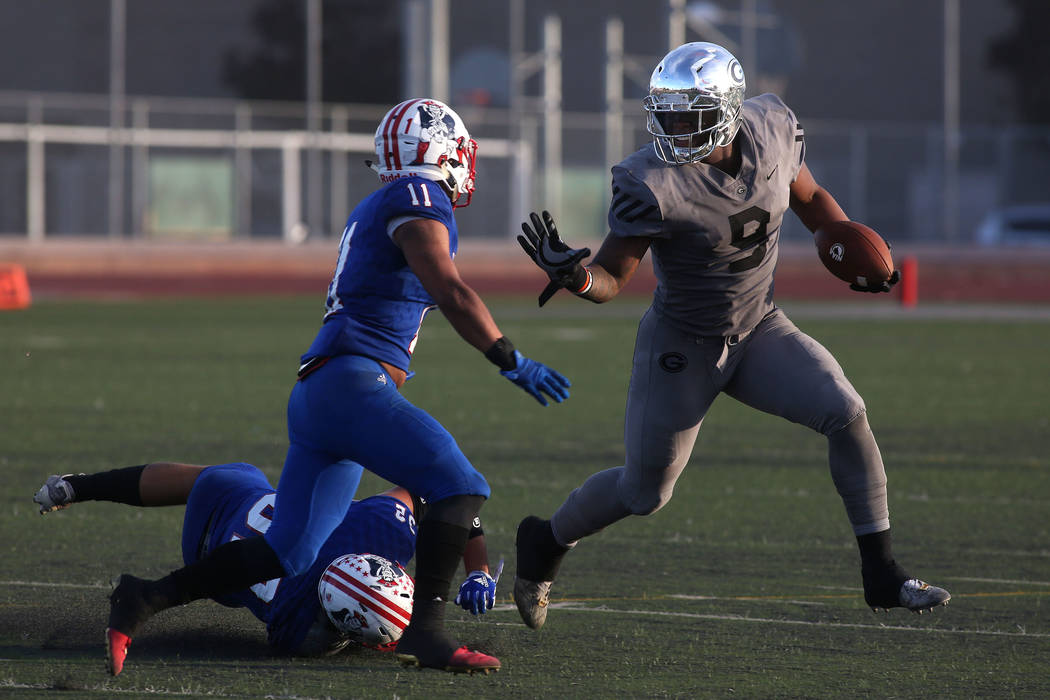 Here is a look at some of the week's top high school sports events.
BOYS BASKETBALL
Monday — Canyon Springs at Desert Oasis, 6:30 p.m.
The defending Northeast League champion Pioneers start the season on the road against one of the area's top returning players. Jacob Heese, a 6-foot-4-inch guard who averaged 23.9 points and 10 rebounds last season, will lead the Diamondbacks.
Tuesday — Sierra Vista at Faith Lutheran, 6:30 p.m.
Another matchup featuring one of the area's top returnees. Maka Ellis, who averaged 25 points and 8.7 rebounds, leads the Mountain Lions against the Crusaders, who feature a strong backcourt led by point guard Jaylen Fox.
Thursday-Saturday — Legacy Tip-Off
The three-day tournament features 10 local teams with games tipping off at 4 p.m. on Thursday. Saturday's championship game is scheduled for 7 p.m.
GIRLS BASKETBALL
Monday — Canyon Springs at Desert Oasis, 5 p.m.
Despite losing their top scorer from a season ago, the Pioneers should be the favorite to repeat as Northeast League champions this season. Ke'Ajanae Haley (6.6 ppg) and Jeanette Fine (5.8 ppg, 3.7 rpg) will get all they can handle facing Desert Oasis, which won its first league title in program history last season and has one of Southern Nevada's top returning players in senior forward Dajaah Lightfoot.
Thursday-Saturday — Lake Mead Holiday Classic, 9 a.m.
Boulder City, Cheyenne, Clark, Moapa Valley and Virgin Valley are just a handful of Southern Nevada teams participating in the three-day tournament.
FLAG FOOTBALL
Tuesday — Durango at Cimarron-Memorial, 4:30 p.m.
Defending Class 4A state champion Cimarron-Memorial will begin its title defense against the Trailblazers. The Spartans ended Durango's 2017-18 season with a 28-14 victory in quarterfinal play.
FOOTBALL
Saturday — Bishop Gorman vs. Reed at UNR, 12:10 p.m.
The Gaels will go for a ninth consecutive state title when they meet the Raiders in the Class 4A title game at Mackay Stadium. This is a rematch of the 2014 title game, which Gorman won 70-28.
WRESTLING
Thursday — Centennial at Green Valley, 5 p.m.
The six-time defending state champion Gators host their first meet of the season , welcoming the Bulldogs, who finished fourth in the Sunset Region and eighth at state last season.
Saturday — Boulder City Duals, 9 a.m.
Last year's Class 3A Southern Region champs host some of the best in the Southern Region, as well as Coronado and Valley from Class 4A's Sunrise Region.