Prep star seeking Findlay polish
November 28, 2013 - 8:56 pm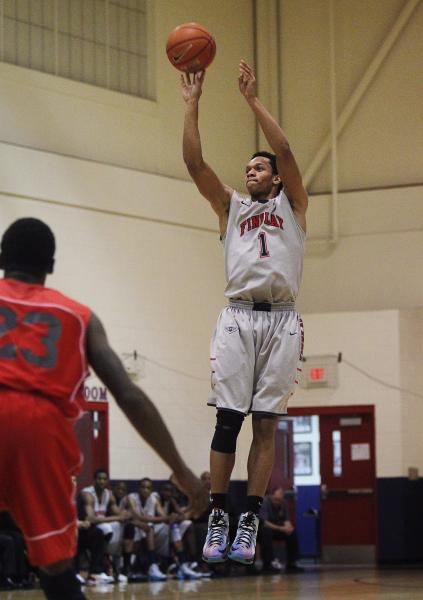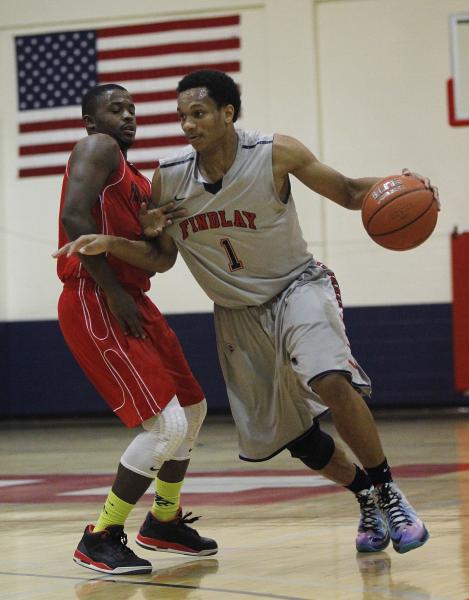 Rashad Vaughn is exaggerating a bit when he says he couldn't dribble as a freshman. But the other part is true.
All he could do was dunk.
"People were stopping me," said the senior guard for the Findlay Prep boys basketball team, "so I decided to keep working and just practicing my game, and it came along."
Vaughn developed into a consensus top-10 player in the class of 2014, and the 6-foot-6-inch UNLV recruiting target is the latest in a string of standout guards to play for the Pilots.
He's also a key reason Findlay Prep, ranked No. 2 in the Student Sports Fab 50 national poll, is off to a 9-0 start and has a shot at another mythical national championship.
"(Vaughn) is obviously the type of player that has the full potential to move up multiple levels at this game of basketball," first-year Findlay Prep coach Jerome Williams said. "He really is focused and driven to want to be good, and he's going to need that."
Vaughn grew up in Golden Valley, Minn., and was an all-state performer at Robbinsdale Cooper High.
He was part of a highly coveted trio of recruits in the Twin Cities area, along with Duke signee Tyus Jones and Stanford-bound Reid Travis, but Vaughn wanted to face better competition on a regular basis and announced in July he was transferring to Findlay Prep for his final season.
"The high school (basketball) was good (in Minnesota), but it wasn't really a challenge," Vaughn said. "So I just came out here to get a challenge, play the national schedule. You're basically going against pros in practice and in games, so that's why I really came out here."
Vaughn is averaging 23.3 points, 5.2 rebounds, 5.2 assists and 3.1 steals for the Pilots and teams with Kansas-bound swingman Kelly Oubre Jr. to give Findlay Prep one of the country's most dynamic backcourts.
In Wednesday's 124-58 victory over Planet Athlete Academy (Ariz.) at Henderson International, Vaughn primarily ran the point and finished with 30 points, five rebounds, five assists, two steals and one subdued "Rebels" chant from the crowd in the first half when he completed a three-point play after an acrobatic finish at the rim.
Vaughn showed off his diverse offensive skill set on 9-for-18 shooting, attacking the rim, draining midrange floaters and kicking out to Oubre for several wide-open looks from the perimeter. Vaughn also went 3-for-8 from behind the 3-point line.
"He's a combo guard. He can do a multitude of things," Williams said. "At the next level, guys who have that kind of range inside and out at 6-feet-6 with the athleticism and defensively, that makes a difference, and that's what they look for. He has that full package."
Vaughn, who cannot sign a national letter of intent until the spring, made an official visit to UNLV this week and was in attendance for the Rebels' 61-59 loss to Illinois on Tuesday.
"It was fun. I enjoyed it," Vaughn said of his visit. "I like their offense, Coach (Dave) Rice. I got a good relationship with the recruiting class coming in."
Vaughn visited Iowa State two weeks ago and will make a trip to North Carolina. He is also considering Arizona, Baylor, Kansas and Minnesota.
"I'm just looking for a relationship, who's going to let me come in and play right away, who's going to let me go," Vaughn said.
Williams, a standout at Georgetown in the mid-1990s before his long NBA career, said Vaughn reminds him of former Connecticut star Ray Allen.
Vaughn will be one of the featured players when Findlay Prep participates in the Tarkanian Classic at Bishop Gorman and Orleans Arena next month, and Williams expects him to be a fan favorite wherever he arrives on campus in 2014.
"Down the road, the coach he chooses to play for, the team, the city, they're going to all be impacted by a player of his caliber," Williams said. "Whatever team gets him, they're going to be a very lucky team and city, because he's the kind of player at the next level who can really attract a lot of fans."