Rebels cross fingers as recruiters swarm Jeter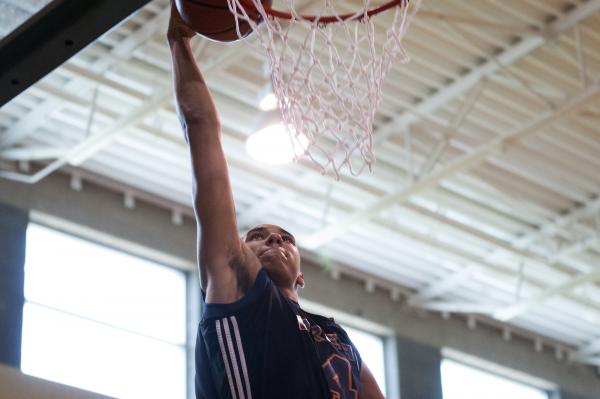 During his growing years, all the way up to 6 feet 10 inches tall, Chase Jeter has faithfully attended UNLV basketball games as a fan. It's too soon to say if he will do the same as a player.
About to begin his junior year at Bishop Gorman High School, Jeter is standing out as one of the nation's top big men, drawing scholarship offers from coast to coast.
He's well aware that almost everyone around him is hoping he stays home for college.
"It's not really a lot of pressure," he said. "I just want to take my time with it. A lot of great schools are recruiting me. It's fun, and it's all part of the experience. I have great opportunities in my life."
At 15, Jeter has plenty in front of him. He's also constantly reminded of his family's past, saying, "I get a lot of questions about my dad."
Chris Jeter played for UNLV from 1987 to 1991 and was a backup center on the Rebels' 1990 NCAA championship team. He was recruited out of the rough southeastern side of San Diego by former coach Jerry Tarkanian, and two of his teammates were Dave Rice and Stacey Augmon.
Rice, in his third year as UNLV's coach, made a scholarship offer to Chase Jeter last fall. Rice and his assistant Augmon watched Friday at Rancho High as Jeter helped his Dream Vision 16s team improve to 3-0 in the adidas Super 64 tournament.
In a corner of the gym, Chris Jeter, standing tall in his Metro police uniform, appeared fit enough to take the court to block shots and rebound. He touted his son for being far more skilled offensively than he was at any age.
"A lot of my friends would like to see him stay at UNLV, too," Chris said. "It's his decision. It's up to him. I just want him to enjoy the recruiting process.
"He's a very humble kid. I'm happy for the kid, watching him grow and turn into a fine young man and student-athlete. With his high ceiling, I see nothing but great things. He's going to be a heck of a player wherever he goes."
Father-son combinations to play at UNLV are rare. The most recent was Tony Smith, a member of the Rebels' first Final Four team in 1977, and his son Damian (1992-97).
Chase Jeter, who has a 3.8 grade-point average, is ranked by Rivals.com as the No. 33 player in the class of 2015. He also has offers from Arizona, Southern California and UCLA. Many more are on the way.
"Now the East Coast schools are coming around," Chris said, mentioning North Carolina and Indiana as programs joining the hunt for his son.
On the summer circuit — Dream Vision's tournament stops included Dallas and Atlanta in April, San Diego and Los Angeles in May and Indianapolis and Milwaukee in July — the hype surrounding Jeter had increased before he made his way back to Las Vegas this week.
"You can see the strides he's made," Dream Vision coach Steven Arasomwan said. "I told him, 'By the time you're 17, it's really going to get ugly.' He works on his game. He always asks me, how can I get better?"
Jeter is a strong finisher around the basket, dunking three times in the second half of a game Thursday night, and also scores on jump hooks and midrange jumpers.
He considers himself a power forward who can put the ball on the floor. At 220 pounds, he still has growing to do.
"I feel I'm right where I need to be," he said. "But I definitely need to gain some weight and build strength. I have the work ethic. I come from a family of competitors."