Roundup: Anthony Jaramillo scores 20 in Shadow Ridge's win
November 28, 2017 - 10:24 pm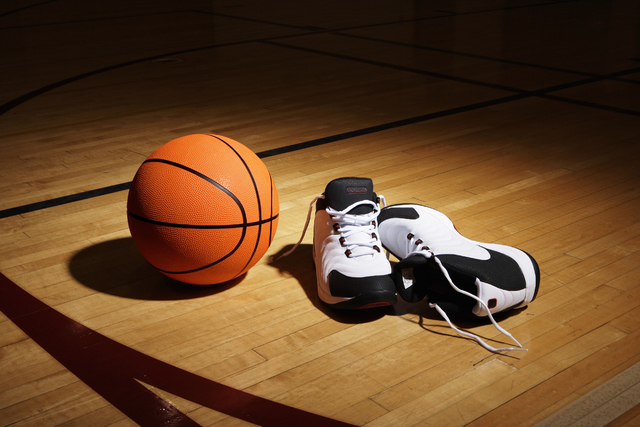 Anthony Jaramillo scored 20 points, including four 3-pointers, to power Shadow Ridge's boys basketball team to a 63-53 road victory over Mojave on Tuesday.
Garin Macfarlane had 16 points and made 10 of 13 free throws for Shadow Ridge. Erin Chamble added 10 points for the Mustangs.
Tyrice Pender led all scorers with 25 points for Mojave.
Canyon Springs 75, Cimarron-Memorial 57 — At Canyon Springs, Kevin Legardy had a game-high 24 points, and Alexander Spaight scored 23 to lead the Pioneers past the Spartans.
KaeJon Barnes added eight points for Canyon Springs, which outscored Cimarron 26-14 in the fourth quarter.
Brian Washington led Cimarron with 16 points. Ricky Singleton had 13 points, and Marcus Phillips scored 10 for the Spartans.
Arbor View 65, Eldorado 59 — At Arbor View, Jarrod Burks scored 20 points as the Aggies held off the Sundevils.
Comillion Smith had 14 points, and Tyre Williams added 10 for Arbor View, which outscored Eldorado by six in the fourth quarter, breaking a 41-41 tie.
Jordan Carter scored a game high 24 points for Eldorado, and teammates Jonathan Thomas had 13 and Patrick Parkes scored 10.
Legacy 57, Spring Valley 48 — At Spring Valley, Tyrell Nolan scored 14 points, and Amare James tallied 12 as the Longhorns defeated the Grizzlies.
Jaylon Lee added 11 points for Legacy, which held Spring Valley to three points in the second quarter.
Jahlani Blair had 14 points, and James Webster scored 11 for Spring Valley.
Boulder City 71, Basic 60 — At Boulder City, Derrick Thomas had 15 points and five rebounds to help the Eagles beat the Wolves.
Karson Bailey added 14 points for Boulder City, which made 27 of 34 free throws.
Geoff Faries led all scorers with 20 points for Basic. Trevor Robbins had 13 points and Peter Nelson added 10 points for the Wolves.
Bonanza 66, Tech 32 — At Tech, Kadin Warner led all scorers with 14 points as the Bengals blew by the Roadrunners.
Chase Hafen had 11 points for the Bengals, who led 18-2 after the first quarter.
Miguel Pena led the Roadrunners with eight points.
Del Sol 50, Pahrump Valley 47 — At Pahrump, Nati Asfaw scored 14 points as the Diamondbacks edged the Trojans.
Devonte Anton Villarta added nine points for Del Sol, which got eight points from Tyrell Hampton.
Brayden Severt had 12 points, and teammate Antonio Fortin had 11 points to lead Pahrump Valley.
Cheyenne 55, Chaparral 40 — At Chaparral, Damion Bonty scored 14 points as the Desert Shields topped the Cowboys.
Hahsonie Laushaul had 12 points, and Ke'Shawn Hall scored 10 for Cheyenne, which sank 19 of 28 free throws.
Jonathan Tendale scored 19 points to pace Chaparral.
Sunrise Mountain 73, Virgin Valley 50 — At Sunrise Mountain, Steven Adeyemi had 19 points and 10 rebounds as the Miners beat the Bulldogs.
Tyree Hayes added 12 points, and Moises Garcia and Matt Glenn each scored 11 for Sunrise Mountain. The Miners outscored Virgin Valley 28-13 in the third quarter to pull away.
Virgin Valley's Jayden Perkins had 24 points and eight rebounds.
Adelson School 42, Spring Mountain 41 — At Adelson School, Dale Weiford hit a free throw with 0.2 seconds to play to give the Lions the win over the Golden Eagles.
Weiford made the front end of a 1-and-1. He missed the second shot and time ran out.
Ben Elharrar led Adelson School with 11 points, and Weiford scored 10.
Damariyae Royal led Spring Mountain with 15 points.
Findlay Prep 106, Planet Athlete Academy (Ariz.) 90 — At Henderson International, Kyler Edwards had 24 points to lead the Pilots to a decisive victory over Planet Athlete Academy.
Bol Bol added 18 points, and Reggie Chaney scored 15 for Findlay Prep.
Word of Life 62, Calvary Chapel 45 — At Calvary Chapel, Jared House led all scorers with 25 points as the Eagles beat the Lions.
Isac Lopez had 16 points, and Jaiden Stuckey scored 10 for the Eagles.
Elijah Martinez had 15 points for the Lions, and Paul Yoo added 10 points.
Sky Pointe 63, GV Christian 45 — At Sky Pointe, Danny Cox had 15 points, 11 rebounds and four steals to lead the Eagles by the Guardians.
Treveonne Swift added 15 points, five rebounds and four blocks, and Ryan Hedland had nine points, four steals and four blocks for Sky Pointe.
GV Christian's Moses Valencia had 26 points, and teammate Collin Killoran added 11 points.
Liberty Baptist 66, Trinity 30 — At Trinity, Trevor Campbell had 20 points to lead the Knights over the Thunder.
Christian Ramirez had 13 points for the Knights, Issiah Smith had 12 points, and Bryan Smith had 11 points and seven rebounds.
Box scores:
Adelson School 42, Spring Mountain 41
Canyon Springs 75, Cimarron-Memorial 57
Findlay Prep 106, Planet Athlete Academy (Ariz.) 90
Liberty Baptist 66, Trinity 30
Sky Pointe 63, GV Christian 45
Sunrise Mountain 73, Virgin Valley 50
Word of Life 62, Calvary Chapel 45