Roundup: Jarrod Burks, Aggies top Centennial to earn home playoff berth
February 7, 2018 - 9:57 pm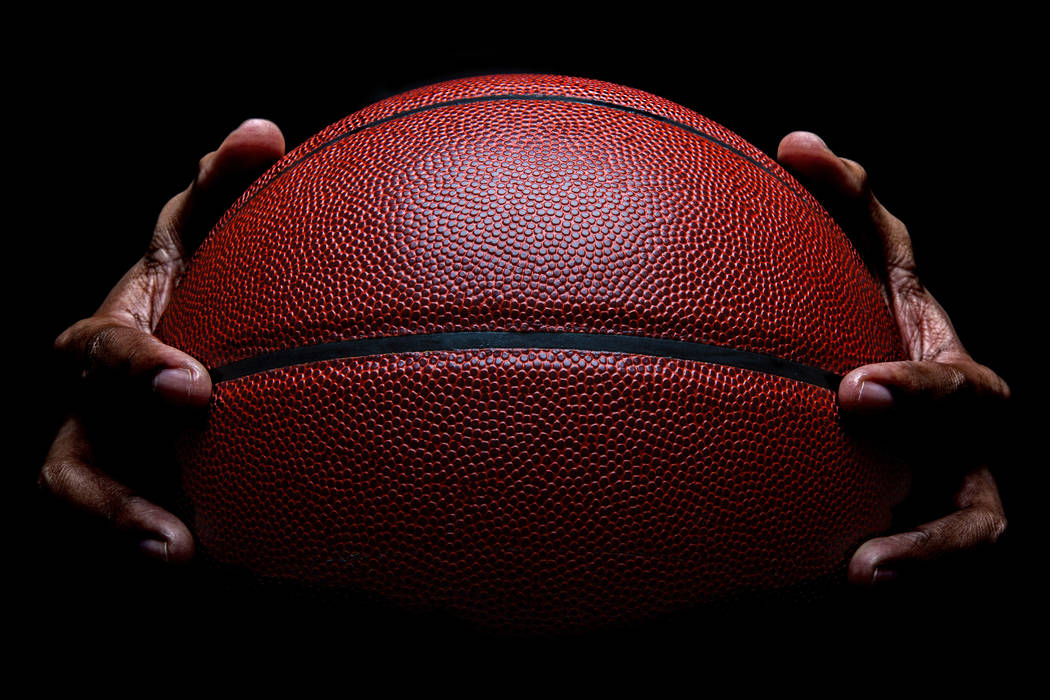 Jarrod Burks scored 14 points as Arbor View's boys basketball team rallied for a 71-64 home win over Centennial on Wednesday.
Donovan Yap had 13 points, Sevonyea Smith had 11 points, and Comillion Smith scored 10 for the Aggies, who trailed 38-28 at halftime.
Arbor View used a 26-3 third-quarter run to take control and top the Bulldogs, who entered the game in first place in the Northwest League. The loss dropped Centennial into a three-way tie for second place with Arbor View and Cimarron.
The Aggies get the league's No. 2 playoff seed on a tiebreaker. Centennial will be the No. 3 seed, and Cimarron No. 4.
Centennial's Ishon Hardin led all scorers with 25 points. Steven Giles added 12 points for the Bulldogs.
Shadow Ridge 72, Palo Verde 70 — At Shadow Ridge, Garin Macfarlane hit 2 of 3 free throws with 1.8 seconds to play in overtime to lift the Mustangs over the Panthers.
Macfarlane had 21 points to lead Shadow Ridge. Anthony Jaramillo added 17 points, and Richard Box scored 15 for the Mustangs.
Dylan Yoro had 15 points to pace Palo Verde. Daniel Bellinger and Tieman Allen each added 14 points for the Panthers.
Faith Lutheran 82, Legacy 62 — At Faith Lutheran, Elijah Kothe had 19 points, and the Crusaders knocked down 14 3-pointers to defeat the Longhorns.
Faith Lutheran's win coupled with Centennial's loss to Arbor View gave the Crusaders the Northwest League title.
Jaylen Fox had 16 points, and Parker Kanne scored 14 for Faith Lutheran, which sank 23 of 26 free throws. Brevin Walter had 11 points, and Dalton Kincaid scored 10 for the Crusaders.
Cristian Pitts led the Longhorns with 17 points. Tyrell Nolen and D'Eric Marlowe each supplied 14 points for Legacy.
Desert Pines 49, Mojave 46 — At Desert Pines, Darnell Washington scored 16 points to power the Jaguars to victory over the Rattlers.
Darius Mitchell and Donovan Word each had nine points for Desert Pines, which used a 19-8 fourth quarter run to take control.
Noah Sherrard led Mojave with 16 points, and Chris Jackson had 12 for the Rattlers.
Foothill 81, Basic 58 — At Basic, Jace Roquemore notched 18 points as the Falcons soared past the Wolves.
Marvin Coleman had 17 points, and Caleb Stearman scored 14 for Foothill, which led 39-27 at halftime.
The Falcons and Liberty each finished 8-2 in the Southeast League. But Foothill swept the Patriots, and will be the league's top playoff seed.
Joseph Ramirez scored a game-high 19 points for Basic. Peter Nelson and Chris Hoskins each added 13 points for the Wolves.
Silverado 60, Green Valley 57 — At Silverado, Caden Farley had 27 points as the Skyhawks held off the Gators.
Cameron Bower led Green Valley with 18 points.
Cheyenne 71, Sunrise Mountain 43 — At Sunrise Mountain, Hahsonie Laushaul scored 21 points to lead the Desert Shields to an easy win over the Miners.
Glen Taylor had 11 points, and Mike Reed and Kavon Williams each scored nine for Cheyenne, which ran to a 40-20 halftime lead.
Dalvin Brown had 14 points, and teammate Steven Adeyemi scored 11 for Sunrise Mountain.
Spring Mountain 56, Pahranagat Valley 52 — At Indian Springs, Shawn Shumpert scored 22 points as the Golden Eagles turned back the Panthers.
Rayvon Niblett supplied 11 points for Spring Mountain, which trailed 39-37 going into the fourth quarter.
Pahranagat Valley's Richard Lewis had 17 points, and Culen Highbe scored 15 for the Panthers.
Box scores:
Cheyenne 71, Sunrise Mountain 43
Shadow Ridge 72, Palo Verde 70, OT
Spring Mountain 56, Pahranagat Valley 52