Roundup: Julian Strawther's 3-pointer gives Liberty win over Green Valley
January 17, 2019 - 9:28 pm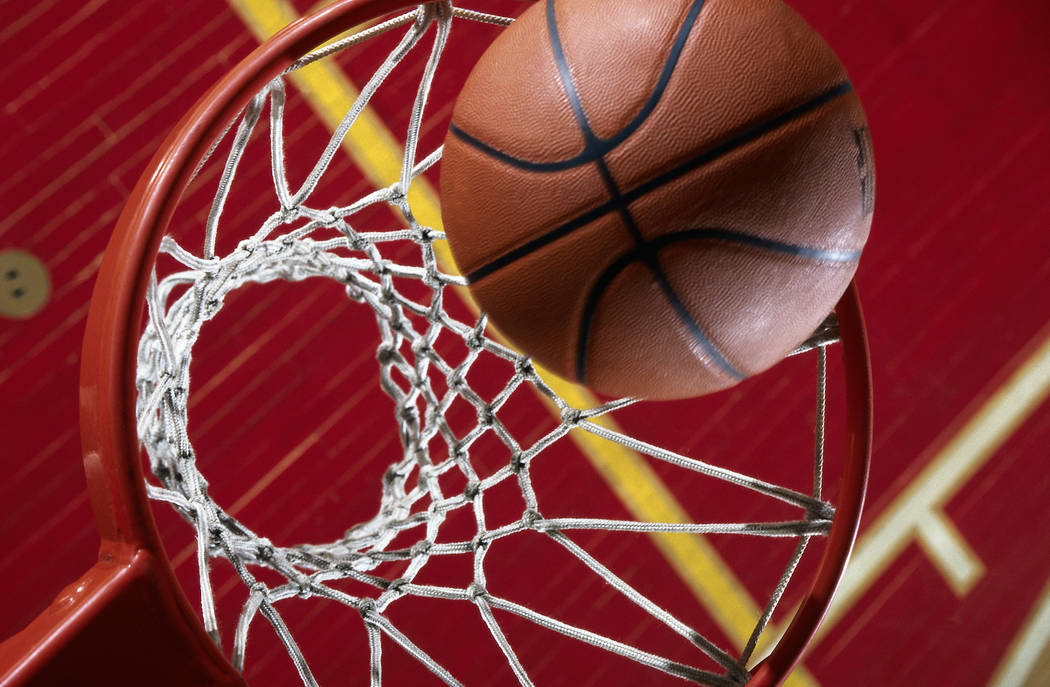 Julian Strawther hit a contested 3-pointer from the left corner as time expired Thursday to give Liberty's boys basketball team a 67-64 road win over Green Valley.
Strawther scored 10 of his 26 points in the fourth quarter for the Patriots, who trailed 51-45 after three quarters.
Kobe Stroughter added 11 points, and Jordan Wafer scored 10 for Liberty.
Green Valley's Zachary Hammer led all scorers with 27 points.
Faith Lutheran 107, Shadow Ridge 86 — At Faith Lutheran, Brevin Walter scored 25 points as the Crusaders cruised past the Mustangs.
Donavan Jackson scored 22 points, Sedrick Hammond had 16 points and 12 rebounds, and D.J. Heckard added 14 points and 20 rebounds for Faith Lutheran, which ran out to a 24-12 first-quarter lead.
Garin MacFarlane scored 23 points to lead Shadow Ridge. Josiah Cruz scored 18 points, and Jacob Schilder added 13 points for the Mustangs, who have allowed 204 points in their last two games.
Coronado 94, Basic 63 — At Coronado, Jhaylon Martinez scored 24 points to lead the Cougars in a rout of the Wolves.
Jaden Hardy scored 18 points, Richard Isaacs had 14 points, and Tyrell Hunt and Ra'shjon Martinez each added 12 points for Coronado, which led 61-34 at halftime.
Joseph Ramirez scored 15 points to lead the Wolves. James Tyler scored 14 points, and Jorge Reyes added 10 points for Basic.
Cimarron-Memorial 59, Bonanza 55 — At Bonanza, JaVonte Roberts had 16 points to lead the Spartans past the Bengals.
Noah Do added 15 points for Cimarron, which trailed 42-30 after three quarters.
Joseph Brooks had 22 points for Bonanza.
Chaparral 67, Sunrise Mountain 37 — At Sunrise Mountain, Elijah Briggs had 16 points to lead the Cowboys over the Miners.
Austin Talimalie and Sameal Anderson each supplied 13 points for Chaparral, which made nine 3-pointers.
Dai'Quan Sykes paced Sunrise Mountain with 12 points.
Boulder City 69, Sky Pointe 42 — At Sky Pointe, Derrick Thomas scored 18 points to lead 11 scorers, as Boulder City topped Sky Pointe.
Karson Bailey and Matt Morton each added 13 points for Boulder City, which roared out to a 42-18 halftime lead.
Preston Davis and Nijel Murray each scored seven points to pace Sky Pointe.
Foothill 73, Tech 31 — At Tech, Fisher Welch had 13 points as the Falcons beat the Roadrunners.
Caleb Stearman added 12 points for Foothill, which led 32-7 after one quarter.
Luis Avila had eight points for Tech.
Innovations International 67, Doral Academy 24 — At Innovations International, Jeremiah Cottrell had 18 points and 15 rebounds to lead the Ambassadors in a rout of the Dragons.
Eugene Stewart had 17 points and five rebounds, Keith Mazurkiewicz added 10 points for Innovations International, which led 34-9 at halftime.
David Jelinksy scored eight points to lead Doral Academy.
Word of Life 57, Liberty Baptist 49 — At Liberty Baptist, the Eagles defeated the Knights.
DeShawn Smith led Liberty Baptist with 22 points, eight rebounds and five assists, and teammate Isai Valdez had 13 points and 10 rebounds.