Roundup: Kevin Legardy pours in 39 as Canyon Springs tops Las Vegas
February 8, 2018 - 10:21 pm
Updated February 8, 2018 - 10:34 pm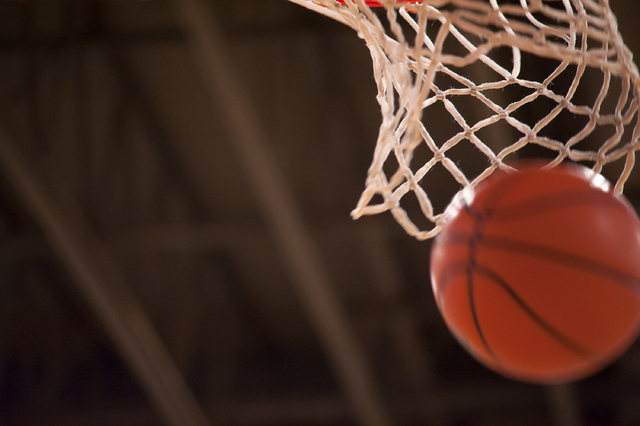 Kevin Legardy hit eight 3-pointers and scored 39 points Thursday to power Canyon Springs' boys basketball team to a 94-61 home win over Las Vegas to complete an undefeated run through the Northeast League.
De'Shawn Keperling added 17 points, and Alexander Spaight scored 16 for Canyon Springs.
Jaylin Headen led Las Vegas with 18 points. Donovan Joyner added 11 points, and Mory Souhamoro scored 10 for the wildcats.
Eldorado 62, Rancho 58 — At Eldorado, Dexter Davis hit two free throws with 10 seconds remaining in the game to lift the Sundevils over the Rams.
Jordan Carter scored 19 points to lead Eldorado, who led 54-39 at the end of the third quarter.
Kemo Bell scored 11 points, and Davis and Jonathan Thomas each scored 10 points for the Sundevils.
Frank DeGourville scored a game-high 20 points to lead the Rams. James Brown scored 16 points, and Jahleel Stevens added 11 points for Rancho.
Desert Oasis 86, Spring Valley 63 — At Spring Valley, Jacob Heese poured in a game-high 47 points to lead the Diamondbacks to a blowout win over the Grizzlies.
Heese's 47 points set the school's single-game record and also made him the Desert Oasis career scoring leader with 1,738 points. Cameron Mich'l was the previous record holder with 1,735.
Kamari Burnside had 11 for Desert Oasis, which outscored Spring Valley 45-29 in the second half.
Keelan Wickersham had 15 points, and teammate Anthony Dodson had 14 to lead the Grizzlies.
Bishop Gorman 82, Bonanza 53 — At Gorman, Saxton Howard and D.J. Howe each scored 16 points to lead the Gaels in a rout of the Bengals.
Howard also pulled down 10 rebounds, and Howe had seven assists and had five steals for Gorman.
Jamal Bey scored 15 points, Zim Agu had 15 rebounds and Carter Reback dished 10 assists for the Gaels, who blew the game open by outscoring the Bengals 22-9 in the third quarter.
Chase Hafen had 21 points and 16 rebounds for the Bengals. Kendall Burrell added 10 points for Bonanza.
Boulder City 69, Del Sol 53 — At Del Sol, Carson Balistere had 16 points as the Eagles topped the Dragons to secure the Sunrise League's No. 2 playoff seed.
Karson Bailey added 14 points, and Derrick Thomas scored 11 for the Eagles, which opened up a 20-7 lead after one quarter.
Keith Seldoon had 18 points to lead Del Sol. Tyrell Hampton scored 12 points and Devonte Anton Villarta 11 for the the Dragons.
Tech 48, Chaparral 42 — At Tech, Jurelle Orbino scored 17 points to help the Roadrunners defeat the Cowboys.
Dylan Sanglay had 11 points for Tech, which knocked down six 3-pointers.
Dejonte Allen led Chaparral with 10 points.
Moapa Valley 63, Sky Pointe 52 — At Moapa Valley, Derek Reese scored 17 points to help the Pirates defeat the Eagles.
Trey Jones had 11 points, and Ryan Foster score nine for Moapa Valley, which raced out to a 27-6 first quarter lead.
Nijel Murray scored 15 points, and teammate Treveonne Swift notched 13 points to lead Sky Pointe.
The Meadows 64, Lake Mead 54 — At Lake Mead, Kevin Riska scored 18 points as the Mustangs topped the Eagles.
Allen Fridman scored 13 for The Meadows, and teammate Joe Epstein scored 12.
Donte Bristol had a game-high 19 points for Lake Mead. Joshua Thorell had 18 points for the Eagles.
Needles 46, Calvary Chapel 41 — At Calvary Chapel, Trey Tsosie had 16 points as the Mustangs held off the Lions.
Irving Juarez added eight points for Needles.
Blake Box had 16 points to lead Calvary Chapel, and teammate Paul Yoo scored 11.
Democracy Prep 93, Adelson School 48 — At Adelson School, Najeeb Muhammad had 33 points as the Blue Knights rolled past the Lions.
Akeemis Williams added 15 points, and Jared Holmes scored 14 for Democracy Prep, which led 58-29 at the half.
Chancellor Johnson had 12 points for the Blue Knights.
Miles Hagan led Adelson School with 18 points, and teammate Ben Elharrar scored 11.
Findlay Prep 81, Foothill 50 — At Henderson International, the Pilots took down the Falcons.
Box scores:
Canyon Springs 94, Las Vegas 61
Democracy Prep 93, Adelson School 48
Desert Oasis 86, Spring Valley 63
Moapa Valley 63, Sky Pointe 52