Roundup: LeAndre McIntyre leads Durango past Sierra Vista
January 16, 2018 - 10:02 pm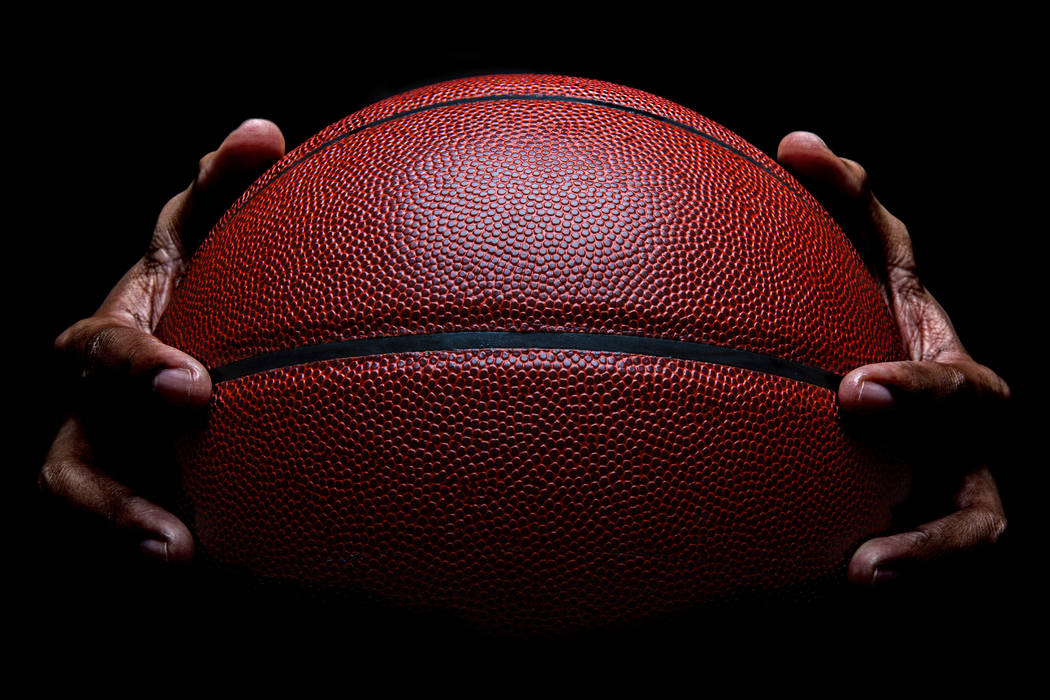 LeAndre McIntyre had 30 points to lead Durango's boys basketball team to a 91-69 home win over Sierra Vista on Tuesday.
Nicquel Blake added 24 points for the Trailblazers, who outscored Sierra Vista 28-14 in the third quarter to take a 65-44 lead.
Jovan Lubura added 10 rebounds for Durango.
Maka Ellis scored 30 points, and Jalen McFadden had 12 points for the Mountain Lions.
Faith Lutheran 56, Legacy 54 — At Legacy, Elijah Kothe hit a pair of free throws in the final minute to lift the Crusaders over the Longhorns.
Legacy erased a 10-point deficit in the fourth quarter to tie it, but Kothe's free throws gave Faith Lutheran the lead for good.
Kothe finished with a team-high 14 points. Jaylen Fox scored 12, and Brevin Walter had 11 points for the Crusaders.
D'Eric Marlowe led the Longhorns with 22 points.
Desert Oasis 80, Spring Valley 71 — At Desert Oasis, Jacob Heese led four players in double figures with 23 points as the Diamondbacks beat the Grizzlies.
Felix Reeves scored 20, Kamari Burnside had 16 points and Nate Van added 10 points for Desert Oasis, which led 41-32 at halftime.
Jahlani Blair had 18 points and Anthony Dodson scored 15 to lead Spring Valley. Keelan Wickersham added 10 points for the Grizzlies.
Cimarron-Memorial 58, Desert Pines 57 — At Desert Pines, Brian Washington had 18 points and 10 blocked shots and hit the winning free throw with two seconds left as the Spartans nipped the Jaguars.
Karion Harrell scored 16 points for Cimarron, which led 45-39 after three quarters.
Desert Pines' Dayshawn Wiley had 17 points, nine rebounds and four blocked shots, and Hasani Pullens scored 16 points for the Jaguars, who also got 12 points from Donovan Word.
Canyon Springs 80, Valley 56 — At Valley, Kevin Legardy scored 37 points, his third straight game posting at least that many, as the Pioneers rolled over the Vikings.
Jorden Williams had 18 points for the Pioneers, and teammate De'Shawn Keperling had 11 points.
Oscar Burns had 16 points for Valley, and Bryce Jones scored 15 for the Vikings.
Bishop Gorman 77, Bonanza 40 — At Bonanza, D.J. Howe had 11 points, 11 assists and seven steals to lead the Gaels past the Bengals.
Myles Bendavid had 12 points, and Isaiah Cottrell added eight points, eight rebounds and eight blocked shots for Gorman.
Kendall Burrell had 12 points, and teammate Kadin Warner scored 10 for Bonanza.
Las Vegas 70, Rancho 44 — At Rancho, Jaylin Headen had 26 points as the Wildcats beat the Rams.
Donovan Joyner added 20 points, and Mory Souhamoro scored 11 for Las Vegas, which used a 22-7 third quarter to pull away.
Jahleel Stevens paced Rancho with 12 points.
Boulder City 57, Del Sol 52 — At Boulder City, Billy Ferrence scored seven points and was 4-for-4 from the free-throw line in the final minute as the Eagles defeated the Dragons.
Derrick Thomas scored a game-high 17 points for Boulder City, which used an 18-11 fourth-quarter run to pull away.
Keith Seldon scored 15 points to lead Del Sol.
Chaparral 64, Tech 43 — At Chaparral, Dejonte Allen had 18 points as the Cowboys ran away from the Roadrunners.
Chaparral outscored Tech 38-20 in the second half.
Miguel Pena scored nine points for the Roadrunners.
Moapa Valley 62, Sky Pointe 49 — At Sky Pointe, Nathaniel Thompson poured in a game-high 27 points to lead the Pirates past the Eagles.
Lucas Walker added 12 points, and Josh Cox scored 11 for Moapa Valley, which led 33-16 at halftime.
Nijel Murray scored 21 points, and Jaden McFarlane supplied 10 points for Sky Pointe.
Mountain View 53, Calvary Chapel 50 — At Calvary Chapel, the Saints hit 10 3-pointers en route to the win over the Lions.
Tyrell Brooks led Mountain View with 22 points, and twin brother Terrence Brooks scored 14.
Blake Box paced Calvary Chapel with 18 points, and Paul Yoo scored 15 for the Lions.
Lincoln County 56, Adelson School 47 — At Panaca, Noah Smith had 26 points and 11 rebounds to power the Lynx past the Lions.
Kobe Walker added 10 points for Lincoln County, which jumped out to a 14-4 first quarter lead.
Alex Sefia and Miles Hagan each scored 12 points to lead Adelson School.
Democracy Prep 73, Lake Mead 36 — At Democracy Prep, Najeeb Muhammad had 26 points as the Blue Knights rolled past the Eagles.
Daniel Plummer added 15 points for Democracy Prep, which led 18-6 after one quarter.
Donte Bristol scored 11 to lead Lake Mead.
Sandy Valley 43, Liberty Baptist 41 — At Sandy Valley, Justin Frondarina had 16 points as the Sidewinders edged the Knights.
Ramiro Solano-Sanchez added 11 points, and Brandon Eastham scored 10 for Sandy Valley, which led 17-3 after one quarter.
Christian Ramirez paced Liberty Baptist with 14 points. Bryan Smith added 11 points for the Knights.
Pahranagat Valley 46, Word of Life 32 — At Alamo, Culen Highbe supplied 28 points and 11 rebounds to help the Panthers down the Eagles.
Richard Lewis tallied 11 points and 13 rebounds for Pahranagat Valley, which outscored Word of Life 18-9 in the fourth quarter.
Isaac Lopez scored 10 points to pace Word of Life.
Spring Mountain 55, Indian Springs 34 — At Indian Springs, Damariyae Royal tallied 18 points to help the Golden Eagles cruise past the Thunderbirds.
Craig Fletcher added eight points for Spring Mountain, which jumped out to a 28-11 halftime lead.
Dallin Davis scored 20 points to lead Indian Springs.
Innovations International 66, Trinity 47 — At Innovations, Derec Anderson scored 13 points to help the Ambassadors run away from the Thunder.
Eugene Stewart added 11 points, Justin Evans had eight points, four rebounds and three assists, and Charles Simon supplied eight points and six assists for Innovations, which broke a 25-25 halftime tie with a 26-9 third-quarter run.
Box scores:
Cimarron-Memorial 58, Desert Pines 57
Democracy Prep 73, Lake Mead 36
Lincoln County 56, Adelson School 47
Mountain View 53, Calvary Chapel 50
Pahranagat Valley 46, Word of Life 32
Sandy Valley 43, Liberty Baptist 41
Spring Mountain 55, Indian Springs 34