'Silent assassin' spurs Cheyenne boys to victory
December 4, 2008 - 4:46 pm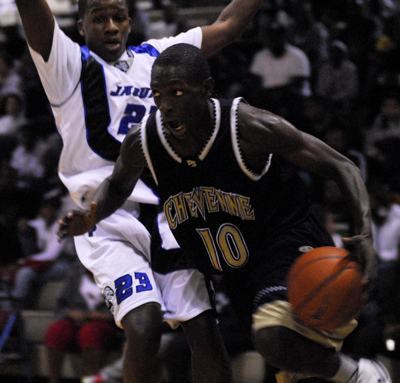 Demetric Williams and Elijah Johnson combined to score Cheyenne's first 28 points on Thursday night.
But with Williams saddled with foul trouble and Johnson on the bench with an injured left knee, junior Chris McCall found the basketball in his hands more in the second half.
McCall responded, scoring 17 of his game-high 25 points after halftime as the Desert Shields held on for a 77-73 road win over Desert Pines.
"With all the attention that Demetric and Elijah garnish, it takes some of the spotlight a little away from Chris," Cheyenne coach Teral Fair said. "But we've been preaching to him that that's an ideal position to be in. He can be somewhat of the silent assassin. He's a tremendous player and a real young talent, and he stepped up big tonight."
Johnson, who has signed with Kansas, injured his left knee on a dunk attempt with slightly less than five minutes to go in the third quarter.
Fair said there didn't appear to be any ligament damage, and the injury either was a deep bone bruise or a slight hyperextension.
Williams picked up his fourth foul with 21.3 seconds to go in the third quarter and Cheyenne leading 61-57.
But McCall and some of Cheyenne's other less experienced players stepped up to hold off the Jaguars in the fourth quarter. McCall scored 10 points in the fourth, including two free throws with five seconds left to seal the win.
"The kids didn't play great the whole way through; they had little mistakes here and there," Fair said. "But when it was time to make plays, kids made plays. So I'm real proud of them tonight."
Desert Pines had a chance to tie late after a Cheyenne traveling violation with 22 seconds to go. But Khyriece Campbell stepped into the passing lane and deflected a pass to McCall, who was fouled and hit two free throws.
Williams had 24 points and Johnson scored 10 for Cheyenne. Jaylen Henry, a 6-foot-8-inch junior, had 17 rebounds for the Desert Shields.
Desert Pines' Pierre Jackson had a team-high 19 points, all in the second half. Tyler Larson added 14 points and 11 rebounds for the Jaguars.