SUNSET BOYS BASKETBALL: Clark tops Centennial in last-second thriller
February 16, 2017 - 11:08 pm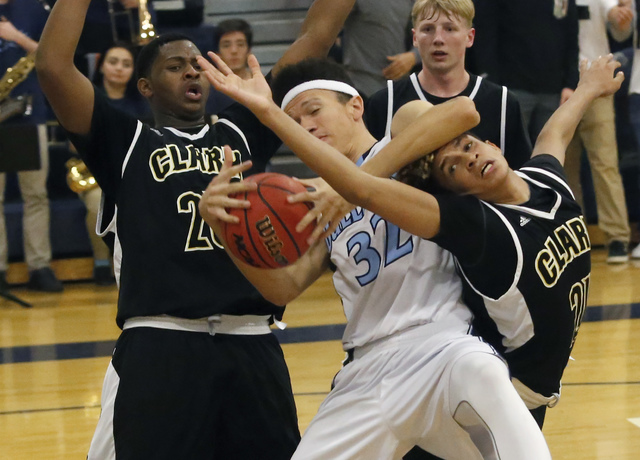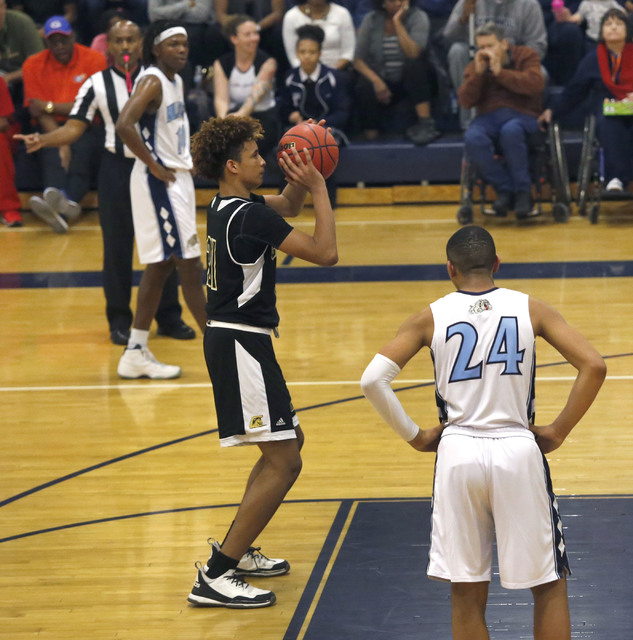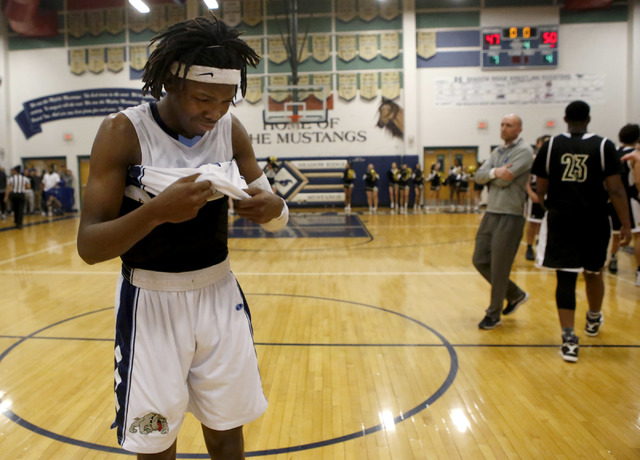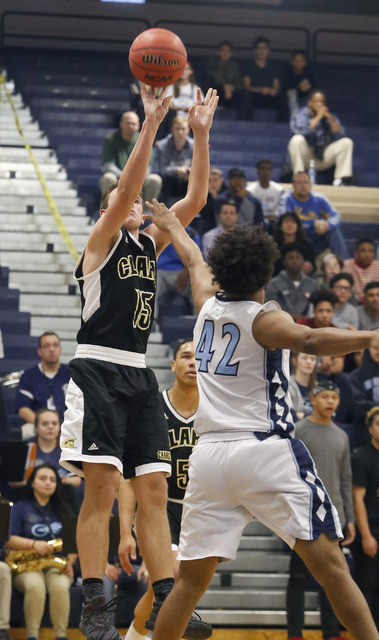 Clark boys basketball coach Colin Darfour left the court Thursday muttering "That's a relief."
He had good reason.
The Chargers held Centennial star Troy Brown to 15 points, and Brown's last-second 3-point attempt went off the back of the rim, allowing Clark to come away with a 50-47 win over the Bulldogs in the Class 4A Sunset Region semifinals at Shadow Ridge.
Centennial had the ball and called timeout with 10.2 seconds left to set up a final play. The Bulldogs got the ball to Brown, but his step-back 3-pointer over two defenders was no good as time expired.
"Luckily we were able to get them to play with the ball way out at half court to where Troy couldn't really get a good look to end it," Darfour said. "But when the ball was in the air, my heart probably stopped for the three, four seconds it took for it to land and us to get the rebound."
Sophomore Jalen Hill, who spent much of the night guarding Brown, wasn't sure the Oregon-bound senior was going to miss the buzzer-beater.
"I honestly got scared," Hill said. "I thought he was going to make it."
The Chargers (25-3) made things difficult for Brown all night. He finished 7-for-24 from the field and was 0-for-6 on 3-pointers.
"It was very difficult," Hill said. "Troy's a great player, a McDonald's All American. So hard to guard."
Clark was easy to guard to start the game, as the Chargers missed their first 10 shots and fell behind 9-0.
"We kept saying as a coaching staff is grind it out," Darfour said. "Stick with it. We felt like as a staff this game would be decided by defense."
Clark clawed its way back, and the game was tied at 17 at halftime. The Chargers took a 34-31 lead after an Antwon Jackson three-point play with 0.7 seconds left in the third quarter and didn't relinquish it.
Trey Woodbury scored 14 of his 20 points in the second half to lead Clark. Hill and Jackson each scored nine.
Clark led 44-37 when Brown got four chances from near point-blank range but missed on all four. Woodbury hit a 15-footer to give the Chargers their biggest lead.
Brown, who was averaging 22.7 points, had 10 rebounds for Centennial (23-5), and Isaiah Banks scored 11.
Clark, No. 1 in the final area coaches poll, will face No. 2 Bishop Gorman (19-9) in the Sunset final at 6 p.m. Saturday at Shadow Ridge. The teams split during the regular season. The winner will earn a berth in the Class 4A state tournament, and the loser will face the Sunrise Region runner-up for the final state berth.
"There's no time like the present," Darfour said. "We've got to go into Saturday's game expecting to win that game and not settling for the fact that if we lose, it's no big deal because we can play in."
Bishop Gorman 71, Faith Lutheran 45 — Chuck O'Bannon had 20 points, 13 rebounds, four blocked shots and three steals as the Gaels topped the Crusaders in the other semifinal.
Faith Lutheran led 17-15 after one quarter, but O'Bannon had an emphatic dunk to start the second, and Gorman wouldn't trail again.
"Chuck O'Bannon did a great job on the back side of blocking some shots and rebounding the basketball and it led to some transition baskets," Gorman coach Grant Rice said. "When we can rebounds or get stops and go out in transition, that's when we're at our best."
The Gaels did an outstanding job against Faith Lutheran's leading scorer, Nic Maccioni, who finished with seven points on 3-for-15 shooting. Gorman also held point guard Jaylen Fox to five points on 2-for-13 shooting.
"We were really focusing on Nic Maccioni and Jaylen Fox, and we did a good job containing them," Rice said. "I know those guys are really good players. We really focused our defense on them, and we made it difficult for them."
Ryan Kiley added 14 points and seven rebounds, and Christian Popoola had 11 points, four rebounds and four assists for Gorman, which played without starting forward Jamal Bey. Bey dislocated his left shoulder for the second time this season in the team's quarterfinal win over Palo Verde on Tuesday.
Rice said he's unsure if Bey will play on Saturday.
Brevin Walter led Faith Lutheran (17-10) with 12 points, and Elijah Kothe added 11 points and six rebounds for the Crusaders (17-10).
Contact prep sports editor Damon Seiters at dseiters@reviewjournal.com or 702-380-4587. Follow @DamonSeiters on Twitter.
Box scores:
Bishop Gorman 71, Faith Lutheran 45