SUNSET BOYS: Centennial's Thompson lights up former teammates
February 15, 2013 - 12:03 am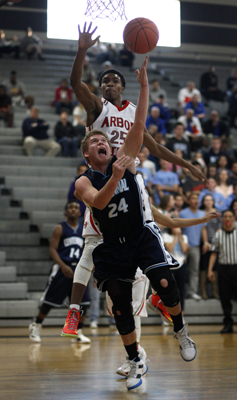 When you are the third member of a backcourt that features Stanford-bound twins Malcolm and Marcus Allen, it's easy to get lost in their shadow.
Centennial junior Khalil Thompson picked a great time to step into the spotlight on Thursday, knocking down eight 3-pointers in the Bulldogs' 80-70 win over Arbor View in the Division I Sunset Region semifinals at Durango High School.
Centennial (21-8) will meet Bishop Gorman (26-3) for the region title at 7 p.m. Friday at Durango.
Thompson made 8 of 10 attempts from beyond the arc, with five of them coming during a third quarter in which Centennial outscored the Aggies, 24-14.
All of his 24 points came on 3-pointers.
"It felt great. I love atmospheres like this and I strive in these moments. I love these moments right here," said Thompson, who played his freshman year at Arbor View. "Every time I play them, I'm ready to play."
It was the kind of performance his teammates and coaches have been expecting from Thompson, who had been 15-for-82 from 3-point range before the game and hadn't made more than two from long range in a game this season.
"We've been waiting for something like that all year long. Teams have been (playing) triangle and two (defense) on us and we've been off on our shooting, but he stepped up tonight and made some big shots," Centennial coach Todd Allen said. "He's dead-on in practice. We keep telling him, 'Save those for the game.'
"Tonight, he saved the best for last, which is great."
As usual, there was plenty of support from the twins.
Marcus Allen scored 25 points and Malcolm Allen had 19 points, 10 rebounds and eight assists in the victory. The pair combined for 15 of the Bulldogs' 20 points in the fourth quarter to hold off Arbor View (20-8).
Junior Justin Burks scored 28 points for the Aggies, who led 37-36 after a back-and-forth first half. Terrell Butler added 16 points for Arbor View.
The Bulldogs won't feel intimidated at all by Gorman after a pair of eight-point losses in the regular season, including a double-overtime thriller last week.
"We're ready. I know they're ready. We're coming hungrier, so I think we'll get the win," Thompson said. "They're scared to play us. I think they're going to come out timid. So we're ready."
Coach Allen was more diplomatic.
"The kids still have a bad taste in their mouths," he said. "I think we're probably the toughest team that's played them all year long in the city, so we'll see what happens."
Bishop Gorman 71, Palo Verde 55 — Sophomore Stephen Zimmerman had 17 points and 16 rebounds in the second semifinal to lead the Gaels into today's championship game.
He got help inside from fellow sophomore Chase Jeter, who had 10 points and 10 rebounds in the victory.
"Between Zimm and Chase Jeter, I thought they both did a great job tonight," Gorman coach Grant Rice said. "To have those two guys be able to play together sometimes, but then to have one of them able to rest and the other play is obviously a big luxury and we're excited for the future with those two guys."
After falling behind 9-6 early, Bishop Gorman (26-3) put on a 22-2 run that spanned the first and second quarter to break the game open.
"We knew they would come out and give a big effort to start the game," Rice said. "We wanted to make sure to try to control the tempo and stay even in the first three or four minutes and once that momentum dropped, we were able to get some steals, some rebounds, some outlets and fast breaks."
Rashad Muhammad hit four first-half 3-pointers and finished with a game-high 22 points for the Gaels.
Eris Winder led Palo Verde (13-11) with 14 points in his final game.
"They've done a great job. They've matched our intensity and the Allen twins have brought it both games. I think they combined for 50 both times against us," Rice said. "It's going to be a great matchup and I'm sure our fans are going to be excited, especially with the girls game before ours."