SUNSET REGION: Hutchings helps Palo Verde outlast Longhorns
February 12, 2013 - 11:07 pm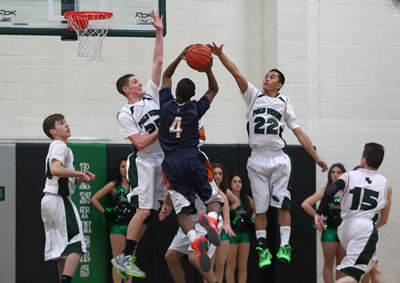 Sam Hutchings picked the perfect time to have the biggest game of his career.
The 6-foot-5-inch senior had 20 points and nine rebounds Tuesday, and his put-back with 39 seconds to play put Palo Verde up for good as the Panthers stormed back from an 18-point halftime deficit for a 63-59 win over visiting Legacy in the Division I Sunset Region quarterfinals.
"We had a big game out of Sam tonight around the basket," Palo Verde coach Paul Sanchez said. "That was huge, because he kept us in the game early and kept us going throughout the game. And that was a big rebound and put-back late in the fourth quarter."
Hutchings had 12 points in the first half, but the rest of the Panthers (13-10) seemed to be sleepwalking as Legacy took a 41-23 lead at the break.
Palo Verde stormed back in the second half, opening the third quarter with a 17-2 run to get back into the game.
"I think mostly we settled down," Sanchez said. "We came out with a desire and determination not to go down. We played an ugly first half."
Palo Verde got a big second half from leading scorer Eris Winder. Winder didn't start the game for what Sanchez said was a team rules violation, but the senior point guard made his presence felt in the second half.
Winder had just one point at halftime, but scored 23 in the second half to help lead the surge.
"We didn't start him tonight, and he was pressing (in the first half)," Sanchez said. "He was trying to do too much and just not letting the game come to him as it did in the second half. He got a chance to catch his breath a little bit in the halftime and then come out and just play our normal game where everybody chips in and then Eris finishes it for us."
The fourth quarter featured 11 lead changes, but Hutchings' bucket put the Panthers up for good and set up a meeting with Bishop Gorman (25-3) in the semifinals at 8 p.m. on Thursday at Durango.
"We've had a ton of injuries and other team problems, and our guys have been fighting all year long," Sanchez said. "And I think we've been used to having to fight for everything we get. And I'm real glad to see they get another chance to play another night."
Travis Gondrezick added 10 points, and Joey Randazzo had six assists for the Panthers.
Khari Sloane led Legacy (19-9) with 13 points, eight rebounds, four assists and three blocked shots. Todd Murdock added 11 points and Tim Jeffries 10 for the Longhorns.
Bishop Gorman 75, Shadow Ridge 55 — At Gorman, Trey Kennedy had 12 points, eight rebounds and eight assists as the Gaels overcame a slow start to top the Mustangs (9-17).
Rashad Muhammad added 15 points, and Stephen Zimmerman scored 11 for Gorman. Austin Guinn added 10 points, and Robert Stanley grabbed 10 rebounds for Gorman.
Terell Bowden had 22 points, and Serph Decker scored 14 for Shadow Ridge.
Centennial 73, Durango 60 — At Centennial, Marcus Allen had 31 points and 13 rebounds, and Malcolm Allen had 30 points as the Bulldogs (20-8) defeated the Trailblazers (14-11).
Centennial used a 20-12 second-quarter spurt to break an 18-18 tie and will face Arbor View at 4:40 p.m. Thursday at Durango.
Dartangan Rollins and Tyler Watts each had 14 points, and Paris Estrada scored 12 for the Trailblazers, who got 11 points from Chris Mellor.
Arbor View 67, Cimarron-Memorial 64 — At Arbor View, Charles Porter led four double-figure scorers with 21 points as the Aggies (20-7) nipped the Spartans (12-13).
Navonte Hill added 18 points, and Terrell Butler and Brandon Hill each scored 10 for Arbor View.
Austin Garrison led Cimarron with 15 points. J.C. Broussard had 14 points, and Tyler Willinsky scored 10 for the Spartans.