TARKANIAN CLASSIC: Findlay Prep imposes will
December 17, 2014 - 11:33 pm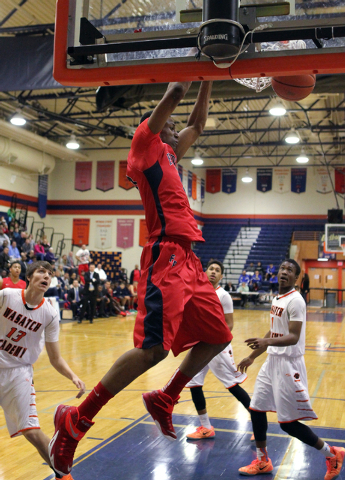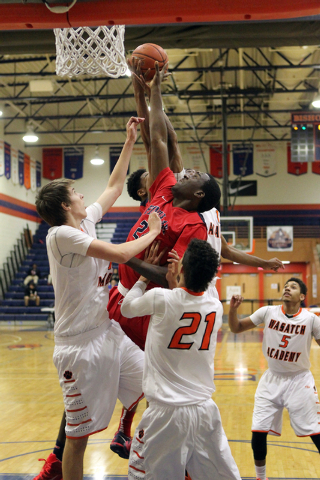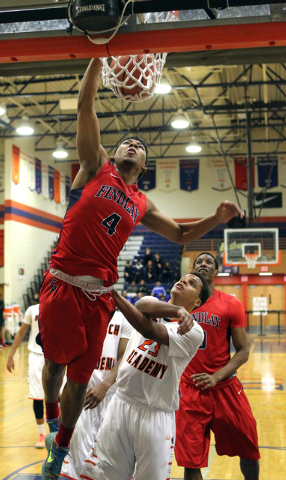 Findlay Prep boys basketball coach Andy Johnson didn't like the way his team finished the first half Wednesday.
But instead of delivering a fiery speech to the Pilots during halftime, Johnson had a simple message.
"We told them, 'Be Findlay. Be who we are,' " Johnson said.
Allonzo Trier scored 17 of his game-high 27 points in the second half, and Findlay Prep pulled away from Wasatch Academy (Utah) for an 80-52 victory in the Prep Division of the Tarkanian Classic at Bishop Gorman.
The Pilots (11-0) face National Prep (Ga.) at 9 p.m. Friday at Orleans Arena in their only other game in the tournament.
Trier snagged a loose ball and soared through the lane for a thunderous dunk to put Findlay Prep up 38-24 with 2:04 remaining in the first half before the Tigers, the two-time defending Utah 2A state champions, clawed to within 39-30 at halftime.
The Pilots led 46-37 with 13:21 remaining but went on a 20-2 run to take control. Trier, an Arizona signee, had 11 points during the run, including the final seven.
"Wasatch tried to slow the game down with a lot of zone (defense). When it gets down to zone, every possession matters," Johnson said. "We kind of threw a few possessions away at the end of the first half. At halftime, we went in and collected ourselves and reminded them one of our core values is limit turnovers.
"I thought in the second half we moved the ball better and got great shots and found the open man."
Horace Spencer had 14 points, 15 rebounds and three blocked shots for the Pilots, who led by as many as 31 points late in the second half.
"I thought he was a monster. I'm really proud of him," Johnson said. "He gave that Kenneth Faried-type maximum effort that we always ask of him. He had a special night, and you could see right off the bat he brought it."
Derryck Thornton had 12 points, all in the second half, with nine assists and four steals with Louisville coach Rick Pitino watching from the baseline. Justin Jackson and P.J. Washington each notched 10 points and seven rebounds as all five Findlay Prep starters reached double figures in scoring.
The Pilots held Wasatch Academy to 32 percent shooting (19-for-60) from the field. Koby McEwen led the Tigers with 17 points, and backcourt mate Cody John scored 16.
"We knew those were the two guys," Johnson said. "Justin, Allonzo, Derryck and Donnie (Tillman), their perimeter defense tonight was really special. Everybody stepped up."
Bishop Gorman 74, Windward (Calif.) 57 — At Gorman, Chase Jeter had 22 points, eight rebounds and four blocked shots, and Stephen Zimmerman finished with a triple-double as the Gaels routed the Wildcats in the Platinum Division.
Zimmerman had 12 points, 10 rebounds, 10 assists and five blocks and threw down a huge windmill dunk in the first half to give the Gaels a 21-9 lead. He added another powerful slam over a helpless Windward defender as part of a 17-5 run to open the second half.
Nick Blair had 12 points and six rebounds, and Richie Thornton added 10 assists and six steals for Gorman, which led 40-29 at halftime.
The Gaels host Overland (Colo.) in the quarterfinals at 5:50 p.m. Thursday.
Jalen Harris scored 19 points to lead the Wildcats. Jules Bernard added 14 points, and Roman Davis had 12 points for Windward.
Corona (Calif.) Centennial 76, Clark 50 — At Gorman, Colby Jackson had 13 points in the Chargers' loss to the Huskies in the Platinum Division.
Ty'Rek Wells and Keyshaun Webb each had 10 points for Clark, which trailed 47-25 at halftime and never threatened in the second half.
Clark meets Lone Peak (Utah) at 1:50 p.m. Thursday at Gorman in the consolation bracket. Lone Peak features Gorman transfer Christian Popoola, the son of former UNLV player Chris Popoola.
Jordan Griffin led Centennial with 15 points, and teammate Kyle Hamilton added 12 points. Sedrick Barefield, a Southern Methodist signee and one of the top point guards in the country, was limited to nine points.
Durango 56, Fossil Ridge (Colo.) 54 — At Gorman, Victor Ross scored on a layup with three seconds remaining in regulation to lift the Trailblazers past the Sabercats in the Premier Division.
Ross finished with 14 points. Michael Diggins led Durango with 15 points. Apollo Corley added 10 of his 13 points in the second half and made three of the Trailblazers' eight 3-pointers.
Durango faces Bingham (Utah) in the quarterfinals at 4:30 p.m. Thursday at Gorman.
Corley knocked down a 3-pointer with 2:42 left in the second half to put Durango on top 51-48 and gave the Trailblazers a 54-51 lead on another 3 with 2:10 remaining.
Ryan Quaid, who led Fossil Ridge with 23 points, made 1 of 2 free throws with 20 seconds left to tie the game at 54 before Ross gathered a nice bounce pass from Leontre Austin and scored the winning basket.
Lynwood (Calif.) 64, Quest Academy 52 — At Faith Lutheran, Chris Hawkins had 15 points, and La'Quan Hawkins scored 10 but Quest Academy fell to Lynwood.
Christian Cooper added eight points for Quest Academy, which trailed 31-22 at halftime.
Jaylin Bass led Lynwood with 17 points, and teammates Robert Howard and Rasheed Cox each had 11 points.
Las Vegas 81, North Torrance (Calif.) 54 — At Faith Lutheran, Tyler Bey scored a game-high 37 points, including 20 in the first half, to lead the Wildcats by the Saxons.
Will Loche had 11 points, and Patrick Savoy scored 10 for Las Vegas, which led 43-31 at halftime.
Isaiah Holmes and Ryan Burnett each had 10 points for North Torrance.
North Laurel (Ky.) 57, Cheyenne 52 — At Faith Lutheran, Ulises Santillan had 26 points and nine rebounds in the Desert Shields' loss to the Jaguars.
Joseph Rose added 15 points and five rebounds for Cheyenne, which trailed 37-30 at halftime.
Peyton Broughton led North Laurel with 19 points.
Eaglecrest (Colo.) 76, Desert Pines 63 — At Faith Lutheran, Capri Uzan had 19 points and four assists in the Jaguars' loss to the Raptors.
Coby Myles added 18 points, and Trevon Abdullah had 12 points and 11 rebounds for Desert Pines, which trailed 37-34 at halftime.
Eaglecrest's Colbey Ross had 25 points, and Blend Avdili scored 23. Elijah Ross added 10 points for the Raptors.
Eastlake (Calif.) 52, Liberty 46 — At Faith Lutheran, Tai Senor scored 20 points in the Patriots' loss to the Titans.
Ed O'Bannon had 10 points for Liberty, which led 23-16 at halftime.
Evin Shepherd had 29 points for Eastlake, which also got 16 points from Justin Young.
Box scores:
Bishop Gorman 74, Windward (Calif.) 57
Centennial-Corona (Calif.) 76, Clark 50
Durango 56, Fossil Ridge (Colo.) 54
Eaglecrest (Colo.) 76, Desert Pines 63
Eastlake (Calif.) 52, Liberty 46
Findlay Prep 80, Wasatch Academy (Utah) 52
Las Vegas 81, North Torrance (Calif.) 54
Lynwood (Calif.) 64, Quest Academy 52
North Laurel (Ky.) 57, Cheyenne 52