TARKANIAN CLASSIC: Las Vegas stands tall for Classic win
December 18, 2014 - 11:51 pm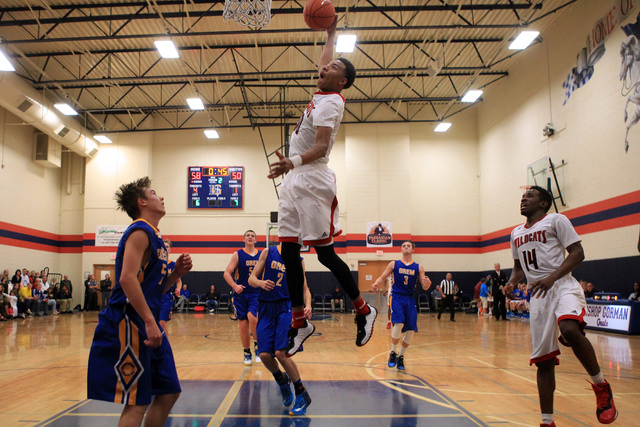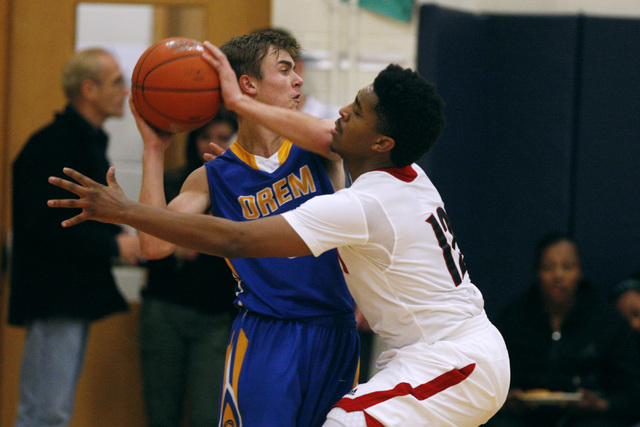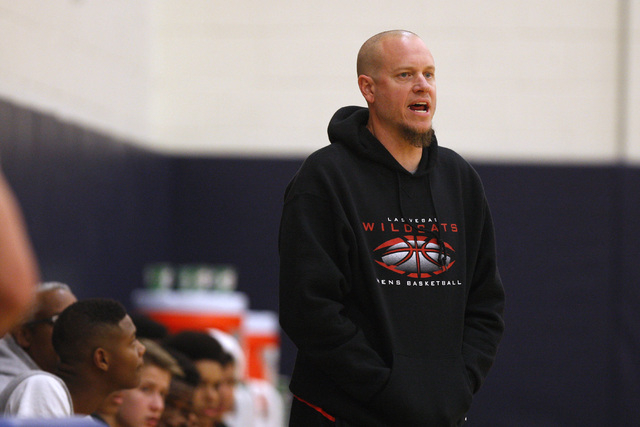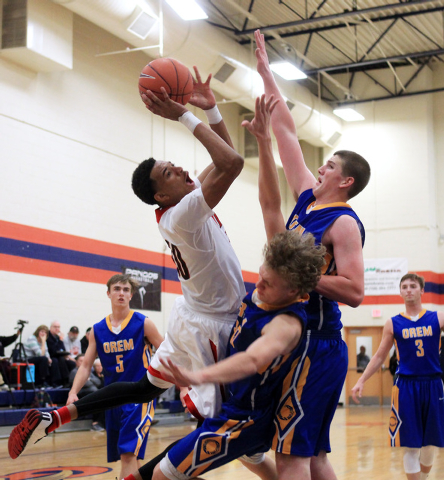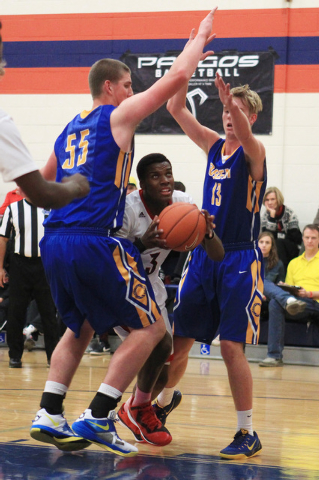 Las Vegas High's Tyler Bey had scored a total of 73 points in the Wildcats' first two games this week.
But when the 6-foot-6-inch junior picked up his second foul less than five minutes into the game Thursday against a much taller Orem (Utah) team, it looked as if Las Vegas might be in trouble.
But senior Will Loche and sophomore Marquise Raybon held things down inside for the rest of the first half, and the Wildcats defeated the Tigers 63-54 in the Tarkanian Classic at Bishop Gorman.
Las Vegas will play Logan (Utah) in the Premier Division semifinals at 8:30 p.m. today at Gorman.
"We told the guys at some point your number's going to get called for some reason, and you've just got to step up and play," Las Vegas coach Jason Wilson said. "And those guys that subbed in, they did a great job of keeping us in the game. Our guys practice against some of the best guys in town every day, so when they got on the floor, I was confident in what was going on."
Bey had scored six of the team's first 11 points, but left after picking up his second foul with 11:13 left in the first half and the Wildcats trailing 12-11.
But even without Bey, the Tigers couldn't pull away, and the Wildcats rallied to take a 34-31 halftime lead. The 6-4 Loche and 6-5 Raybon took care of things inside against Orem, which started 6-11 Richard Harward and 6-8 Noah Johnson inside. The Tigers also brought 7-1 Josh Carlisle off the bench.
Raybon twice broke a tie with a rebound bucket late in the half and had five points and three rebounds in the half.
"He's a sophomore, and he's still trying to figure some things out," Wilson said. "When his number's called, he needs to be able to step on the floor and do what he's asked to do. I thought he did a great job of that tonight. He's starting to figure that out."
Loche scored the first four points of the second half to push the Las Vegas lead to 38-31. Loche finished with 11 points and six rebounds.
"There's not very many guys that work as hard as him," Wilson said. "He couldn't care less about anything in the stat book that has his name next to it except for the win. And I'm really happy for him, because he works so hard and he's accepted his role and he's done what it takes for us to win."
Las Vegas led 43-31 after a finger roll by Bey with 11:33 to play. But the Tigers answered with a 17-7 run, cutting the lead to 50-48 on a 3-pointer by Hayden Young with 5:04 left.
Patrick Savoy was fouled shooting a 3-pointer and hit all three free throws with 3:32 left to push the Las Vegas lead to 53-48, and Bey punctuated the win with two big dunks in the final minute.
Bey finished with 16 points, seven rebounds and three blocked shots, and Savoy had 14 points and six rebounds.
Bishop Gorman 72, Overland (Colo.) 59 — At Gorman, Stephen Zimmerman scored 15 of his game-high 17 points in the first half to help the Gaels top the Trailblazers to move into the Platinum Division semifinals.
Gorman plays Putnam City (Okla.) West at 7 p.m. at Orleans Arena.
The 7-0 Zimmerman hit two 3-pointers in the first half to help the Gaels take a 38-20 lead at the break. Gorman led by 25 in the second half before emptying its bench. Zimmerman added six rebounds and six assists.
Nick Blair added 14 points, and Chase Jeter scored 10 for Gorman.
Austin Conway and De'ron Davis each had 10 points for Overland.
Lone Peak (Utah) 93, Clark 76 — At Gorman, Frank Jackson scored 55 points to lead the Knights over the Chargers in the consolation bracket of the Platinum Division.
Jackson, a 6-foot-3-inch junior guard, was 17-for-24 from the field, including a 6-for-8 mark on 3-pointers. He added nine rebounds and three assists for Lone Peak.
Clark cut the Knights' lead to 42-41 at the half when Carter Olsen hit a free throw with no time left on the clock. But the Chargers, who had led 25-11 before Jackson started his onslaught, quickly fell behind in the second half, and Lone Peak led by more than 20 for much of the second period.
Ty'Rek Wells led Clark with 29 points and seven rebounds. He had 16 points in the second half. Olsen added 17 points, and Keyshaun Webb scored 11 for Clark.
Olsen helped shoot the Chargers into the early lead, making his first four 3-pointers. But he was just 1-for-8 from the field the rest of the way. Colby Jackson had eight assists for Clark.
Bingham (Utah) 76, Durango 71 — At Gorman, Yoeli Childs had 30 points, 20 rebounds and five assists to lead the Miners over the Trailblazers in the Premier Division quarterfinals.
Durango led 55-54 after a free throw by Chase Ruiz with 7:03 to go. But Jared Holman hit a pair of free throws to give Bingham the lead, and Bingham was able to pull away.
The Trailblazers made one final run, cutting the lead to 72-69 on a drive by Demetrius Valdez with 1:14 to play. But the 6-8 Childs had a dunk with 31 seconds to play to essentially seal the win.
Apollo Corley had 22 points and six rebounds, and Victor Ross had 21 points and seven rebounds to pace Durango. Valdez added 14 points for the Trailblazers.
Holman had 15 points and eight rebounds for Bingham.
Mayfield (Calif.) 80, Desert Pines 72 — At Faith Lutheran, Trevon Abdullah and Capri Uzan each had 15 points, but the Jaguars lost to the hot-shooting Monsoons in the Premier Division.
Coby Myles added 14 points, and Marckell Grayson finished with 10 points for Desert Pines, which used a 13-3 run at the end of the first half to take a 43-34 lead.
Kendall Small poured in 41 points and made eight of Mayfair's 14 3-pointers, and teammate J.R. Harrison had 17 points.
Small drained three straight 3-pointers to help trigger a 26-6 run that gave the Monsoons a 60-49 lead, and his final 3 put Mayfair on top 70-60 with 7:30 remaining. Desert Pines didn't get closer than six points the rest of the way.
San Bernardino (Calif.) 64, Cheyenne 61 — At Faith Lutheran, Ulises Santillan had 20 points and six rebounds, but the Cardinals outlasted the Desert Shields in two overtimes in the Select Division.
William Moore added 10 points, and Joseph Rose finished with eight points and nine rebounds for Cheyenne. Rose had a shot to win the game at the end of regulation, but his baseline jumper didn't fall.
The Desert Shields forced a turnover trailing 63-61 with 35.9 seconds left in the second overtime but couldn't take advantage. Cheyenne then missed two 3-pointers in the final seconds with a chance to tie.
Tymoryae Glover had 18 points, and Deion Lee scored 17 for San Bernardino, which opened the second half on a 20-5 run after trailing 31-26 at halftime.
Quest Academy 93, Laurel Highlands (Pa.) 80 — At Faith Lutheran, Chris Hawkins had 38 points, and the Knights won a shootout against the Mustangs in the Select Division.
Hawkins made 17 of 19 free throws, and Quest finished 35-for-42 from the line overall.
La'Quan Hawkins added 21 points and was 12-for-12 at the free-throw line, and David Vasquez finished with 20 points for the Knights.
David Rusko had 27 points, and teammate Jake Swartz scored 23 for Laurel Highlands, which trailed 43-26 at halftime.
Mars Area (Pa.) 74, Liberty 32 — At Faith Lutheran, Tai Senor had 11 points in the Patriots' loss to the Planets in the Select Division.
Ryan Taggert tallied seven points, and Cameron Anderson and Joseph Bolden each scored six for Liberty.
John Castello scored a game-high 18 points for Mars Area, which opened the game on a 22-5 run.
Desert Vista (Ariz.) 68, Faith Lutheran 43 — At Faith Lutheran, Blake Bell had a game-high 16 points in the Crusaders' loss to the Thunder in the Select Division.
John Molchon scored 11 of his 13 points in the first half for Faith Lutheran, which trailed 31-25 at the break.
Brandon Clarke led Desert Vista with 15 points, and teammates Tarik Cool (13 points) and Caleb Simmons (12 points) also reached double figures. The Thunder opened the second half on a 24-7 run and led by as many as 29 points late.
Box scores:
Bishop Gorman 72, Overland (Colo.) 59
Desert Vista (Ariz.) 68, Faith Lutheran 43
Mars Area (Pa.) 74, Liberty 32
Mayfair (Calif.) 80, Desert Pines 72
Quest Academy 93, Laurel Highlands (Pa.) 80
San Bernardino (Calif.) 64, Cheyenne 61