Valley boys rely on defense to stop Cougars
December 11, 2013 - 11:46 pm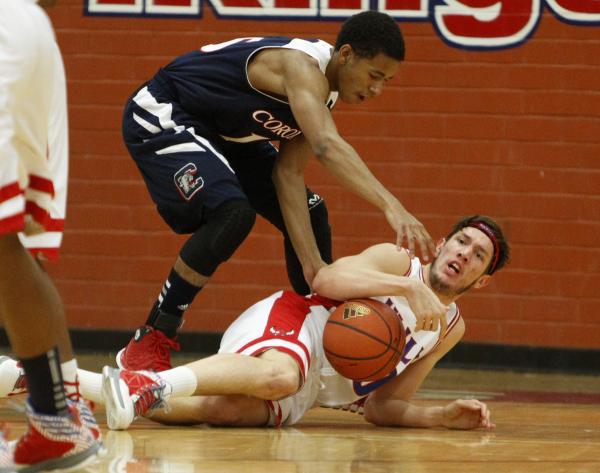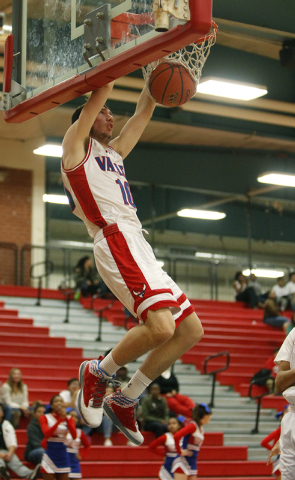 The Valley boys basketball team struggled on offense during the first week of the season.
The Vikings' solution on Wednesday was to focus on the other end of the floor.
Valley held visiting Coronado to one field goal in the opening 14 minutes, 27 seconds and ran away with a 74-57 victory.
"We've prided ourselves on our half-court defense all year," Valley coach Brian Farnsworth said. "We did a good job defensively, and that led to easy points on offense. Our emphasis was to push the ball on the break and get quick, easy looks."
Spencer Mathis led the Vikings (4-1) with 16 points on 4-for-12 shooting, and the Northern Colorado signee added seven rebounds and five blocked shots. Teammate Gerard Harden finished with 13 points and seven rebounds.
Coronado (0-3) missed its first 10 shots and didn't convert from the field until Nick Kornieck muscled his way inside to score 56 seconds into the second quarter. By then, the Cougars trailed by nine points and never got any closer.
The Cougars committed 11 first-half turnovers against Valley's half-court press and shot 16 percent (3-for-19) from the field in the opening 16 minutes.
"We've got 12 good athletes who fly around and trap and rotate," Farnsworth said. "We trapped hard and with a purpose, and I think we forced them into some shots they don't normally want to take."
Eddie Austin scored 11 of his 13 points in the second half for Coronado, and Kornieck finished with 12 points, five rebounds and two blocks. Austin Morgan added 11 points.
The Cougars finished 17-for-45 (38 percent) from the field, including a 2-for-16 effort from behind the 3-point line.
"We just couldn't make a shot, and we got out of sorts," Cougars coach Jeff Kaufman said. "It's a learning experience, but we'll be ready to go come time for league play."
Mathis and Harden sparked an 18-4 run in the second quarter, and the Vikings led 34-16 at halftime.
Coronado got within 10 points on two occasions in the third quarter, the last coming with 2:07 left when Trey Austin scored his only basket of the night to make it 44-34.
But Valley closed the third quarter on a 10-2 run and led by as many as 23 points in the fourth. Shea Garland posted 10 points and five rebounds, and Cameron Burton also had 10 points for the Vikings, who were 26-for-37 from the free-throw line.
"We've struggled shooting the ball," Farnsworth said. "I think this will give confidence to the guys who have been struggling."
Box score: