Vegas Invitational: Brooks brothers score 68 in Mountain View's 77-73 OT win
December 29, 2017 - 8:13 pm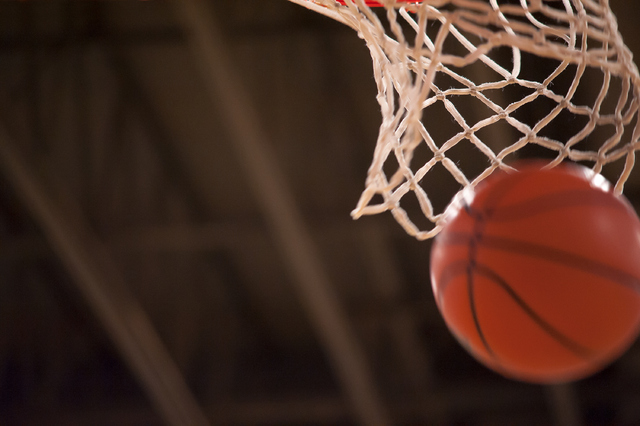 Twin brothers Tyrell and Terrence Brooks combined for 68 points Friday as host Mountain View's boys basketball team defeated Tech, 77-73 in overtime, in the Vegas Invitational.
Tyrell Brooks hit four 3-pointers in the fourth quarter, scoring 14 points in the quarter to help the Saints force the extra period. He finished with 35 points and earned all-tournament team honors. Terrence Brooks had six of his 33 points in the overtime.
Jurelle Orbino paced Tech with 23 points.
Dylan Sanglay added 19 points for the Roadrunners, and teammate Isaiah Villareal scored 15.
Bonanza 69, Chadwick School (Calif.) 59 — Zioan Blakeney and Kendell Burrell led four double-figure scorers with 14 points apiece as the Bengals claimed third place in the tournament by topping the Dolphins.
Derek Davis added 12 points, and Marc Navarro scored 10 for Bonanza.
Duke Lindsey led Chadwick with 14 points, and teammate Oryan Hamlin scored 13.
Sky Pointe 56, Word of Life 55 — Nijel Murray and Derek Magee each had 13 points to help Sky Pointe edge Word of Life.
Treveonne Swift added 12 points for Sky Pointe, which trailed 40-37 after three quarters.
Isaac Lopez paced Word of Life with 17 points. Bryce Ethridge added 14 points, and Cheikou Kouyate scored 10 for Word of Life.
Spring Mountain 71, Bonanza 52 — Shawn Shumpert poured in 33 points to help the Golden Eagles pull away from the Bengals.
Shumpert was named to the all-tournament team.
Damariyae Royal added 13 points, and Michael Johnson scored 12 for Spring Mountain, which used a 28-11 fourth-quarter burst to wrap up the win.
Kadin Warner led Bonanza with 23 points. Burrell added 14 points for the Bengals.
Spring Mountain 67, Pahrump Valley 62 — Shumpert had his second big game of the day, scoring 32 points to help the Golden Eagles top the Trojans.
Royal added 14 points for Spring Mountain, which led 56-40 after three quarters.
Antonio Fortin led Pahrump with 28 points, and teammate Grant Odegard scored 15.
Granite Hills (Calif.) 62, Adelson School 60 — Moses Smith scored 21 points to help the Eagles hold off the Lions.
McKay Roberts added 11 points, and Austin Ballo scored 10 for Granite Hills, which carried a 52-40 lead into the fourth quarter.
Miles Hagan paced Adelson with 19 points. Alex Sefia had 14 points, and Dale Weiford scored 10 for the Lions.
Army-Navy (Calif.) 64, The Meadows 22 — J.C. Canahuate pumped in 24 points as the Warriors routed the Mustangs.
Canahuate was named to the all-tournament team. Albert Pirchardo added 11 points for Army-Navy, which led 45-9 at the half.
Noah Klein and Kevin Riska each had six points to lead The Meadows.
St. Joseph (California) claimed its third straight Vegas Invitational championship, defeating Buckley (California), 65-59 in the final.
Box scores:
Army-Navy (Calif.) 64, The Meadows 22
Bonanza 69, Chadwick School (Calif.) 59
Granite Hills (Calif.) 62, Adelson School 60
Sky Pointe 56, Word of Life 55
Spring Mountain 71, Bonanza 52
Spring Mountain 67, Pahrump Valley 62