Deja vu doesn't thwart Del Sol
October 24, 2008 - 3:09 pm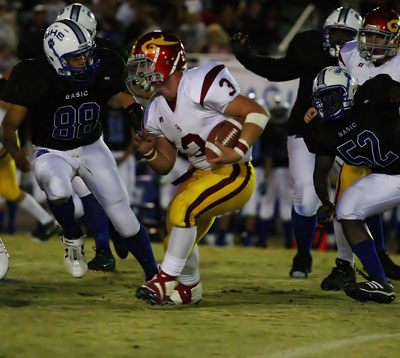 Basic took possession of the football at its 13-yard line, trailing Del Sol by one point with just less than three minutes to play Friday night.
It was a situation the Dragons' defense had been in before.
Last week, Del Sol allowed Green Valley to drive the length of the field and score on the game's final play to defeat the Dragons.
This time, 10th-ranked Del Sol prevented No. 9 Basic from scoring and secured a 28-27 road victory when Billy Weathers' 32-yard field-goal attempt missed its mark in the closing seconds.
"That's all I was thinking about," Del Sol coach Preston Goroff said of last week's final drive. "It was deja vu. A bad dream."
The missed field goal was the culmination of a difficult night in the kicking game for the Wolves (6-3, 4-1 Southeast League). Weathers had an extra point blocked in the first quarter and a field goal blocked earlier in the final period.
Basic drove the length of the field but stalled inside the Del Sol 15-yard line. Charles Phillips ran for 17 yards to the Dragons' 13-yard line with just less than one minute left.
Quarterback Robby Faiman spiked the ball and then threw an incompletion. He lost 3 yards on a keeper play that set up the ball in the middle of the field, giving Weathers a chance to win the game.
Del Sol (7-2, 4-1) was relieved to force a field-goal try after allowing a touchdown on the final play last week.
"It was on my mind," Derek Eamon said. "I was just thinking 'Don't let it happen again. Stay tough and don't have a mental breakdown.'"
Eamon, who plays linebacker, also led the Del Sol offense with 199 yards and two touchdowns on the ground. Jon Kirschbaum added 140 yards and a score for the Dragons, who finished with up 382 rushing yards.
"Basic is a very good side-to-side defense but not so good when you go right at them," Eamon said. "That's what we do best."
Del Sol led 28-19 entering the final period but allowed a 22-yard touchdown run by Anthany Lessier on the fourth quarter's first play. A 2-point conversion got the Wolves within one.
The Dragons fumbled on their next offensive play but blocked a Basic field-goal try with 8:45 remaining.
Del Sol then ran the clock down to 2:55 before a failed fourth-down pass gave the ball to the Wolves at the 13.
Ernest Hall had just six carries for the Dragons, but five came on Del Sol's clock-killing possession and resulted in 37 yards. His only rush before the drive was a 7-yard touchdown in the first half.
Faiman completed 19 of 35 passes for 180 yards and a touchdown for the Wolves. Jeff Pozdol caught 10 passes for 115 yards and one score.