Gaels welcome No. 1 challenge
October 3, 2013 - 10:51 pm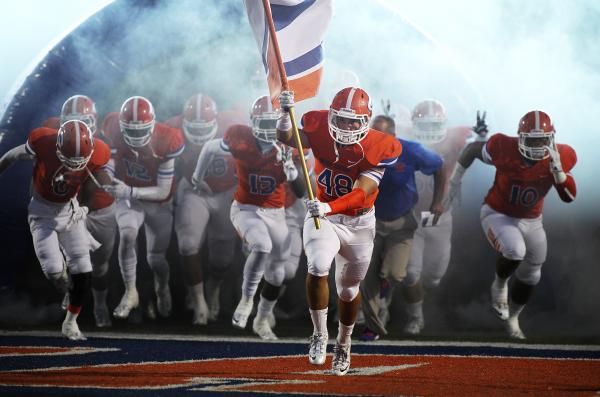 Bishop Gorman football coach Tony Sanchez has noticed something different around campus this week as his team prepares to face the nation's No. 1 team.
"It's funny, you see a lot more worried faces than I think I've ever seen since I've been here," Sanchez said. "But I love it."
Sanchez and the Gaels (4-1) host Booker T. Washington (5-0) of Miami, which is ranked No. 1 nationally by USA Today, at 7 p.m. today. The game will be televised on ESPNU (320).
While some on campus might be worried, those inside the locker room don't seem to be.
"At the end of the day, it's just a good experience," senior safety Armand Perry said. "We're just going to go out there, do what we do, play football and have fun. That's pretty much all you can do.
"We like to leave the rankings behind. We've been here before, and we're doing everything we can to get ready for this game."
Sanchez is quick to point out that his team has played plenty of ranked teams in his tenure at Gorman. The game will be Gorman's sixth this season against out-of-state competition. The Gaels are ranked 32nd by USA Today.
"We've played, I believe, eight top-10 teams in the last four seasons," Sanchez said. "So what's the degree of separation between (No.) 1 and (No.) 8? Not much. So we've seen these teams before. Are they the best? We'll find out after the game. But I know our kids are going to fight them."
The Tornadoes feature eight players that have committed to play at Division I schools, and Sanchez said Washington has "14 or 15" players with college offers.
"They're absolutely loaded athletically," Sanchez said.
Washington has outscored its opponents 212-30 this season, and that hasn't come against cream puff competition. The team's opponents have combined to go 15-2 in other games this season.
The Tornadoes' fierce defense features a pair of Miami-bound ends in Chad Thomas and Demetrius Jackson. Cornerback Nigel Bethel also has committed to play for the Hurricanes.
The only time Washington has allowed more than one touchdown in a game this season came in a 28-17 win over Miami Central, a team that's ranked No. 5 in the nation.
"They're going to bring a lot of pressure from a lot of different areas and they just swarm to the football," Sanchez said. "Their recovery speed is exactly what you'd expect from a team that has that many Division I guys. There's no doubt they've got a speed advantage in this game."
To help offset that speed, Gorman center Zack Singer said the team needs to use its size. The Gaels average 283 pounds on the offensive line.
"We need to use our power to our advantage and take the speed aspect out of the game, because they are a fast team," Singer said.
Offensively, Washington has plenty of weapons. Quarterback Treon Harris, who has committed to Florida State, has completed 76.3 percent of his passes with 12 TDs and just one interception. He's got four college-bound skill players around him, with receivers Lamar Parker (West Virginia) and Deltron Hopkins (Appalachian State), and running backs Mark Walton (Miami) and Krondis Larry (Samford).
"They spread the field out well," Perry said. "And they just pretty much have athletes and they use their speed to their advantage."
The Gaels, always heavy favorites locally, seem to be enjoying the underdog role.
"A lot of people have been doubting us and coming up to us thinking we're not going to be able to do it," Perry said. "So if we can pull this off, it's going to be something big for the program and something big for Nevada football."