Gorman blasts California team to finish perfect out-of-state slate — PHOTOS
Updated September 8, 2023 - 11:44 pm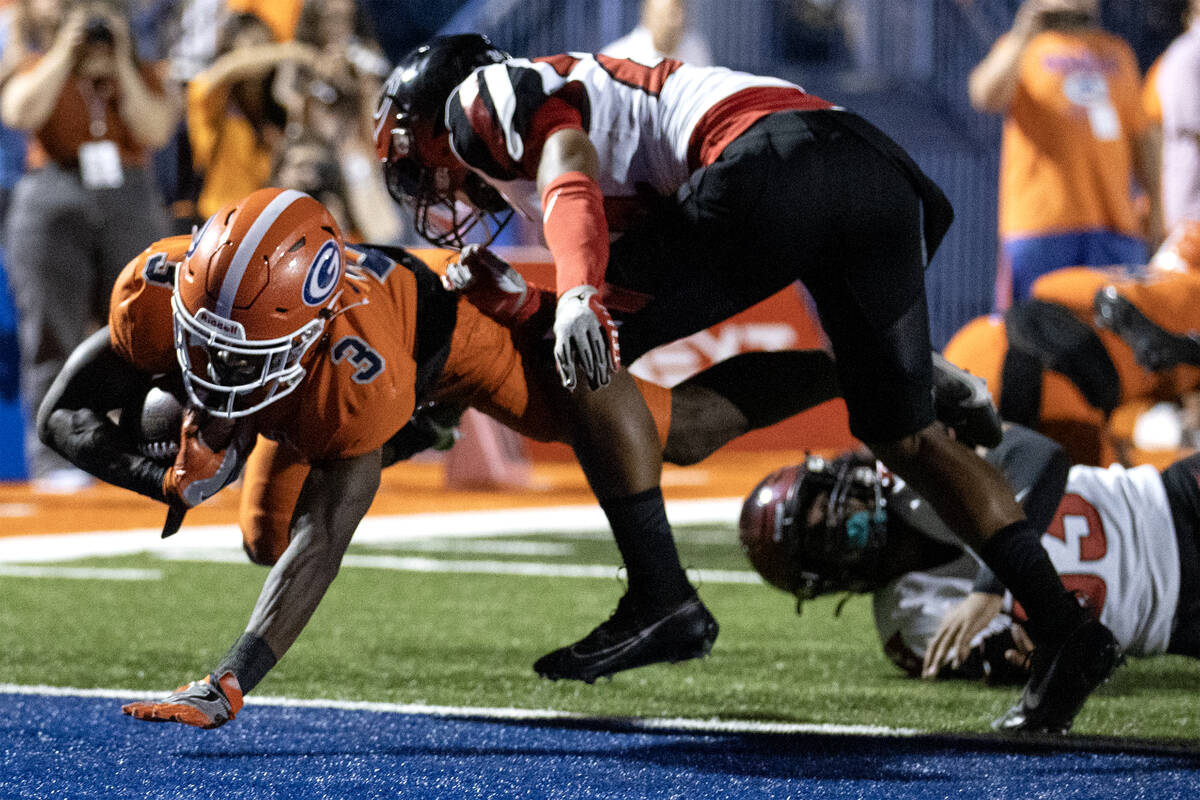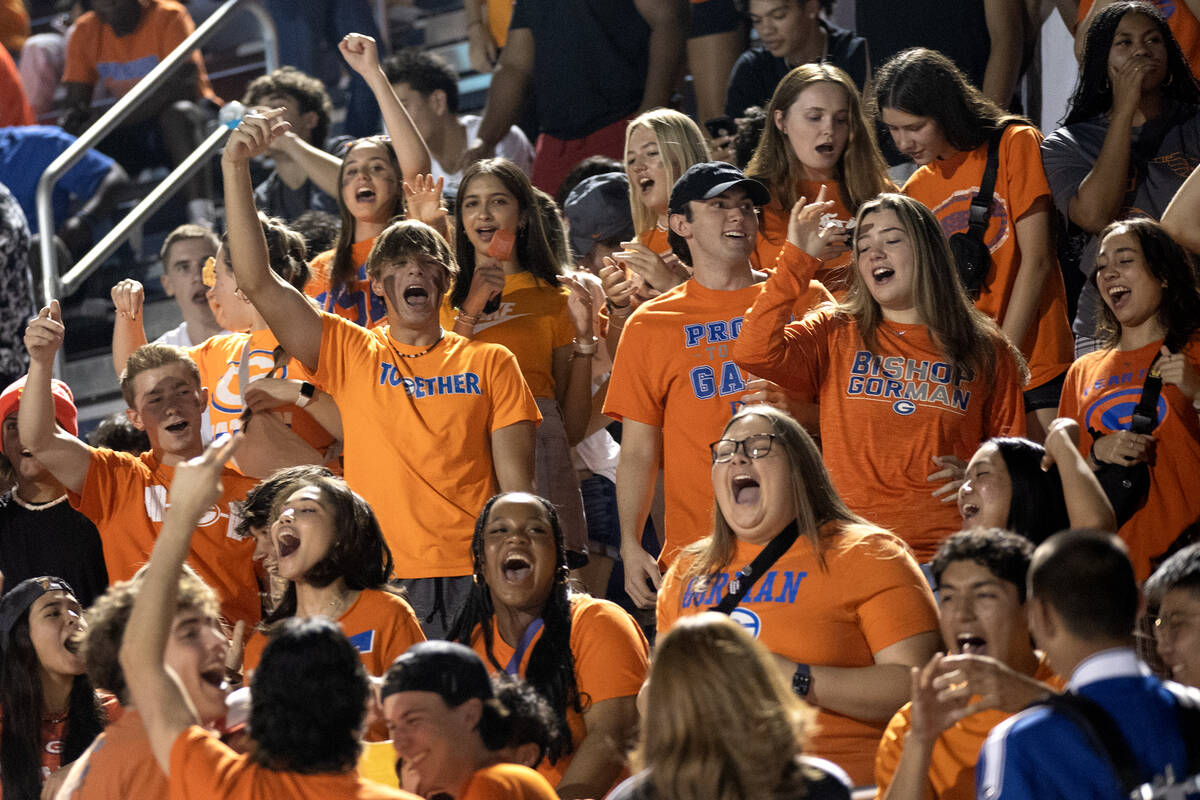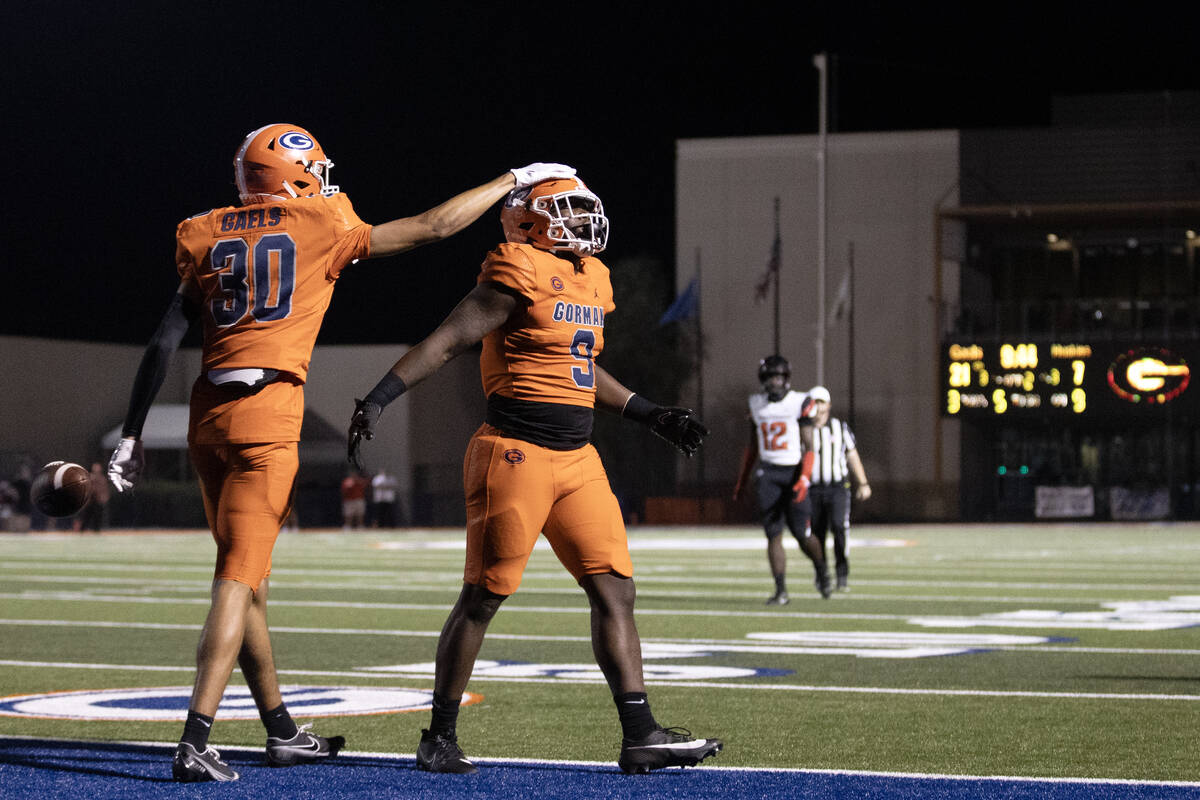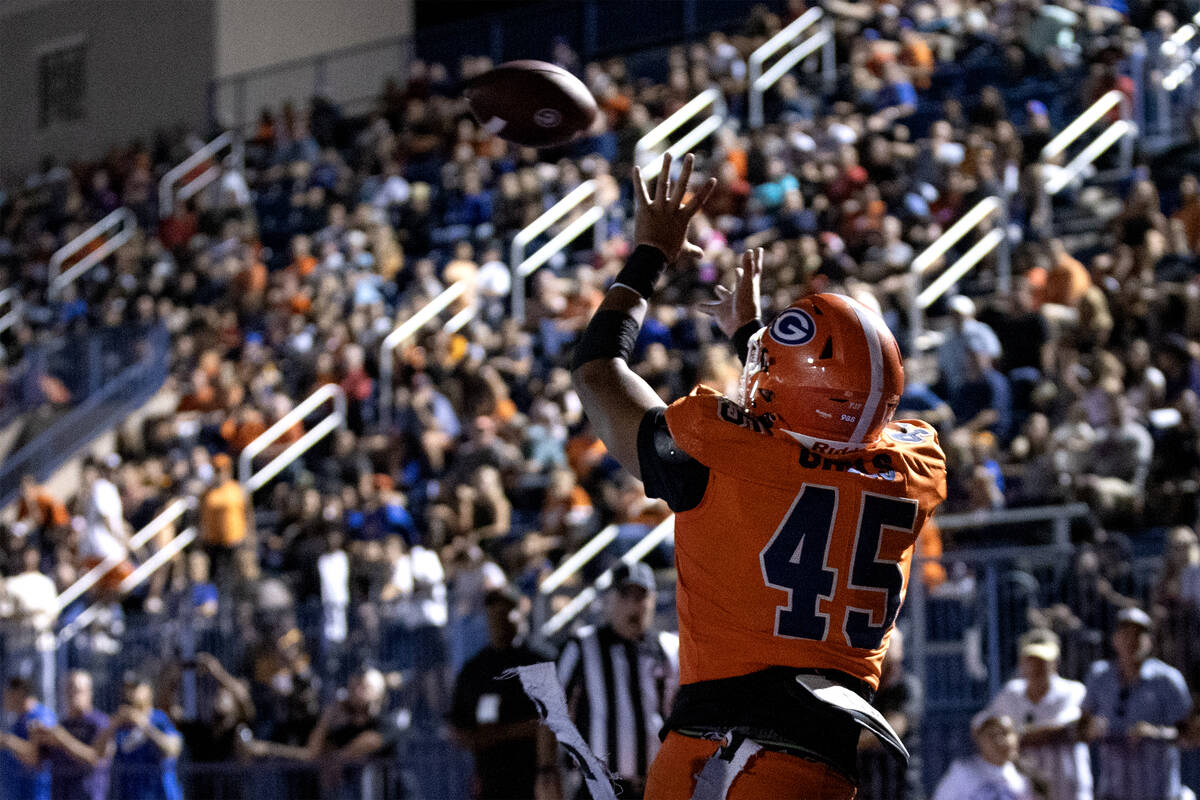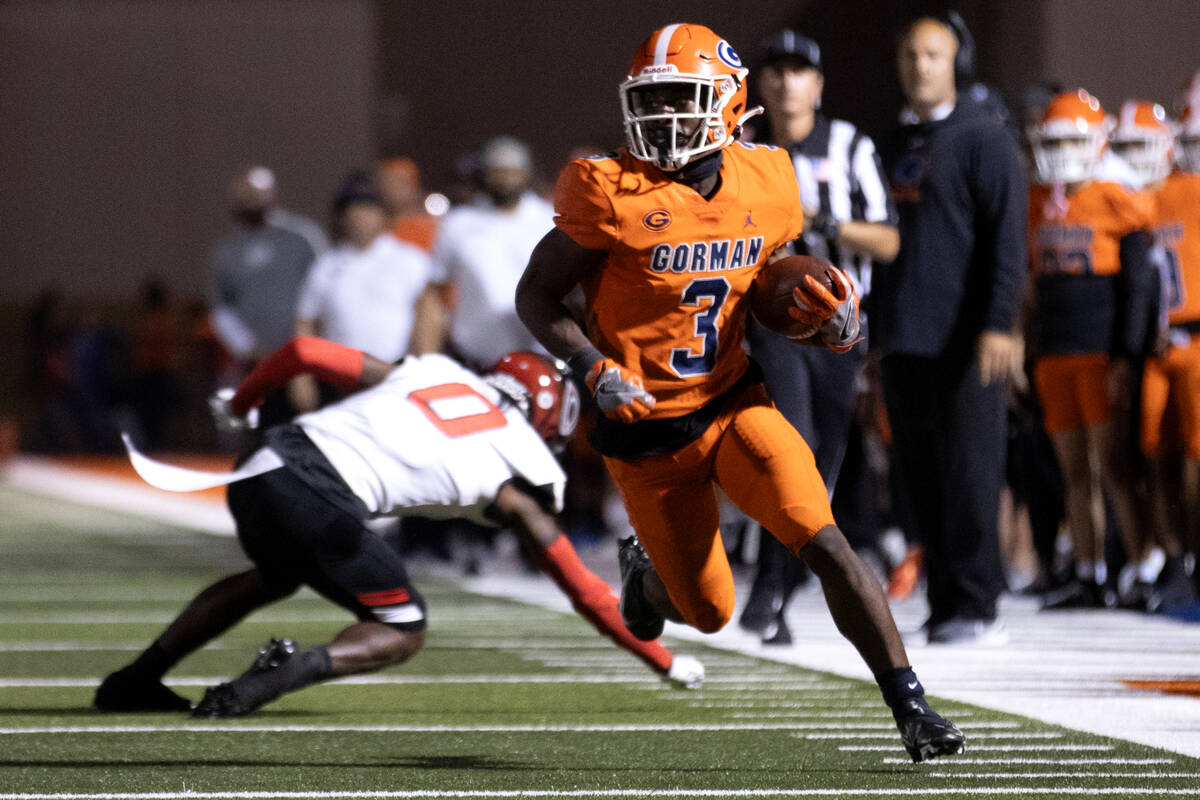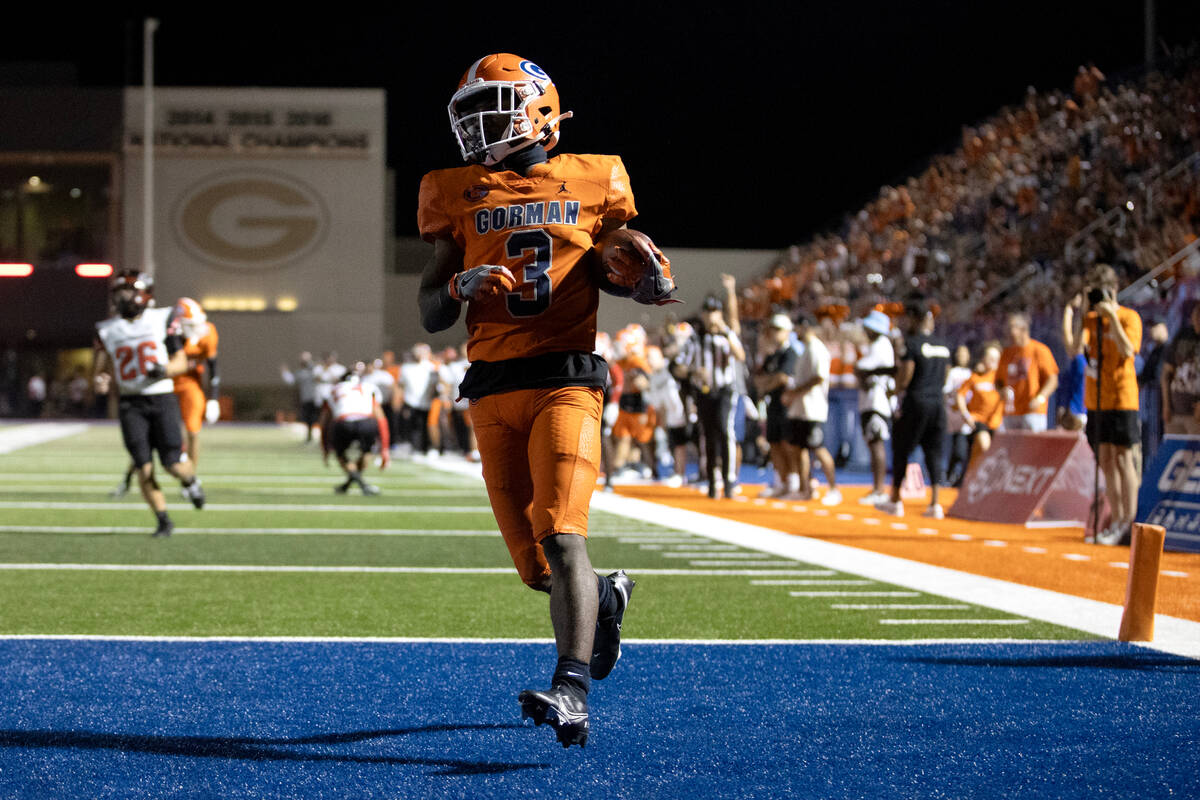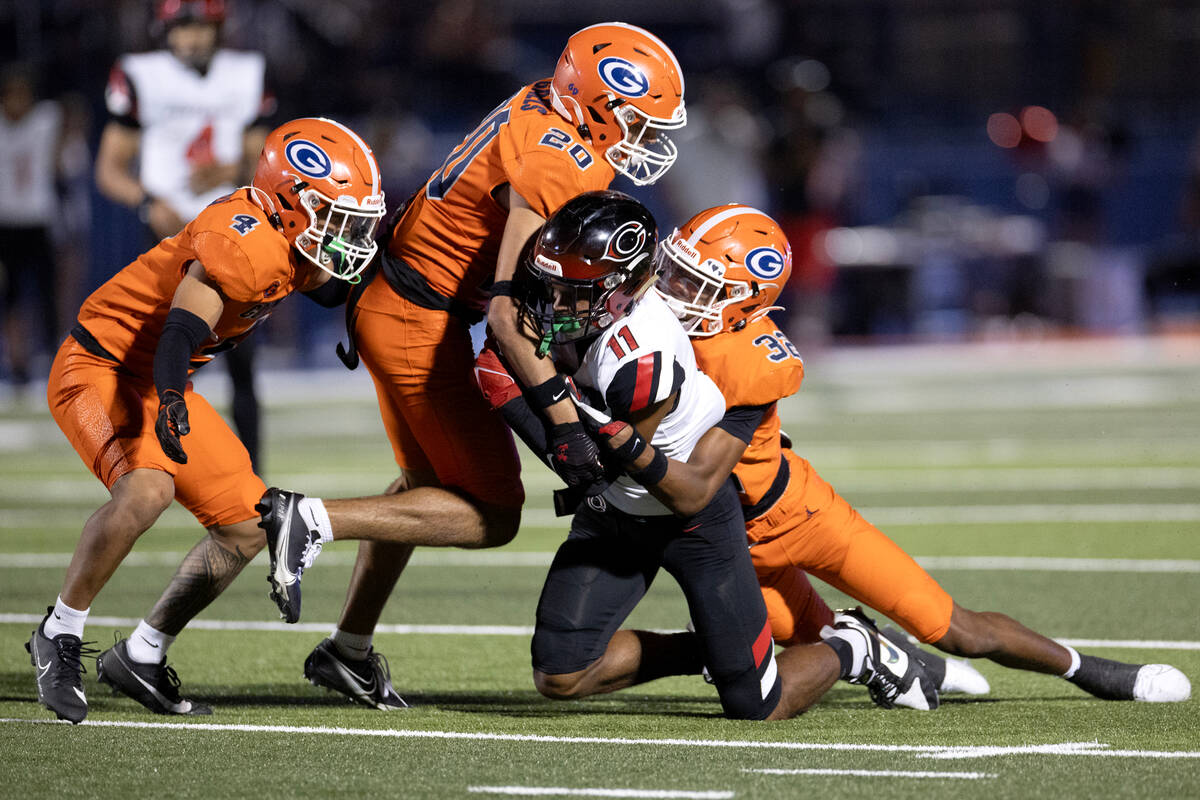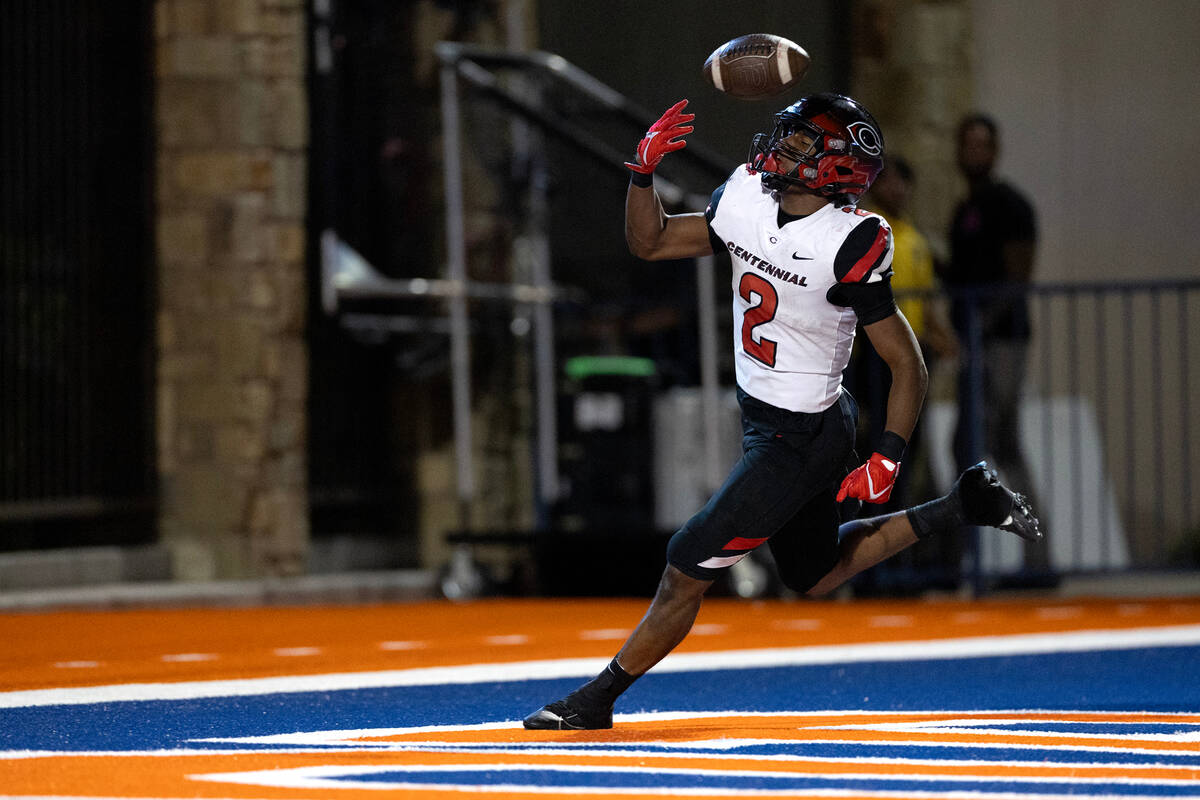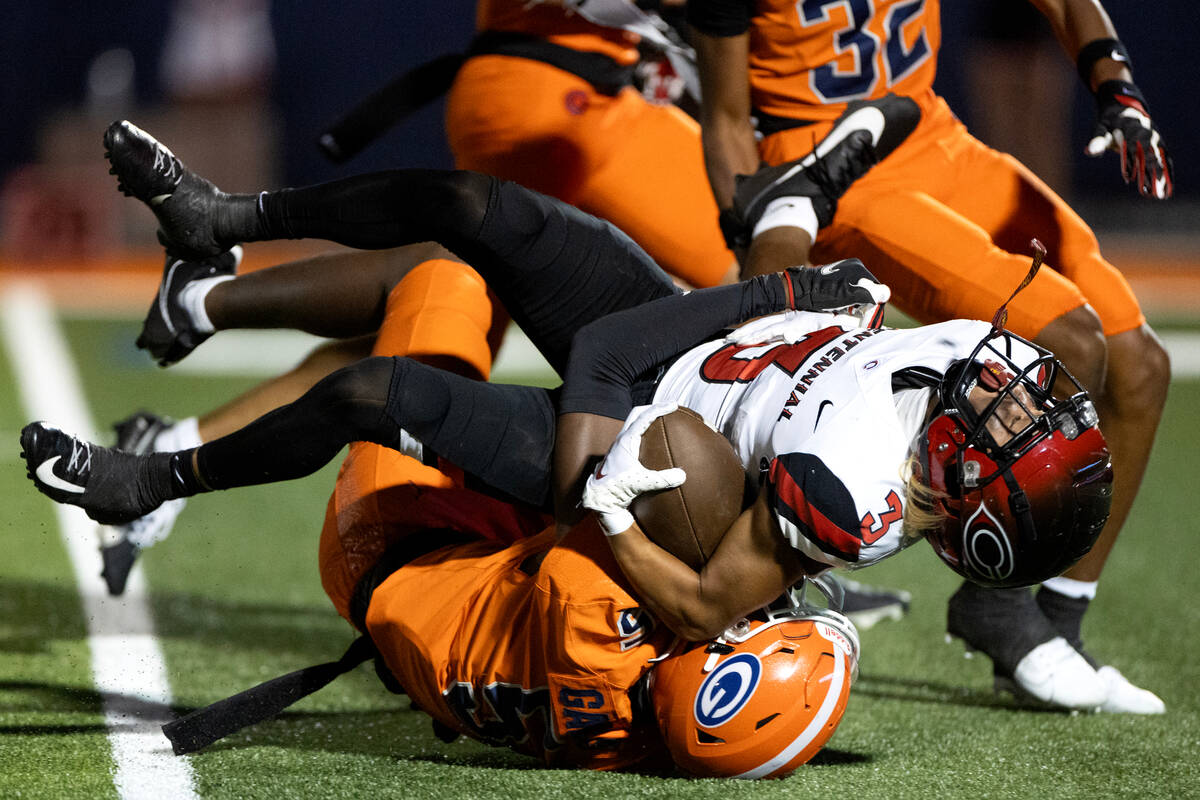 If there was any question of a letdown following an emotional win over Miami Central (Florida) last week, Bishop Gorman needed just five plays to put those concerns to rest Friday night.
The Gaels stopped Centennial (Corona, California) on four straight plays on the game's first drive to force a turnover on downs, and senior running back Devon Rice scored on a 29-yard TD run on Gorman's ensuing possession.
It wouldn't get any closer as Gorman, ranked No. 2 nationally by MaxPreps, rolled to a 56-28 home win over No. 13 Centennial in its final nonleague game.
"It's a statement win against a good team like (Centennial)," Gorman coach Brent Browner said. "We're just proud of the boys. Defense played well and got us out to a early lead, and the offense is clicking."
The Gaels' defense recovered three fumbles, forced two fourth-down stops and had an interception in the first half.
"It is a young defense, but they're all growing up fast," said Rice, who also started at defensive back. "They're all picking it up real fast, and seeing their progress every week, it's great."
The final fumble recovery for Gorman (4-0) came late in the first half when Centennial (2-2) was driving inside the Gaels' 10-yard line. Gorman sophomore defensive lineman Key'trin Harris scooped up a fumble by Centennial quarterback Husan Longstreet to preserve the Gaels' 35-7 lead going into halftime.
Rice rushed for 119 yards on 12 carries with two rushing touchdowns and added a receiving touchdown. Senior quarterback Micah Alejado completed 15 of 20 passes for 200 yards and threw five touchdowns to four receivers.
"The o-line was doing the work and handling them up front," Rice said. "They do their job every week."
Gorman recovered its first fumble on Centennial's second drive when sophomore defensive lineman Prince Williams picked up the loose ball.
The Gaels didn't score on that drive, but their defense got them another drive after a punt.
Gorman freshman defensive back Hayden Stepp intercepted Longstreet on a diving effort to set the Gaels up with prime field position. Three plays later, the Gaels jumped to a 14-0 lead on a 5-yard touchdown run from Rice.
"(Rice is) such a dynamic player that we felt like we could (play him both ways)," Browner said. "They had some really good receivers, so we decided to lock one of them up and have (Rice) do that, and he did that. … That's a special kid that can actually do and flip roles."
Centennial answered on its next possession when senior running back Cornell Hatcher Jr. broke off a 38-yard touchdown run.
The Gaels answered right back as Alejado connected with tight end Elija Lofton on a 16-yard touchdown pass.
Williams picked up his second fumble recovery late in the first quarter as Gorman led 21-7 after the first 12 minutes.
Alejado took advantage of his defense gifting him another possession as he scrambled to his left and found Lofton on a 9-yard touchdown pass.
Gorman's defense forced another fourth-down stop midway through the second quarter.
The drive ended in another touchdown as Alejado found sophomore tight end Eli Yamauchi on a 2-yard pass to give the Gaels their 35-7 halftime advantage.
Gorman picked up where it left off in the second half when Alejado connected with Rice on a 42-yard touchdown pass on a five-play, 71-yard drive.
The Gaels added touchdowns on a 1-yard run from Lofton and a 39-yard pass from Alejado to senior wide receiver Audric Harris, who finished with 89 yards on six catches.
Hatcher added touchdown runs of 3, 7 and 20 yards in the second half for Centennial.
Gorman begins Class 5A Division I league play when it hosts Liberty at 7 p.m. Thursday.
Contact Alex Wright at awright@reviewjournal.com. Follow @AlexWright1028 on X.