NOTES: Liberty QB Kenyon Oblad ready for busy recruiting season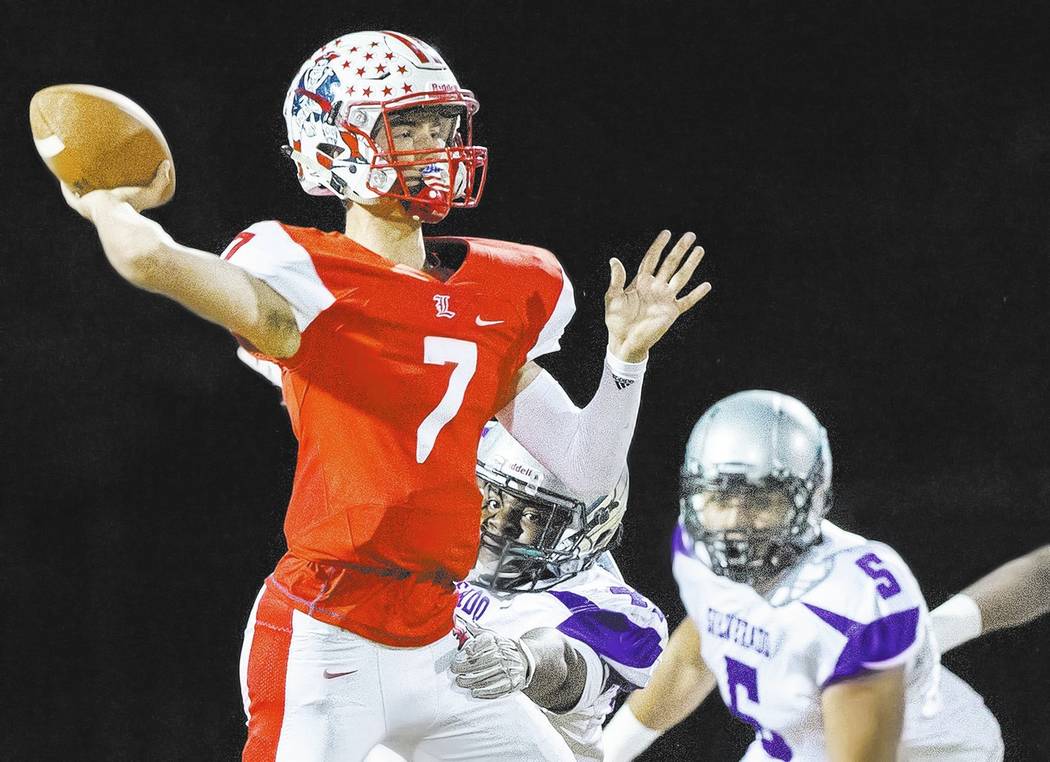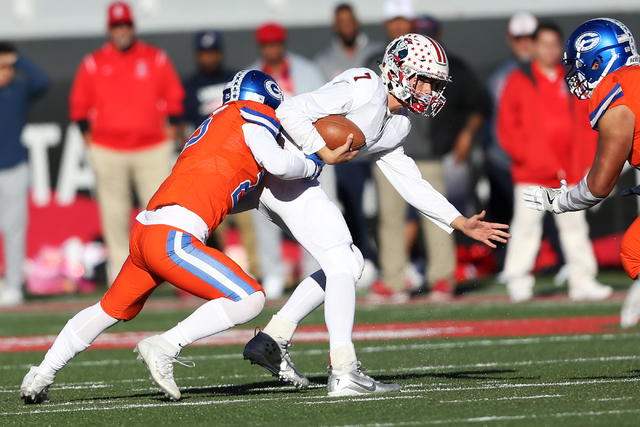 Kenyon Oblad caught the eye of rapper Snoop Dogg with his play during a recent 7-on-7 football tournament.
The junior quarterback at Liberty is hoping a few more colleges also take notice.
Oblad is projected as one of the top prospects in the state for the class of 2018 and is preparing for a busy recruiting season when the NCAA evaluation period begins next month.
"Over the spring and summer, I'm probably going to take a couple visits to the schools that have shown the most interest," Oblad said Tuesday.
Oblad led All-American Pride to the title at the adidas 7v7 National Championship last weekend, as he threw a combined seven touchdowns in two victories over the previously unbeaten L.A. Magic in the championship round.
The team earned a congratulatory tweet from Snoop Dogg after its victory.
"I think it was good, not only for me but for the rest of the players on the team, because we were playing against the four-stars and five-stars from across the nation and we were beating them," Oblad said. "It's good to know we can play with them."
Oblad has oral scholarship offers from Brigham Young, Colorado State, San Diego State and UNLV, which offered late last month. He is drawing interest from several other schools, including Boise State, North Carolina and Utah.
"The quarterback position is a tough position to recruit because a lot of times the guys who come out aren't the quarterback expert," Liberty coach Rich Muraco said. "I anticipate a lot of schools … they're going to bring in their quarterback coach, have him throw it at practice and see with their own eyes."
Oblad stands 6 feet 3 inches tall, but acknowledged his thin frame concerned some recruiters. Oblad said he has put on almost 30 pounds since the end of the season and is up to 195 pounds.
"I was really skinny, and that was a big knock that I heard from colleges," Oblad said. "Actually from gaining weight, I've noticed my arm got a lot stronger."
Oblad earned Southeast League Offensive MVP and first-team all-state honors as a junior, and the three-year starter for the Patriots has a chance to finish his career as the state's all-time leading passer. Liberty lost to Bishop Gorman in the state championship game last year.
"I'm pretty excited for next year," Oblad said. "We've got some good receivers returning, and our defense should be really, really good. It's my last season, so I think all the seniors are going to ball out and try to get the state championship and try to get to the next level."
GORMAN TRIO IN ALL-STAR GAMES
Bishop Gorman senior-to-be football players Kirby Bennett, Brevin Jordan and Dorian Thompson-Robinson accepted invitations to play in the 2018 Under Armour All-America Game in Orlando, Florida.
The Gaels' trio previously committed to participating in the 2018 Polynesian Bowl in Honolulu. The dates of the games have not been announced.
RECENT COMMITMENTS
■ Bishop Gorman seniors Ben Howell and Christian Martinez to the University of Jamestown (North Dakota) for football.
■ Arbor View senior Alyssa Drye to Holy Names University (California) for women's soccer.
Contact reporter David Schoen at dschoen@reviewjournal.com or 702-387-5203. Follow @DavidSchoenLVRJ on Twitter.