Notes: Wide receiver Rome Odunze breaks out for Bishop Gorman
October 30, 2018 - 6:43 pm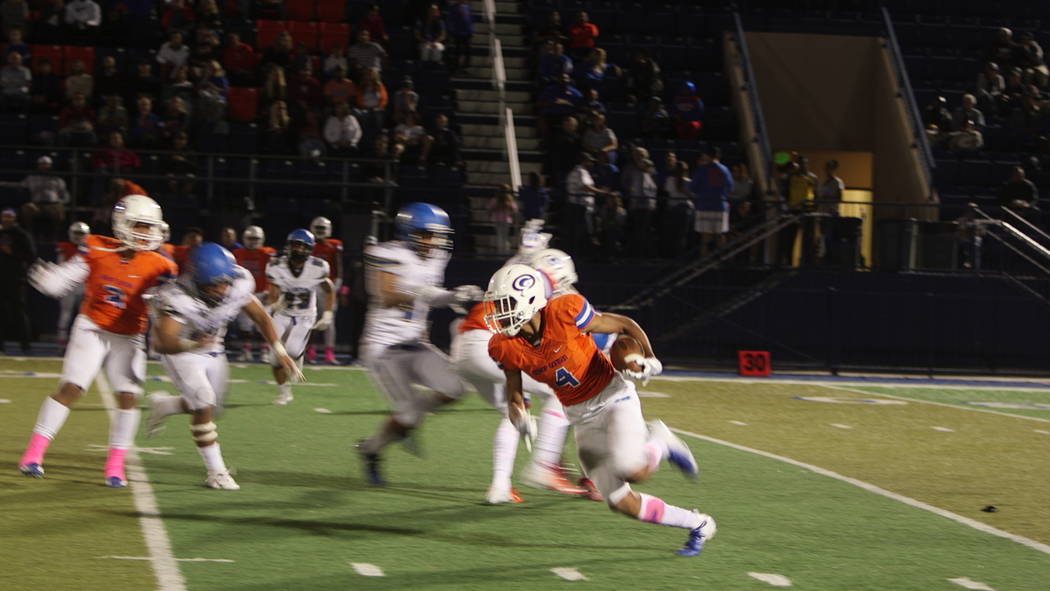 Bishop Gorman junior Rome Odunze still believes he could be a great quarterback.
He is proving he is a great wide receiver.
Odunze is the latest in a long line of standout Gorman pass catchers, and is in the midst of a breakout season for the Gaels after playing sparingly as an underclassman.
At 6-foot-3, and 195 pounds, he couples high-end speed with rare size, and has evolved into quarterback Micah Bowens' favorite target — and the area's most productive receiver. Division I universities are recruiting Odunze, who holds scholarship offers from Brigham Young, Kansas, Minnesota and California, and Bowens said he's improved considerably since off-season 7-on-7 passing league.
"He's turning into a real receiver," Bowens said. "I'm proud of him. … (I have) all the trust in the world (in him)."
Odunze grew up playing quarterback, but converted to defense after arriving to Gorman in the same freshman class as Bowens, who also has multiple Power Five scholarship offers. Thus, he converted again to wide receiver before his sophomore season — primarily to showcase his speed and agility — and caught three passes for 30 yards while playing behind Gaels greats like Brevin Jordan, Jalen Nailor and Cedric Tillman, former all-state players turned freshman at Power Five programs.
Those three combined for more than 2,600 receiving yards as seniors last season, and Gorman coach Kenny Sanchez knew Odunze could help fill the void their departures created on the perimeter.
Odunze struggled with drops at the beginning of the season, but Sanchez said he's moved past those "focus issues," with practice and repetition.
"We thought he could be a really good wide receiver. Really athletic, lot of speed. Young kid still," Sanchez said. "We kind of predicted he was going to be a really good player and he's progressed to where he's at now. … We just stuck with him."
Odunze registered more than 100 yards receiving in two of Gorman's four national games as he adjusted to a new role. He has since developed a rapport with Bowens, and has feasted on local competition en route to an area-best 850 yards and eight touchdowns.
"I knew that they had some trust in me through deep balls, and letting me run my routes," he said. "I knew they were looking for me."
Odunze, in all likelihood, will have several more games this season to build on his statistics and wants to break school records — namely career and single-game receiving yards — before he graduates.
"I've only been playing receiver now for maybe 2½years," Odunze said. "If I'm able to do this in only 2½ years, I know, in me, that I can be great."
Gorman boys beat Clark in preseason tournament
Bishop Gorman's boys basketball scored a 55-40 victory over Clark in the Halloween Hoops preseason basketball tournament at Coronado on Sunday. The Gaels beat the Chargers four times last year in what has become into one of the city's best rivalries.
Findlay Prep boys begin
Findlay Prep will be the first area team to begins its 2018-19 basketball season with a home game against Impact Academy on Friday.
Contact reporter Sam Gordon at sgordon@reviewjournal.com. Follow @BySamGordon on Twitter.