Palo Verde rolls to victory in season-opener
August 23, 2018 - 10:45 pm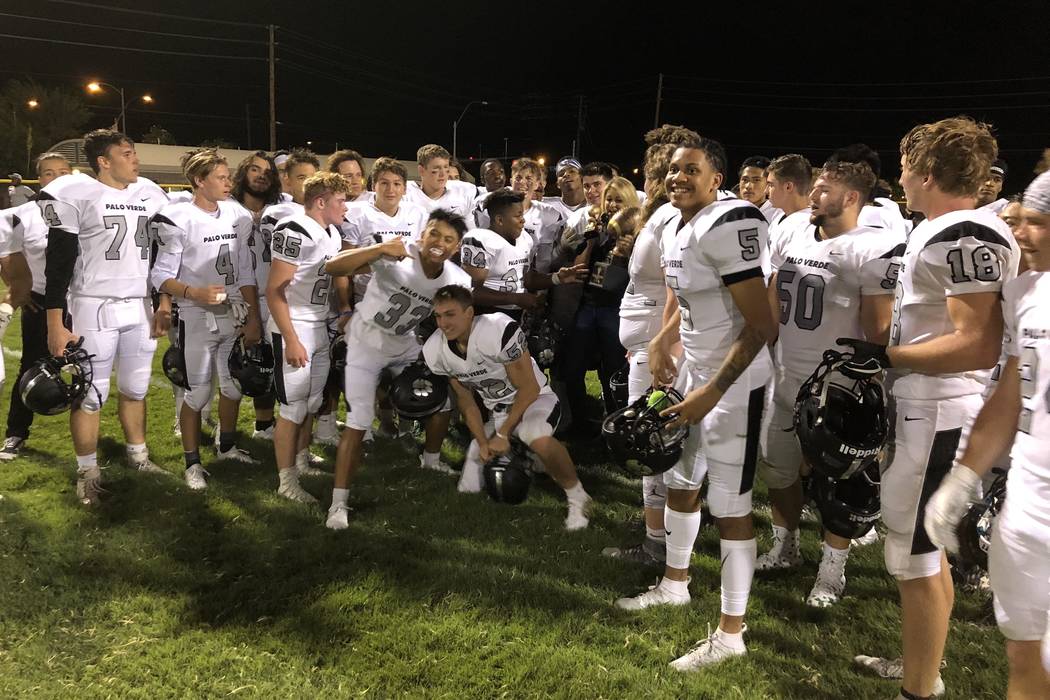 Palo Verde running back Michael Torres sensed some fatigue from Mojave in the second half of their football game on Thursday night.
As the Rattlers got slower, the Panthers got stronger.
Palo Verde's patented double-wing offense generated 365 rushing yards and a 29-6 road victory in the first televised Thursday Night Lights game of the prep football season.
Torres led the way with 15 carries for 100 yards and a touchdown. Jaylin Henderson, Jacob Gosz-Siqueiros and Karsonne Winters added rushing scores for the Panthers.
"We're still trying to figure out who can do what," Palo Verde coach Joe Aznarez said. "It was kind of (run) by fire tonight. We had a lot of mistakes so a lot of guys got opportunities."
Those mistakes included a pair of fumbles near the goal line in the first half, but the Rattlers struggled to move the ball without departed star running back Tawee Walker, who ran 1,703 yards last season but transferred to Centennial in Arizona for his senior season.
In turn, the Panthers (1-0) found their groove on the ground and nabbed a 9-6 halftime lead.
"Our execution was good up until the last couple yards," Aznarez said. "We fumbled the ball inside the 5 twice and that's unacceptable, but tonight I think we ran the ball pretty well."
The Panthers unleashed a bevy of backs in the second half, and they uncorked 20 unanswered points behind a powerful performance from their offensive line. Charron Thomas added 78 rushing yards, Dacen Phister rushed for 69 yards and Henderson added 53 to round out a balanced effort.
"They started to get slower. You see them on their knees," Torres said of Mojave's defense. "We just had to take advantage of that, and punch it in."
Palo Verde's starters ceded playing time to its reserves midway through the fourth quarter as its defense continued to swallow Mojave's offense. The Rattlers had a couple scoring chances, but drives stalled in Panthers territory.
Devinn Houston led Mojave with 59 rushing yards and a touchdown. The team totaled 147 yards on 39 offensive plays.
"This is why we practice. This is why we work in the summer, to actually come out and play this game," Aznarez said. "I don't think we played out best. That was obvious. But the kids responded in the second half."
Contact reporter Sam Gordon at sgordon@reviewjournal.com. Follow @BySamGordon on Twitter.
Box score: