Panthers welcome physical matchup
November 29, 2013 - 10:34 pm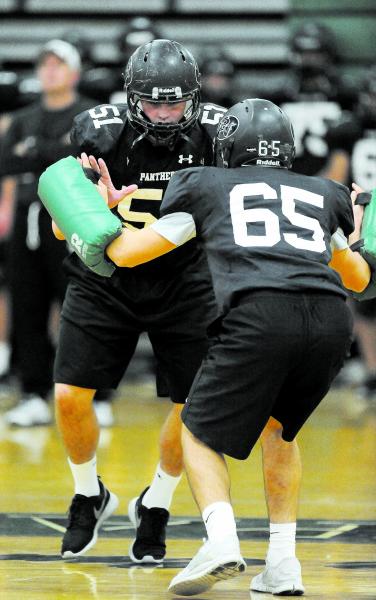 Palo Verde playing in the Sunset Region football title game has been almost a guarantee in recent years.
But the Panthers slipped last season, going 7-5 and getting blown out in the region semifinals. And senior lineman Griffin Kemp thinks he knows what happened.
"We had no physicality last year," Kemp said. "Last year, we weren't the same team we are this year. We've learned from our mistakes, and I feel that's made us the team we are right now."
Right now, the Panthers (10-1) are right back in the Sunset championship game, making their 10th appearance since 2002. They play at Bishop Gorman (11-2) at 1:05 p.m. Saturday.
"Last year was a big disappointment for us," senior lineman Michael Hughes said. "This year, I feel like we picked it up. And I'm glad to be in this spot again."
Kemp and Hughes are major reasons the Panthers are back where they believe they belong. The 6-foot-4-inch, 240-pound Kemp was a first-team All-Northwest League selection at offensive tackle and defensive end. Hughes (6-2, 270) was a first-team pick at offensive and defensive tackle.
They have 52 tackles apiece, good for third on the team. Kemp has eight sacks and Hughes five.
"They're real good weightroom guys," Palo Verde coach Darwin Rost said. "And when you're strong, you get real physical, and both of those kids have played real physical for us all year long."
Kemp thinks that physical nature is a big reason the Panthers have won nine consecutive games entering the showdown with Gorman.
"I feel like that's our biggest trait as a team," Griffin said. "I feel like that's the best thing about our team, not just our line but our backfield. We're just a physical team overall.
"Last year, we just weren't as physical, and we weren't as dominant as we are this year. We kicked that up this year."
The team also has kicked up its defense. Since its 42-41 loss to Green Valley on Sept. 20, Palo Verde has allowed more than 14 points only once, in a 42-20 win over Cimarron-Memorial in the Sunset Region quarterfinals. The Panthers allowed just two offensive touchdowns and posted two shutouts in five league games.
"I feel like we turned around everything," Hughes said. "We've come a long way ever since we gave up that many points to Green Valley."
While Palo Verde has shown some passing out of its double-wing offense this season, the Panthers' strength is the running game. Palo Verde rushed for 324 yards and didn't complete a pass in a 42-14 win over Centennial.
For the season, the Panthers average 301.3 rushing yards a game and 7.2 yards per carry.
"Our average per carry has been outstanding, especially against the lines we've been playing against," Hughes said. "Arbor View's line, they were pretty good, and we basically held onto the ball and kept marching down the field on them. I feel like if we can do that in this game, we'll have more than a chance to win."
Moving the ball consistently on Gorman will be easier said than done. The Gaels haven't lost to a Nevada team since Palo Verde beat them 50-14 in the Sunset Region title game on Nov. 21, 2008. Since then, Gorman has won 47 straight against in-state teams.
"I feel like we have muscle on our side," Hughes said. "And we all know they have muscle on their side, so it's going to be a good game. I know that's where it's going to be won at, in the trenches."