Spring Mountain crushes Beaver Dam in season finale
October 28, 2016 - 12:03 am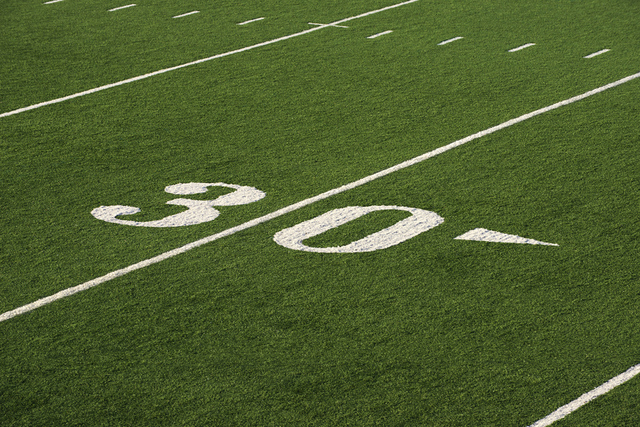 A handful of Spring Mountain football players briefly turned their attention away from their game against Beaver Dam on Thursday afternoon to pose for a photographer taking pictures on the sideline.
Golden Eagles coach Aaron Masden wasn't having it.
He sternly ended their impromptu photo shoot and redirected their attention to the field. Even in the midst of a 51-0 blowout, Masden was all business. After all, playoffs are just one week away.
Spring Mountain capped its regular season with a 72-0 victory over Beaver Dam. The Golden Eagles initiated running time with five first-quarter touchdowns and pulled their starters before halftime.
Spring Mountain's second and third-stringers piled up more points in the second half as the Golden Eagles celebrated a 6-2 regular season in front of family and friends.
"From where we started in August, when we think back, it's tremendous how much improvement these kids have made," Masden said. "From where we were … to now, it's a completely different team."
Most of the players on Spring Mountain's roster had never played organized football before, and only one Golden Eagles player was on the team last season.
But the group rallied together behind stars such as senior quarterback/safety Eric Brooks, who threw a touchdown, ran for a touchdown and returned an interception for a touchdown, and Tyriq McKinney, who ran for two touchdowns on three carries.
"At the beginning, we were arguing, making a lot of mistakes," McKinney said. "We kind of fixed it up. We've been working together. We feel ready (for the playoffs)."
As was the case in all of Spring Mountain's wins this season, the Golden Eagles jumped on their opponent early with big plays and didn't relent. McKinney and Brooks ran for touchdowns on their first two possessions.
Brooks threw a touchdown pass to Da'Von Carter, McKinney added a second touchdown run and LaShawn Young scampered 65 yards for a score.
All before the second quarter.
The reserves emulated the starters with long touchdown plays of their own. Samuel McKenzie rushed for two long scores and backup quarterbacks Brayden Pelton and Kody Harlan rushed for scores too.
Despite all the offensive fireworks, Brooks was most pleased with Spring Mountain's defense.
The Golden Eagles picked off Beaver Dam quarterback Steven Rodriguez four times and held the Diamondbacks to 67 rushing yards on 23 carries.
"We try to make our team based off our defense," Brooks said. "Defense wins championships. Coach stresses it every day."
Spring Mountain's stout defense, combined with its potent offense, has Brooks locked in on one goal.
"A championship," he said. "When this team first came together, nobody really trusted each other. Now we've really got a bond. It's better playing with each other."
Box score:
Spring Mountain 72, Beaver Dam 0