Turnovers doom Chaparral in 3A semifinals
November 12, 2016 - 6:23 pm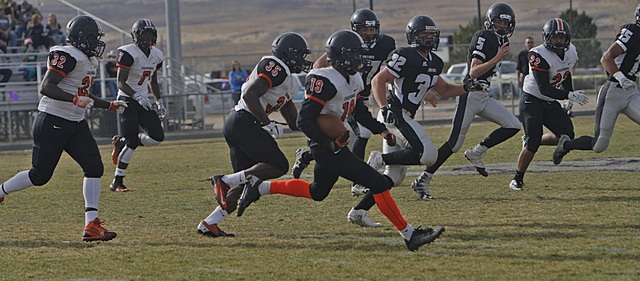 SPRING CREEK — Chaparral entered play on Saturday looking to earn a spot in the Class 3A state title game.
Turnovers made sure that wouldn't happen.
The Cowboys turned the ball over five times in the first half as Spring Creek rolled to a 36-7 home victory.
Chaparral coach Paul Nihipali said his team struggled on offense, and noted that beating teams like Spring Creek is difficult when the team turns the ball over.
"We made a lot of mistakes," Nihipali said. "You can't win when you have five turnovers in one half. We tried to correct it, but Spring Creek knows how to win. They're a tough team and they minimize mistakes, they've got good kids and their quarterback is the real deal."
The Cowboys' secondary had a good game despite the blowout. Trayvius Hodge came away with an interception, and the Spartans' receivers struggled to find open space.
Spring Creek coach Joel Jund said he the offense found other ways to move the ball when the Cowboys limited the passing game.
"It wasn't a tremendous day throwing the ball, but we threw it well at times when we needed to," Jund said. "We kept some drives alive with our passing game, and at this point in time, we'll take it."
Despite the five turnovers, the Cowboys were only down 14-0 at half. But another turnover helped Spring Creek pull away.
After the Spartans fumbled on their opening drive of the half, the Cowboys gave the ball back a few plays later when Anthony Chavez intercepted a pass.
Sheldon Wilkinson quickly took advantage of the turnover when he broke off a 49-yard touchdown run to put the Spartans up 22-0 with 10:09 left in the third third quarter.
Dakota Larson then took a screen pass and went 70 yards for a score to put Spring Creek up 28-0.
Spring Creek extended that lead to 36-0 in the fourth quarter before Julius Hernandez caught a 25-yard touchdown pass from Santiago Vialpando on a corner route for the Chaparral's lone score.
Even though the Cowboys were a long way from home on Saturday, Nihipali did not blame travel for the team's flat performance.
"We try not to use that as an excuse," Nihipali said. "We were rested, we were fed, and we were not out of our environment. Spring Creek scored that first touchdown and it just got carried away."
The Cowboys will be losing their starting quarterback to graduation, but Nihipali feels like the running game could carry this team to new heights next season.
"We have a lot of good running backs coming back," he said. "We should be better next year."