Eagles' Logan hopes years on tee yield Division I-A repeat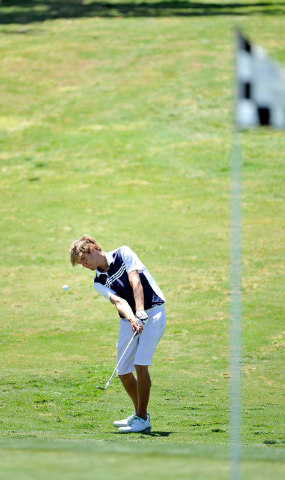 Regina Quintero brought the Boulder City girls golf team to practice one day and noticed the young boy with blond hair off to the side working on his game.
The next time the Eagles practiced, he was there again. In fact, nearly every time Quintero's team went to the course, they would see Luke Logan.
"He was probably a fourth- or fifth-grader," said Quintero, now in her fifth season coaching Boulder City's boys team. "He's been at the course a long time."
Logan has been hooked on golf ever since he found his dad's clubs in the garage and started swinging a kids' 7-iron when he was 4 years old. Today, the Boulder City junior begins defense of his Division I-A state title when the state tournament gets underway at 10 a.m. at Mountain Falls Golf Club in Pahrump.
The Division I and Division III state tournaments also start today at Mountain Falls with the first tee times scheduled for 11:44 a.m. and 1:36 p.m., respectively. All three tournaments conclude Thursday.
"My dad, he's always drove into my head he who practices the most is going to one day jump past the others," Logan said. "I feel like it's worth it for me to revolve my life around (golf) and be able to say I put my best into it.
"I've golfed since I was 4 years old, and I've golfed every day since then. If I couldn't golf, I don't even know what I would do. I'd be so bored."
Logan is a popular figure at the courses in his hometown, and he is easily recognizable with his shaggy hair pulled across his forehead similar to PGA Tour player Rickie Fowler. He also has been a fixture on the local junior golf scene for more than 10 years, which means Logan often compares his scores to the top players from Division I rather than from his own division.
Last week Logan rebounded from an opening-round 79 to shoot par 70 at Wildhorse Golf Club and win his third straight region title. His second-round score was better than every competitor in Division I except for Sunrise Region champion Bradley Keyer of Coronado (69).
"When I walk in the clubhouse, the first thing I look at is their score," Logan said. "It's hard for me because I always play against them, so if I don't place decent against them, I feel like I didn't play good."
Logan knows he must be at his peak this week to become the first Boulder City boys golfer to win two state titles. He is expected to be pushed by Lowry's Ethan Gray, last year's state runner-up, and talented freshman Charlie Magruder of Faith Lutheran.
Logan gave up playing soccer for the Eagles last fall because he didn't want to risk an injury and hopes to impress college coaches in several junior tournaments this summer. He will play in the U.S. Junior Amateur qualifier in June at Las Vegas Country Club, where he shot a lifetime-best 65 last summer, and is already planning for a career in the game as a player or teaching pro.
"One of the things that's surprising is a lot of times kids lose interest when they've been around the game that long," Quintero said. "What's different about him is he is dedicated to making his game better."
Contact reporter David Schoen at dschoen@reviewjournal.com or 702-387-5203. Follow him on Twitter: @DavidSchoenLVRJ.