Notes: Bishop Gorman girls soccer star readies for life at Vanderbilt
October 2, 2018 - 3:06 pm
Updated October 2, 2018 - 4:25 pm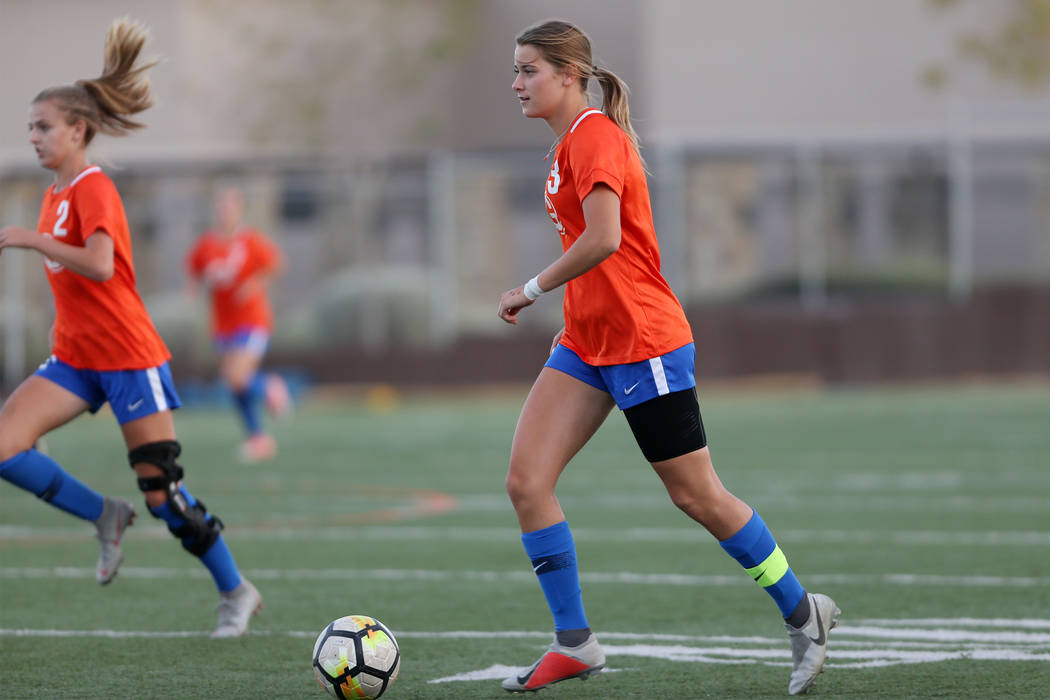 Ashtyn Fink smiled and whipped her Vanderbilt lanyard around her neck while her soccer team boarded the bus after another victory.
Bishop Gorman's senior forward has a lot to be happy about. Her current team is 14-0 and ranked No. 7 in USA Today's national rankings, and her future team is ranked No. 25 nationally, just tied a program record with its 11th consecutive win and is the only undefeated team in Southeastern Conference play.
Fink has unfinished business in high school, but that doesn't stop her from dreaming about life in Nashville, Tennessee.
"It was about more than just soccer for me, it was about the whole atmosphere," Fink said. "Obviously I'll be playing soccer there, but I'll still be living there for four years. I literally love everything about it."
Fink is one of the top college prospects in Nevada, a four-star recruit by TopDrawerSoccer.com. She committed to Vanderbilt as a sophomore in 2016, two years before she would put on a Bishop Gorman jersey.
Soccer recruiting is done typically through a player's club program, which in Fink's case is Heat FC, a program that boasts 13 college commitments in the 2019 class. Fink honed her craft through Heat FC and joined the Gaels for her senior year to feel more attached to the school she has attended all four years of high school.
It doesn't hurt that her sister, freshman Ainsley Fink, also is playing for Gorman this season.
"I've always wanted to play with my sister," said Ainsley Fink, also a college prospect whose school tours include Vanderbilt. "Usually we're on opposite sides of town for soccer, so it's way nicer to be able to hang out more, and I feel like it's helped us grow more, too.
"Ashtyn has definitely set the bar for me committing in her sophomore year."
Ashtyn Fink's first year of playing high school soccer couldn't be going much better. She has 22 goals to lead the Desert Region and is a front-runner for player of the year.
She also has another goal. She was happy to see her friends win the state soccer title with Gorman last season, but now she's part of a team looking to win back-to-back championships for the first time in school history.
"It would be my first, but I'm hoping I can help out getting them that second ring," Fink said. "We actually have a chance to start winning repeatedly, so I think it would be really cool to help out with that and continue that."
Coronado guards to attend USA camp
Two Coronado underclassmen — sophomore Jaden Hardy and freshman Richard Isaacs Jr. — will attend the USA Basketball Men's Junior National Team October minicamp. Hardy is one of 13 players invited from the Class of 2021, and Isaacs Jr. is one of 29 from the Class of 2022.
The camp begins Friday in Colorado Springs, Colorado.
Two Diamondbacks commit
Desert Oasis senior infielder Parker Schmidt announced his commitment to Oregon, and left-hander Josh Sharman made a pledge to UNLV. They join committed teammates D.J. Jefferson (Southern California) and Aaron Roberts (California).
Contact Justin Emerson at jemerson@reviewjournal.com or (702) 387-2944. Follow @J15Emerson on Twitter.