CHARGER INVITE: Mustangs fall in final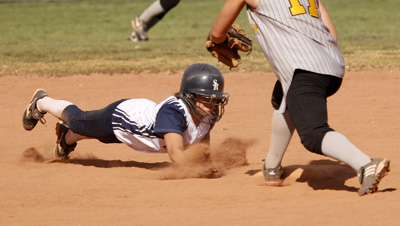 Shadow Ridge softball players weren't much excited to be handed a runner-up trophy in the Copper Bracket of the Charger Invitational on Wednesday.
But after watching her team lose its first seven games in tournaments this season, Mustangs coach Cindy Winter sensed her players can gain confidence with the way they finished the invitational.
Shadow Ridge followed an 8-0 win over Madison (Calif.) in the Copper semifinals Wednesday with a 2-1 loss to El Capitan (Calif.) in the title game at West Flamingo Park.
Among six local teams in the 32-team field, the Mustangs (12-10) were the only one to reach the final in any of the four brackets.
"Facing those teams from California gave us an opportunity to see some really tough pitchers, and we scored runs off all of them," Winter said. "Hopefully it'll boost our confidence to let us know that we can play with anybody.
"These types of close games, we've just got to finish it."
Shadow Ridge was tied with El Capitan 1-1 from the top of the third inning until the bottom of the seventh, when Catherine Brown's walk-off RBI double with two outs plated Megan Matheny to give the Vaqueros the win.
Mustangs pitcher Mandy Harmon fired a three-hitter. The Utah State signee walked three, hit two batters and struck out seven.
Harmon and Ashley Eldridge were both 2-for-3 for Shadow Ridge, which outhit El Capitan 6-3.
The Mustangs left two runners stranded in the first and fourth innings, including two in scoring position in the fourth.
"I thought we were flat the second game and that hurt us," Winter said. "That's a game we could have won and should have won, to be honest.
"There was a lack of energy more than a lack of intensity. I know they wanted it; it wasn't a question of desire or heart. They were just flat. The energy wasn't there."
Still, Winter was "for the most part" happy to see her team win two of its final three games in the invitational after a disappointing 0-4 showing at a tournament in St. George, Utah, in March.
Against Madison, Harmon pitched a five-inning one-hitter, allowing the only hit in the fifth. She walked three and struck out eight.
Eldridge (3-for-4), Harmon (3-for-3) and Rae-Ann Bohm all homered for the Mustangs.
"There are a lot of positive things we can pull from this," Winter said.
In other invitational games:
Birmingham (Calif.) 7, Clark 6 — The Patriots scored two runs in the top of the seventh inning to edge the Chargers in a Bronze Bracket semifinal.
Elisa Dawson struck out eight in a complete game for Clark, which committed five errors.
Jasmine Fukuda tripled for the Chargers.
Cimarron-Memorial 12, Ramona (Calif.) 3 — Cimarron outhit Ramona 16-4 on the way to a six-inning win in a consolation game.
Starlyn Thomas was 3-for-4 with a home run and four RBIs to lead Cimarron. Andrea Bishop was 3-for-4 with a double, and Vanessa Gonzales, Carrie Sheehan, Samantha Valdez and Jessica White had two hits apiece.
Sheehan belted a solo home run and earned a complete-game win with eight strikeouts.
Green Valley 10, Desert Oasis 2 — Lace Jordan was 3-for-4 with a double and home run to lead the Gators past the Diamondbacks in a six-inning consolation game.
Carly Aughney struck out two in a complete-game win.
Mar Vista (Calif.) 5, Valley 4 — The Vikings had the tying run on first base with one out in the top of the seventh inning, but the next two batters struck out to end the consolation game.
Lorena Villamar was 2-for-4 with a double to lead Valley.