Class 4A: Shadow Ridge, Basic eliminated in state softball tournament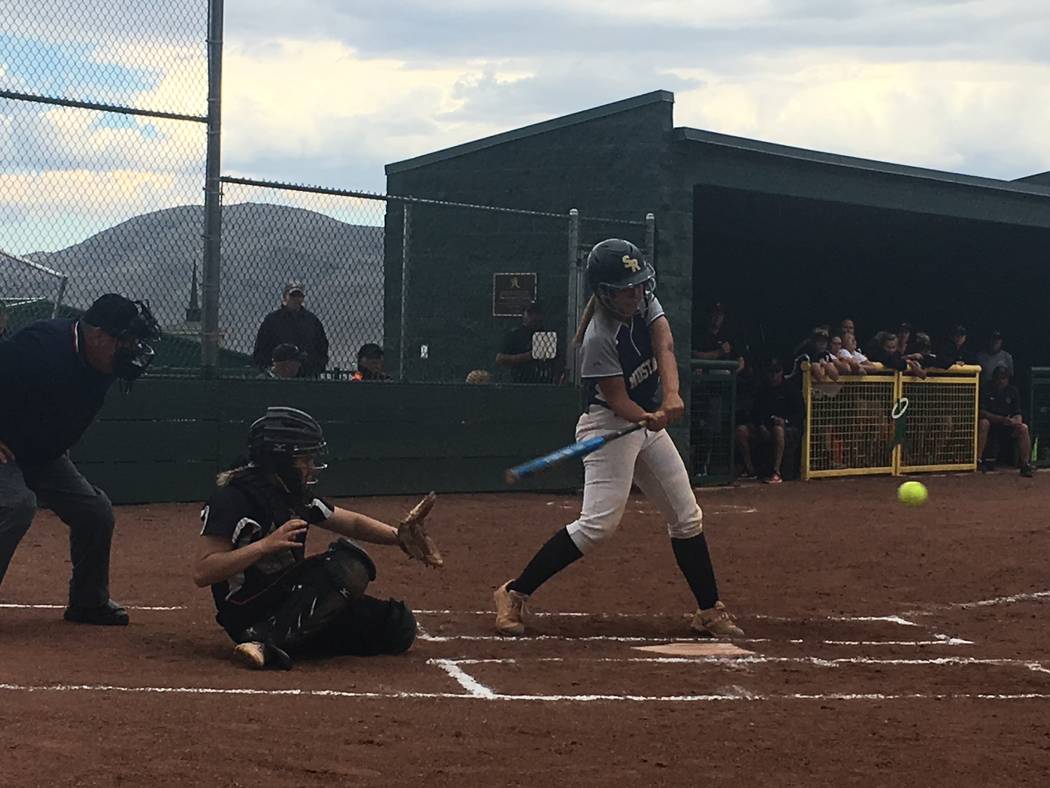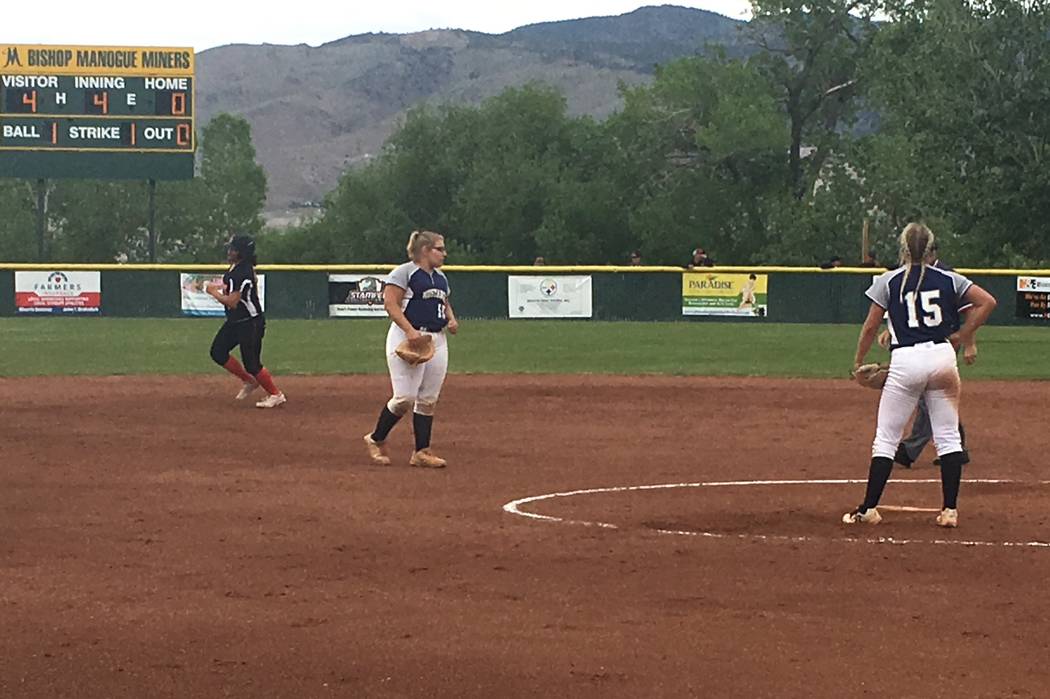 RENO — Shadow Ridge hit five homers in two games going into Friday's elimination game. The fences at Bishop Manogue High School were short and close, a recipe for a home run derby.
But Shadow Ridge was not the team that took advantage.
The Mustangs allowed three home runs and dropped a 5-1 decision to Douglas in the losers bracket final of the Class 4A state softball tournament. Douglas will meet Spanish Springs at 10 a.m. Saturday for the championship, with a second game, if necessary, at 12:30 p.m.
"I feel like we battled all the way until the very end," Shadow Ridge senior Alisha Schultz said. "We were not giving up, that's for sure."
The Nos. 4, 5 and 6 hitters did all the damage for Douglas (24-12-1), starting with five-hole hitter Casey Peck's three-run homer in the first. Cleanup hitter Chloie Pratt and No. 6 hitter Alyssa Smokey hit solo homers in the fourth.
"We underrated that part of the lineup," Shadow Ridge coach Julia Meyn said. "We knew we needed to be off the plate, we didn't know how far off the plate. Apparently we needed to be way off the plate."
Shadow Ridge (28-12) couldn't get timely hitting. The Mustangs scored in the fifth when Shea Clements came home from first on Caitlyn Covington's double, but they left nine on base and were 1-for-9 with runners in scoring position.
"Of course we wish we could have won it all, but our team stayed positive and happy the whole time. This is fun," Schultz said. "It's cool we were the last Las Vegas team remaining."
Shadow Ridge 12, Basic 10 — The Mustangs used a five-run sixth inning to grab the lead and eliminate the Wolves (26-13).
Shadow Ridge started the game off with a two-run homer off Covington's bat in the first, which Basic answered with a two-run homer from Mikayla Berg. The Mustangs added one in the second and four in the third off three RBI singles, but that lead would not hold either.
Shelby Basso had a two-run single for Basic in the third, Alyssa Ferguson homered in the fourth, and Hannah Barr singled home the tying run in the fifth. Basic took its first lead of the game at 10-7 on Sanoe Helenihi's three-run homer in the fifth, but this time it was the Mustangs' turn to rally.
Covington singled to start the Shadow Ridge sixth, and an Alyssa Stanley walk put two runners on. After a pop-up, Merisa Osborn took the first pitch she saw and deposited it inches over the left-field wall to tie the game at 10-10. But Shadow Ridge wasn't done. Mia Voges followed up the homer with a single, Sydney Morgan singled and Schultz lined a two-out, two-RBI single that made it 12-10.
Basic would only get two baserunners the rest of the game, and finished its season 26-13.
"They came to play, they earned their spot here," Basic coach Lauren Taylor said of her team. "I hope they feel like it wasn't a fluke. They came back to win five games to win (the Sunrise) Region. They deserved to be here."
Contact Justin Emerson at jemerson@reviewjournal.com or (702) 387-2944. Follow @J15Emerson on Twitter.
Box scores: