Roundup: Taylor Askland pitches Palo Verde past Cimarron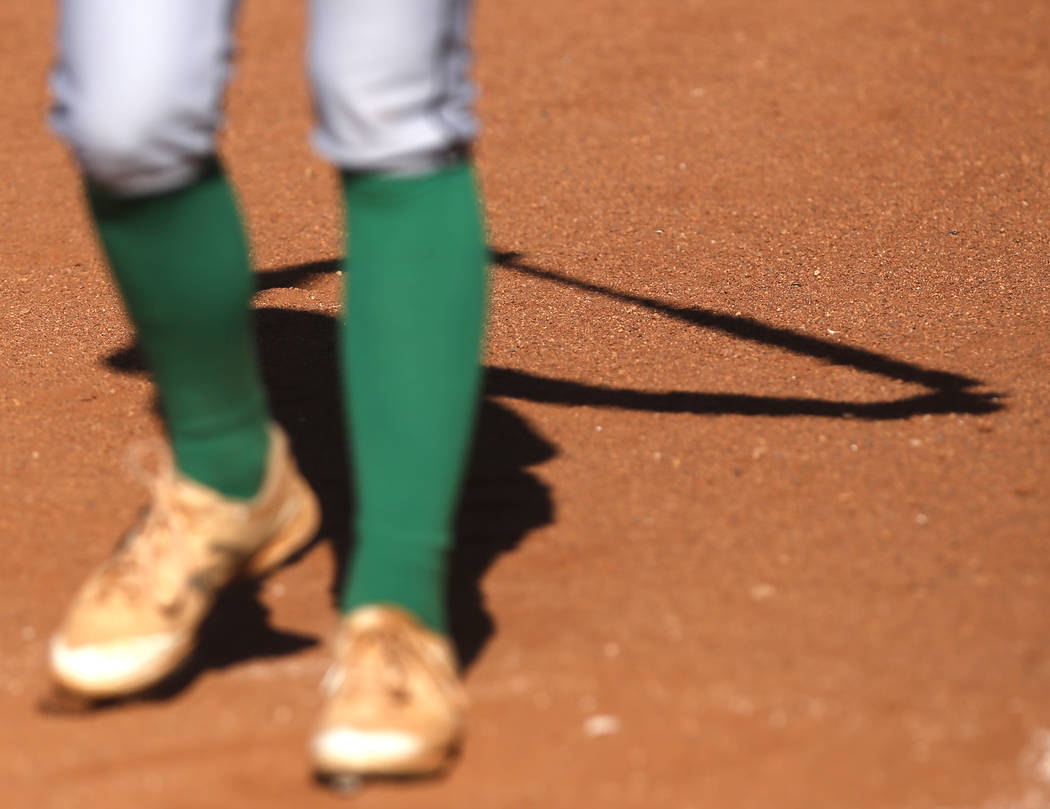 Taylor Askland went the distance and allowed one earned run Monday as Palo Verde's softball team edged Cimarron-Memorial at home, 3-2.
Askland struck out eight and allowed five hits.
Alyssa Lybbret went 3-for-4 with a run for Palo Verde.
Kylie Sharapan doubled for Cimarron.
Centennial 6, Faith Lutheran 2 — At Centennial, Amanda Sink struck out 10 and allowed two hits in six innings to lead the Bulldogs over the Crusaders.
Kiana Tate went 2-for-3 with a home run and three RBIs, and Jillian Bartley added a solo home run for Centennial, which scored four runs in the bottom of the first.
Ellie Fried went 2-for-3 for Faith Lutheran.
Liberty 11, Rancho 4 — At Rancho, Jasmine Gonzalez went 2-for-5 with three RBIs to lead the Patriots past the Rams.
Kiana Young was 2-for-4 with two RBIs, and Jordan LaSpina was 2-for-4 with a double for Liberty, which took control with a five-run third inning.
Gianna Carosone was 3-for-3 with a double, a triple and three RBIs to lead Rancho. Yvette Sanchez went 3-for-3 with two RBIs for the Rams.
Virgin Valley 9, Indian Springs 6 — At Mesquite, Savannah Price went 3-for-4 with two doubles, and tossed a complete game in the Bulldogs' win over the Thunderbirds.
Jessica Barnum scored three times for the Bulldogs.
Kaitlyn Farrar had a triple for Indian Springs.
Basic 16, Eldorado 0 — At Eldorado, Shelby Basso twirled a one-hit shutout with 12 strikeouts to help the Wolves shut down the Sundevils.
She took a no-hitter into the fourth and retired the final 11 Sundevils.
Mikayla Berg homered for the Wolves, who scored seven runs in the seventh inning.
Berg, Lauren Koshak, Hannah Barr, Kelsianna Lupton, Izabelle Morales, Kassidi Ziegenhagen each scored twice for Basic.
Shadow Ridge 15, Legacy 0 — At Shadow Ridge, Shea Clements homered to lead the Mustangs in a four-inning rout of the Longhorns.
Shelbi Denman tripled for Shaodw Ridge, which scored nine runs in the second inning.
Legacy's lone hit was a triple by Kaleah Alapati.
Chaparral 16, Sunrise Mountain 4 — At Chaparral, Losa Laolagi had a homer, triple and four runs as the Cowboys blew by the Miners.
Fernanda Rivas was 4-for-4 with a double for the Cowboys, and Sarah Ayala was 2-for-3.
Chaparral's Losi Brown got the win with three shutout relief innings and six strikeouts.
Silverado 19, Canyon Springs 0 — At Silverado, Megan Johnson and Dalyse Whiteside each had four RBIs, three runs and a double as the Skyhawks blasted the Pioneers in three innings.
Kathryn Carder scored three times for Silverado, and Alezandria Guariglia, Meleah Rivera, Marissa Rodriguez and Anna Tucker each scored twice.
Guariglia had three RBIs, and Rivera had four strikeouts in the circle in her one-hit shutout.
Western 24, The Meadows 9 — At Western, Arianna Lawson went 4-for-4 with two doubles and four RBIs as the Warriors took down the Mustangs.
Western's Edna Madrid-Silve also went 3-for-4 with a double and three RBIs.
Box scores:
Centennial 6, Faith Lutheran 2
Chaparral 16, Sunrise Mountain 4
Palo Verde 3, Cimarron-Memorial 2
Silverado 19, Canyon Springs 0
Virgin Valley 9, Indian Springs 6